Rollins to miss some time with hamstring strain
Phillies shortstop exits after hitting triple, scoring in fourth inning vs. Pirates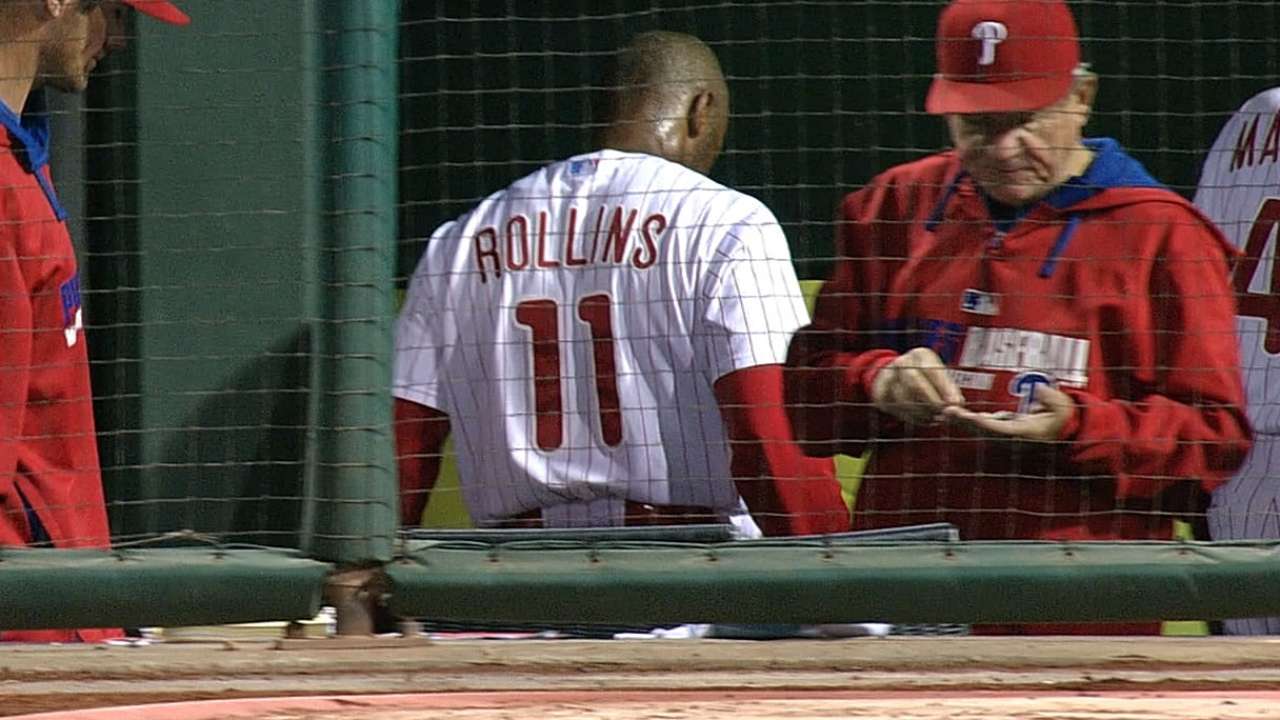 PHILADELPHIA -- Phillies shortstop Jimmy Rollins left the 6-4 loss against the Pirates on Monday night after he suffered a left hamstring strain while legging out a triple with one out in the bottom of the fourth. He looked uncomfortable and grabbed his hamstring at third base before trotting home on a single by Ryan Howard.
"It was just one of those things. Reaching out for the bag and just felt it grab a little," Rollins said. "I almost stopped. I decided to keep going. Think it was easier to keep going than it was to stop."
Rollins said after Monday's game that he expects to be sidelined for roughly 10 days.
"Oh, there's never a couple of days with hamstrings," he said. "No matter if it's a Grade 1 or what, you're looking at 10 days. So, just going off of that, hopefully I can get back somewhere around Oakland [on Sept. 19]. Finish out then. Maybe before that. I'll just set my eyes there. I'm not trying to do anything too strenuous."
The 35-year-old has played in 138 of the team's 143 games this season. He logged 160 games in 2013 and 156 in '12.
A strained right calf plagued Rollins in 2010, limiting him to 88 games. But Rollins noticed a stark contrast in severity between that injury and the one he encountered on Monday.
"It isn't that severe," Rollins said. "Obviously, we'll do an ultrasound tomorrow to check the severity of it. But unfortunately, I remember what the calf felt like and I knew that was bad. This isn't anywhere close to that. That's why I stayed [out of the game], because I wasn't sure if I was cramping a little bit or I aggravated it. And it's a little sore now, so I know I aggravated it."
Rollins is batting .243 with 17 homers, 55 RBIs, 78 runs and 28 stolen bases this season, a year after hitting just six homers and tallying 39 RBIs and 65 runs. Phillies manager Ryne Sandberg has also noticed an improvement in the field.
"I think he's played an outstanding shortstop," Sandberg said. "His arm has really improved over last year, his arm strength. He's been very durable. He's made the routine plays. He's done very well on the defensive side of things. He's been a good baserunner for us. He's stolen bases. I'd say overall, he's really done a good job on the offensive side of things. Gives us a spark at the top."
Freddy Galvis replaced Rollins at short in the fifth inning.
Erik Bacharach is an associate reporter for MLB.com. This story was not subject to the approval of Major League Baseball or its clubs.