Athletics drop extra-inning stunner to White Sox
Two late homers hand AL Wild Card leaders ninth loss in 11 games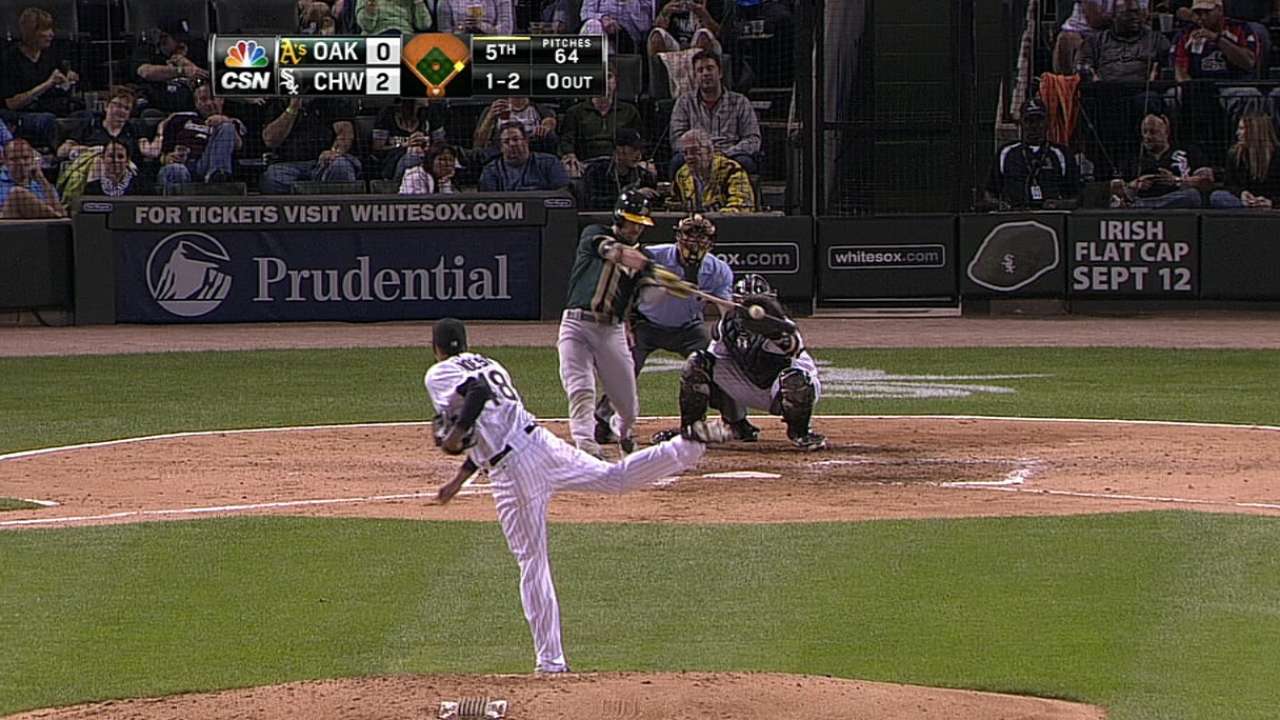 CHICAGO -- The Athletics' lead in the American League Wild Card race dropped to one game with Monday night's 5-4 loss in extra innings to the White Sox, solo home runs by Tyler Flowers in the ninth and 12th handing them their ninth loss in 11 games.
"It's definitely a test right now," said interim closer Eric O'Flaherty, who was saddled with a blown save after giving up Flowers' first homer. "I had a chance to step up and kind of put one away for the guys today, and didn't do that.
"There's no worse feeling than that when you're on a team battling for the playoffs. But you've just got to keep grinding -- stay at it."
Sam Fuld's RBI bunt gave Oakland a 4-3 lead in the eighth, but the A's stranded three runners in scoring position over the eighth and ninth innings. Flowers tied the game at 4 in the ninth with a two-out, two-strike homer.
"We were still in a position to win a game," manager Bob Melvin said. "We were just one strike away."
The A's were in an early hole after a pair of first-inning runs by the White Sox, manifested through an error and sacrifice fly -- no hits.
Sonny Gray walked the first two batters on 10 pitches. First baseman Brandon Moss bobbled a grounder an out later that led to a run, while a wild pitch to Avisail Garcia advanced a pair of runners into scoring position. Garcia followed with a sacrifice fly to center that extended Chicago's lead to 2-0.
"I think it's just I have to get into the flow of the game a little bit better and I think over time that'll come," said Gray, who allowed just one earned run on three hits over the next six innings before leaving after seven.
Gray got out of a bases-loaded jam in the fourth when forcing a double play against Marcus Semien to end the inning. Flowers lined a single past an outstretched Jed Lowrie to load them.
With no outs in the fifth, the A's sent consecutive pitches to the bullpen sports bar in right field -- the fourth time this season they've hit back-to-back homers -- to take a 3-2 lead. Josh Reddick belted a two-run shot after Derek Norris led off the inning with a single. Lowrie followed Reddick by going yard on a first-pitch curveball off starter Hector Noesi.
Oakland had just one hit to that point, an Adam Dunn single to center in the second inning that preceded a 5-4-3 double play hit by Norris.
Left fielder Fuld snagged what would've likely been an extra-base hit from Alexei Ramirez in the fifth while leaping to make the play. Gray fanned Jose Abreu to end the inning, but Conor Gillaspie tied the game at 3-3 with a leadoff homer in the sixth.
"I made the pitch that I wanted to," Gray said of Gillaspie's homer, which came on a 1-2 fastball. "I went away, away, away, soft away, soft away, then thought I made a really good pitch up and in, and he just turned on it, kept it fair."
Melvin and a team trainer met Gray on the mound after an awkward delivery in the seventh, but the right-hander remained in the game. Gray said he didn't signal for the two, but they came as a precaution when he showed duress with what he called back pain. Gray said he was fine postgame.
White Sox starter Hector Noesi went 6 1/3 innings with the three earned runs coming on the homers.
"He threw the ball extremely well other than that, especially early on," Flowers said of Noesi.
The A's, who boasted the Majors' best record as recently as Aug. 15, are now one game ahead of the Mariners for the top AL Wild Card spot and eight games behind the Angels in the AL West. Oakland is 1-5 in its last six games -- all decided by one run.
"It's tough to lose games like that," Melvin said. "There's a sense of urgency every game. We have 19 games left."
Daniel Kramer is an associate reporter for MLB.com. This story was not subject to the approval of Major League Baseball or its clubs.