Axelrod leaves after first-inning injury vs. Cardinals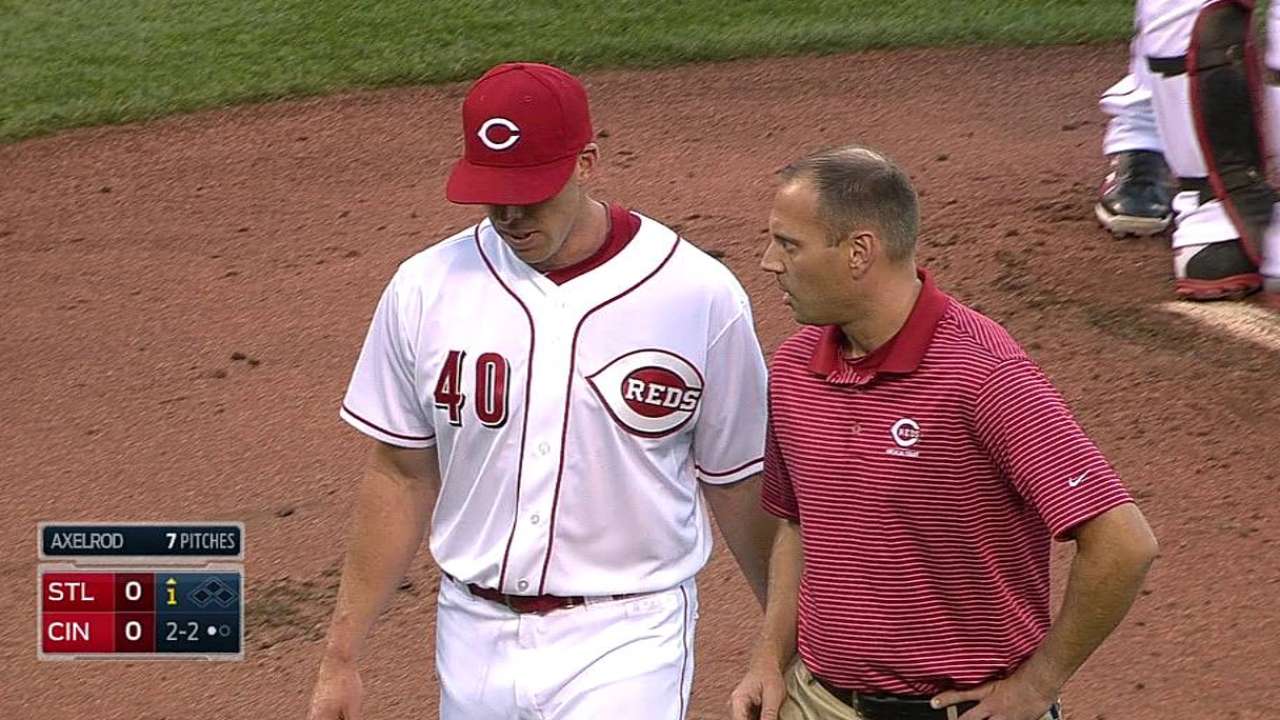 CINCINNATI -- Right-hander Dylan Axelrod started on the mound in the Reds' 5-0 loss to the Cardinals at Great American Ball Park on Monday night, but came out of the game after just seven pitches with a strained right oblique.
After retiring the game's first batter, Matt Carpenter, on a lineout to left field, Axelrod was in discomfort following a 1-2 pitch to the next hitter, Jon Jay. Reds manager Bryan Price and assistant trainer Steve Baumann came out to check on Axelrod, and he exited the game.
"I felt it during my bullpen [session] a little bit this week," Axelrod said. "And I thought I could go, and it's just, you get in a game and it's a little bit different; you get that adrenaline going, a little extra juice on it, and when I tried to do that, it grabbed on me that one pitch. That whole at-bat, it was a little bit uncomfortable, and then that one pitch it really grabbed on me."
Left-hander David Holmberg came on in relief and retired both Jay and Matt Holliday to end the frame. He went on to toss 5 2/3 scoreless innings in relief, the longest relief outing by a Reds pitcher since Carlos Fisher also went 5 2/3 frames in a 19-inning game at Philadelphia on May 25, 2011.
Now that Axelrod may miss the remaining three weeks of the season, Price could turn to Holmberg to fill Axelrod's spot in the rotation, which Axelrod was originally filling for the injured Homer Bailey. Bailey had successful surgery to repair a small flexor mass tendon tear near his right forearm last Friday.
"Holmberg, with his Triple-A experience and coming off a good start, would certainly warrant another look," Price said.
Axelrod became the first Reds starter in a regular-season game to be credited with none or one batter faced since Don Newcombe was credited with no batters faced in the second game of a doubleheader against the Pirates on July 17, 1960.
Another Reds starter, right-hander Johnny Cueto, faced one batter in Game 1 of the 2012 National League Division Series in San Francisco, the fewest number of batters a starter has ever faced in MLB postseason history.
Prior to Monday, Axelrod had made three starts for the Reds since they purchased his contract from the White Sox on July 17. He pitched well over his first two outings, allowing two runs over 11 innings (1.64 ERA). He gave up four runs on five hits, including three home runs, over six innings in a loss to the Orioles in Baltimore last Wednesday.
"It's very frustrating," Axelrod said of the injury. "I take a lot of pride in being the guy that can be counted on to go out there every fifth day. Ultimately, at the end of the day, it's incredibly frustrating."
On a night when Cincinnati ended up using seven pitchers, another had to come out of the game in the ninth. With a runner at first and one out, Matt Holliday's sharp ground ball back to the mound hit off of reliever Pedro Villarreal's right forearm, causing him to leave the game. Fellow right-hander Logan Ondrusek relieved him.
"Hopefully, it's just a contusion and in a couple of days the soreness is out and he'll be able to pitch," Price said of Villarreal. "But it's a day-to-day thing"
Manny Randhawa is an associate reporter for MLB.com. This story was not subject to the approval of Major League Baseball or its clubs.