Cuddyer returns, hopes to keep hammy healthy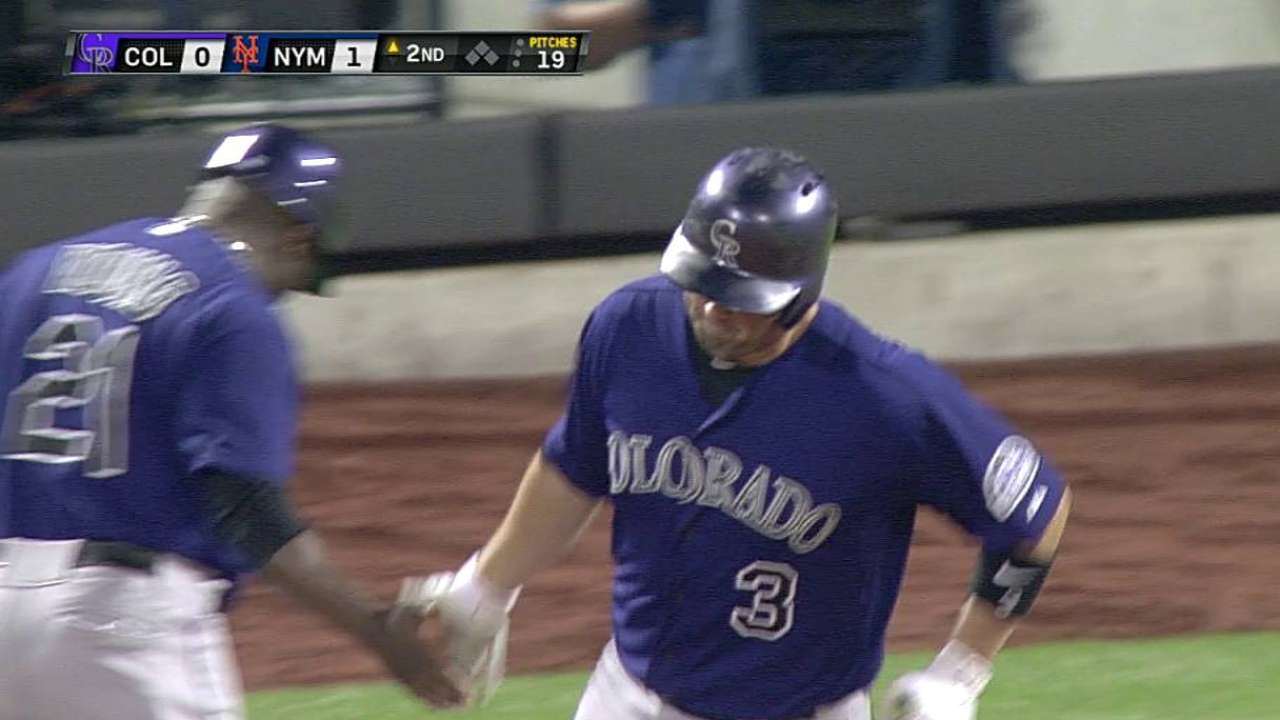 NEW YORK -- Michael Cuddyer is back. Fresh off his third disabled list stint of the season, this one for a strained left hamstring, the 35-year-old batted cleanup and played first base Monday in the Rockies' series opener with the Mets at Citi Field.
Now it's a matter of making these last three weeks ones to remember, especially given that Cuddyer is headed into free agency this winter. A pair of left hamstring strains and a fractured left shoulder have limited him to just 34 games before Monday.
He made his prescence known early in Monday's 3-2 loss when he launched a solo homer in his first at-bat in the second inning off Jon Niese.
"I was able to get a good pitch to hit, and fortunately I didn't miss it," he said after the game. "I felt good. I felt comfortable at the plate, leg feels great, no residual effects or anything like that."
Cuddyer has done well when he has been on the field -- including a .331/.380/.546 slash line with eight doubles, six homers and 19 RBIs -- but the injuries have rendered him mostly irrelevant.
"I'm excited to not just be a cheerleader," Cuddyer said. "I'll still be a cheerleader, but I'll actually go out on the field and get cheered for sometimes.
"When I've been out there, I've performed and done what I expect to do and what is expected of me. Unfortunately, with the series of events that happened, I wasn't able to do that as much as I wanted to."
Despite giving first baseman Justin Morneau a one-day reprieve against a lefty on Monday, Cuddyer expects most of his playing time to come in right field given that Morneau is competing for a batting title.
Cuddyer will play regularly, according to manager Walt Weiss, while battling the reality that no matter how hard or how often he plays, there is no making up for all the missed time.
"I'm not looking to make up for three months in the last 19 games, and I told him he's got to be careful trying not to do that. He understands that," Weiss said. "He's never going to come into my office and say he needs a day [off]."
Despite playing so few games, Cuddyer's 1.1 WAR, according to FanGraphs, ranks eighth among the 14 Rockies with at least 140 plate appearances this season. In other words, he's been more valuable than a handful of teammates who have played far more than him, including Wilin Rosario (87 games, -0.2 WAR) and Carlos Gonzalez (70, -0.3).
"Tremendous pro, tremendous leader. I think an elite player still," Weiss said of Cuddyer. "He's shown that when he's been healthy this year, when he's been on the field, he's been an elite hitter."
Tim Healey is an associate reporter for MLB.com. This story was not subject to the approval of Major League Baseball or its clubs.