Struggling offense puts more pressure on pitchers
Indians acknowledge they can't rely only on staff in stretch run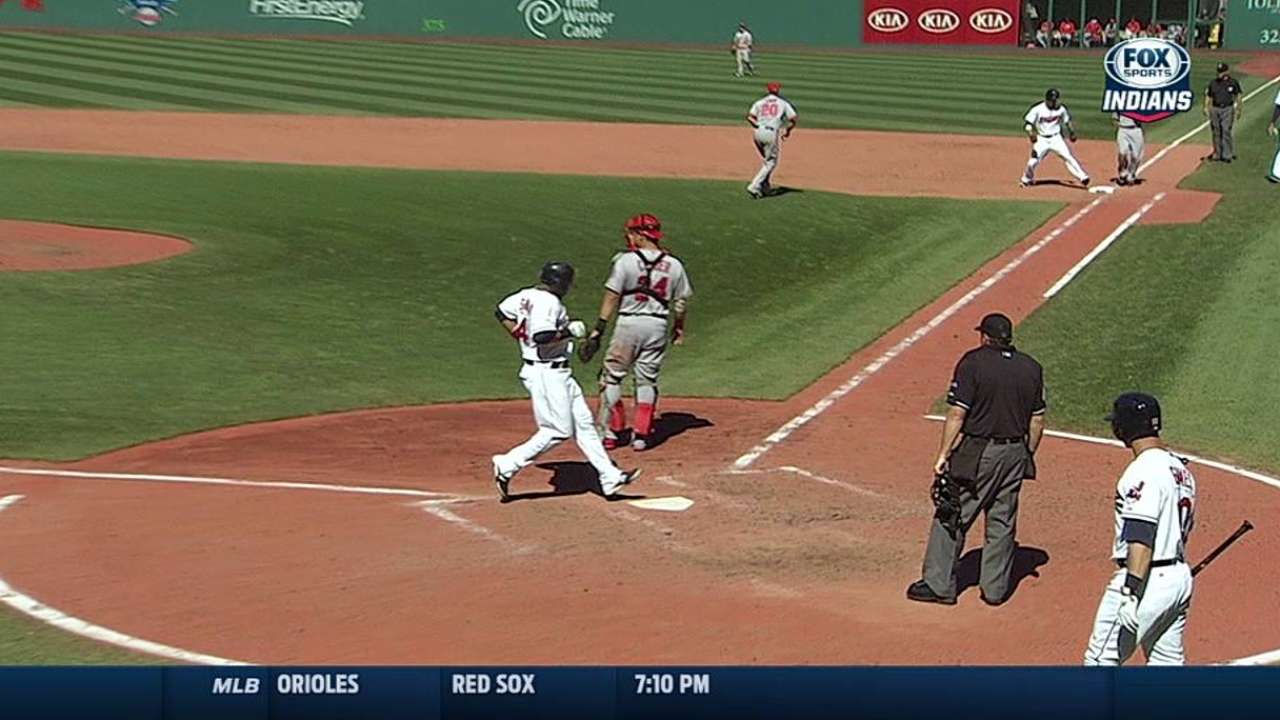 CLEVELAND -- The Indians scored three runs Monday and, well, that should sound vaguely familiar.
Over its previous 27 games, Cleveland had averaged just 3.3 runs, the fourth-lowest average in the big leagues in that span. And yet, this severe offensive funk had directly coincided with the Tribe posting the fourth-best winning percentage in the Majors (.654) in that one-month sample.
The reason, of course, was the incredible starting pitching the Indians received in that stretch. But Danny Salazar's struggles against the Angels in Monday's 12-3 loss only hammered home the notion that the Tribe needs to get its bats going if it's going to stay alive in the playoff race.
"That's the hardest thing, is we haven't been scoring," leadoff man Michael Bourn said. "If we do, it's one or two runs. Luckily, our pitching has been lights out, better than just good. Offensively, if we can pick it up these next few series, we're in a good position."
Bourn admitted it can be difficult for young players to be relaxed in this environment, and the Indians, because of the injury to Nick Swisher and the trade of Asdrubal Cabrera, are especially reliant on young players in the present tense. Rookies Jose Ramirez, Tyler Holt and Zach Walters are all seeing ample opportunity.
"That's not easy to plug in somebody that's never been there," Bourn said. "We're plugging them in every day. We just have to scrap."
Anthony Castrovince is a reporter for MLB.com. Read his columns and follow him on Twitter at @Castrovince. This story was not subject to the approval of Major League Baseball or its clubs.