Six-run third helps Tigers close gap on Royals
Detroit one game back in AL Central after franchise's 9,000th win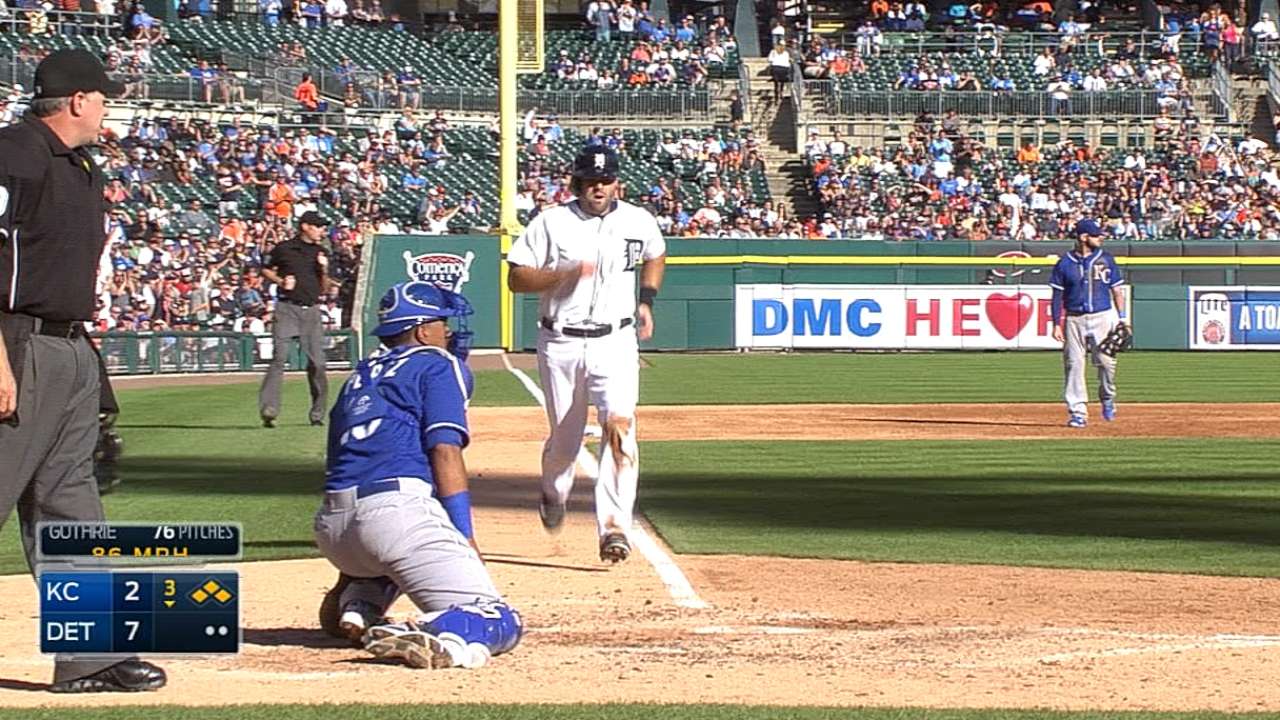 DETROIT -- While the Lions prepared to open their season across the street at Ford Field, the Tigers had a playbook for the Royals: Score early off the starter and take the bullpen out of the equation. Win early in this series, and put pressure on Kansas City to hold onto a division lead owned for four weeks.
The first part worked, with a six-run, eight-hit third-inning barrage off Jeremy Guthrie giving Detroit a big lead for an eventual 9-5 victory on Monday at Comerica Park. Now comes the next part, with two more games to go in this American League Central clash.
The 9,000th win in Tigers franchise history brought Detroit within one win of the Royals. Detroit will send Max Scherzer to the mound Tuesday with a chance to grab a share of the Central lead for the first time since Aug. 10.
And for the first time in a couple of weeks, a Tigers team that has played with the pressure of playoff expectations is applying the pressure to its upstart division rivals.
"I think this team has a confidence level, having been here," said Justin Verlander, who allowed four runs over seven innings but provided shutdown innings once his offense pulled ahead.
"Most of us in the locker room have been here and experienced games in September that mean this much -- high-intensity games in September," Verlander said. "We did it a couple years ago when we were chasing the White Sox. That experience is extremely valuable when you get into these situations, and hopefully we can draw from that."
For the opener, the Tigers looked not only like the experienced team, but the loose one. They showed aggressiveness at the plate and life in the field without an abundance of recklessness, though a collision between Don Kelly and Torii Hunter in right-center field left Lorenzo Cain with an inside-the-park home run.
Detroit played like a team that had been waiting for this, having grown tired of watching scoreboards for the past month.
"I thought going in there would be more energy," manager Brad Ausmus said. "We're staring up at them in the standings. This is our opportunity. We're trying to take advantage of it. I think there was more energy and I think the concentration level was a tick higher as well."
They wanted to take the first game, too, to stunt the momentum of a team that had won 15 of 20 on the road since July 22 and had won the opener to its last six road series.
"We've gotta jump on them," shortstop Andrew Romine said. "Obviously, that team can swing and they can pitch. They're a good team and they're really hot right now, so for us to get ahead, perfect for us. That's exactly what we needed to do today."
The eight third-inning hits tied a season high, accomplished twice previously. The last time happened at Kansas City on July 10, a game that Guthrie started but left with just two of the eight hits allowed.
This time, Guthrie suffered through them all. He didn't get much help from his defense all day, a fate apparent in the double error on Gold Glove first baseman Eric Hosmer on Romine's ground ball to turn an inning-ending groundout into the first two runs in the second.
"I just flat-out missed it," Hosmer said. "I tried to come through it and flip to Guthrie and just flat-out missed it. "
After Nori Aoki's two-run bloop single tied the game in the third, however, Guthrie induced just two swings and misses during the 10-batter, 27-pitch third-inning hit parade.
"Probably too many hittable pitches, that'd be my guess," Guthrie (10-11) said.
He would be right.
"It kind of seemed he was leaving a couple pitches up," Romine said. "Guys were taking advantage of it. Obviously, that carries over to the next guy, if you're paying attention: Lay off some of those bad pitches and eventually he'll leave one up."
Hunter's ground ball deep into the hole at shortstop led off a string of three straight singles to begin the frame, including a Victor Martinez RBI single off a diving Hosmer. Guthrie recovered with a potential double-play grounder from J.D. Martinez, but Omar Infante could only get the forceout at second.
Three consecutive doubles from Kelly, Castellanos and Alex Avila -- all hit down the lines -- plated a combined three runs for a 7-2 Tigers lead. Once Hunter, batting for the second time in an inning, singled in Avila, the Tigers had a six-run inning and an 8-2 lead.
Jason Beck is a reporter for MLB.com. Read Beck's Blog and follow him on Twitter @beckjason. This story was not subject to the approval of Major League Baseball or its clubs.