Guthrie roughed up as Royals drop opener in Detroit
On strength of six-run third, Tigers move within one game in AL Central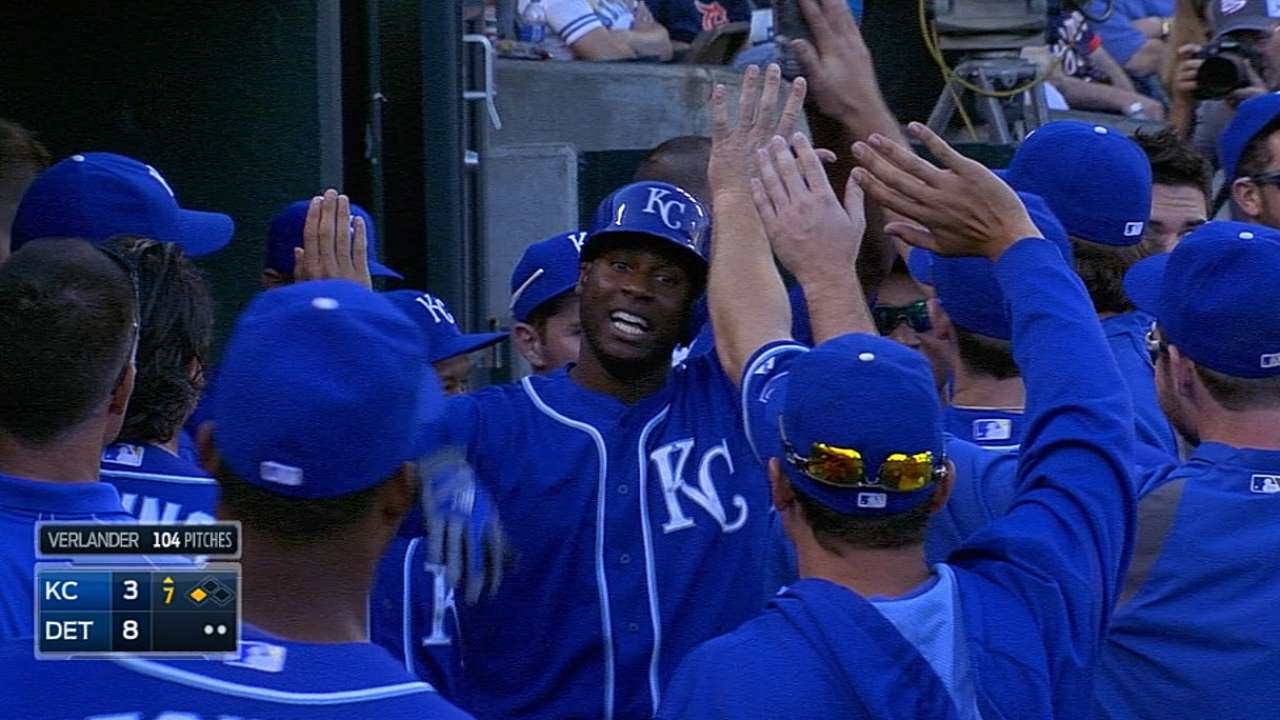 DETROIT -- Now the Royals and the Tigers are down to the nitty-gritty. Just one game separates the two contenders for the American League Central, with two games left in this series.
It's still Kansas City on top by one length after Detroit took a 9-5 victory late Monday afternoon to the appreciation of most in a crowd of 30,758 at Comerica Park. The Tigers can take the division lead by winning the next two games. Conversely, the Royals can increase their lead to three games by doing the same.
"You can feel it. You can feel the energy in the crowd," said winning pitcher Justin Verlander. "You can feel the energy of our ballclub. This is a big series. ... I'm not saying this is do or die, but it's definitely a big series. This is the biggest series of the year coming in, and it's nice to get off to a good start."
"Well," said losing pitcher Jeremy Guthrie, "they're two even teams, but we certainly feel like we're as good as them and have a chance to win."
The two clubs have three more games scheduled Sept. 19-21 in Kansas City, so there's certainly more drama to come.
The drama on Monday was largely, although not quite, gone by the time the Tigers marched through a six-run third inning against Guthrie. They dinged him for eight hits in the process.
What went wrong?
"Probably too many hittable pitches, that'd be my guess," Guthrie said.
First came singles by Torii Hunter, Miguel Cabrera and Victor Martinez for a run. Following a forceout came three straight doubles by Don Kelly, Nick Castellanos and Alex Avila. Andrew Romine's single was next, and the runs kept coming. After an out, Hunter got his second single of the inning and Guthrie's outing was over.
That was the Tigers' biggest inning since their eight-run fifth in a 16-4 win on July 10 at Kansas City. The pitcher at the beginning of that inning was also Guthrie.
Detroit obliterated a 2-2 tie with the eruption.
The Tigers had the bases loaded in the second inning with two out when Gold Glove first baseman Eric Hosmer, of all people, had a two-error play. Romine hit a bouncer that Hosmer boxed with his glove. Then, compounding the error, Hosmer's sidearm flip sailed past Guthrie at first base.
"It was an error, I just flat-out missed it. I tried to come through it and flip to Guthrie and just flat-out missed it," Hosmer said. "No excuses for it, but it put us in a big hole. It was an unfortunate play, but nothing you can do about it."
The Royals bounced back immediately in the third. Mike Moustakas and Lorenzo Cain each singled, moved up on Alcides Escobar's sacrifice bunt and scored on Nori Aoki's bloop single.
But in the bottom half came the Tigers' big six and an 8-2 lead.
"I knew we were going to battle back and make it interesting, and in the eighth inning we had the tying run at the plate. So they stayed after it," said Royals manager Ned Yost.
Sure enough, Hosmer tripled to open the seventh and scored on a groundout. Then Cain unleashed an inside-the-park home run, the Royals' first since David DeJesus had one against Minnesota on April 23, 2010, at KC. It was the 95th in club history.
"Everything has got to work out for you. Two outfielders colliding and there was my chance," Cain said.
Center fielder Kelly and right fielder Hunter converged, sideswiped each other and the ball got loose.
"I got under it a little bit but I still hit it solid. As I'm running, I'm just looking, looking, looking to see if they were going to catch it," Cain said. "I noticed that Torii Hunter had it and the guy ran into him and I just saw the ball fly out. I just had to turn it on and see what happened. I definitely didn't think it'd be an inside-the-park home run but I'll take it."
Hunter banged his head as he fell and was checked out by a trainer, but remained in the game.
Verlander left after seven innings, and the Royals threatened the rally that Yost envisioned against Joba Chamberlain in the eighth. Omar Infante singled, Alex Gordon walked and Hosmer, with his third hit, singled home one run.
But that's where it stopped. Billy Butler did indeed represent the tying run, but Chamberlain got him to ground into the third out.
The Tigers tacked on an insurance run in their half and Joe Nathan closed out the Royals in the ninth.
Guthrie, though, liked the way the Royals fought back.
"We were down, 8-2, and made a game of it and had the tying run at the plate, so it's the mentality of this team," he said. "It's the approach and the mentality, and it will bode well for us until the last game of the season. It's a team that believes in each other and believes we have a chance to win every single day."
Dick Kaegel is a reporter for MLB.com. This story was not subject to the approval of Major League Baseball or its clubs.