Brewers lose more Wild Card ground with loss to Fish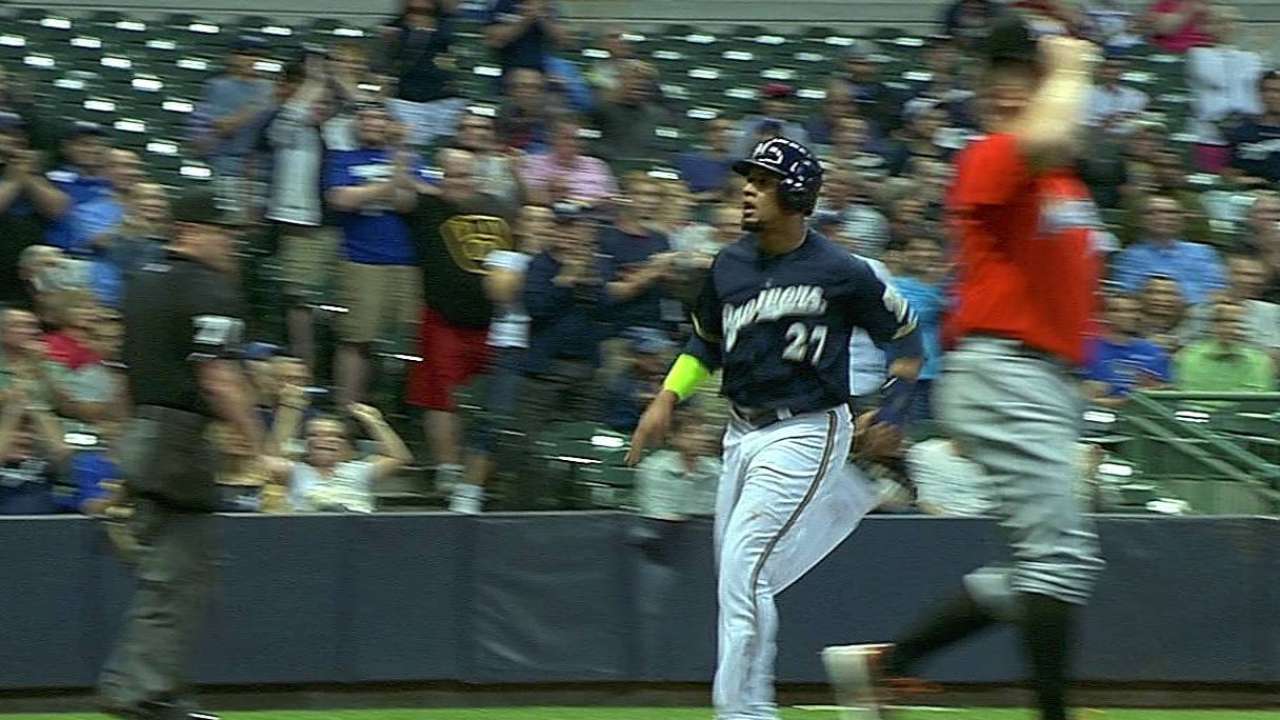 MILWAUKEE -- If ever there was a time for Yovani Gallardo to assert his status as the Brewers' five-time Opening Day starter, Monday was the time. But he couldn't make it through the fourth inning of Milwaukee's 12th defeat in 13 games, a 6-4 loss to the Marlins at Miller Park in which Gallardo was charged with five earned runs -- and it could have been worse.
Marco Estrada swooped in from the bullpen to strand three of Gallardo's baserunners in the fourth inning, but the deficit was already four runs. The Brewers scored a pair of eighth-inning runs to make it close but went quietly in the ninth to fall six games behind the National League Central-leading Cardinals and a game and a half behind the Pirates in the race for the NL's second Wild Card berth.
"We can't make the pitch when we need to. We can't get the big hit when we need it. It's just a culmination of frustration," said first baseman Mark Reynolds. "We're all feeling it. We're human. We know the fans are booing us for a reason. We're not getting it done. We're not giving them much to cheer about. We're trying our hardest out there, we're just not getting any breaks.
"I mean, we can't seem to do anything right right now, but at the end of the day, we're not out of this."
To stay in it, the Brewers will have to fix their starting pitching problem. During the 13-game swoon, Brewers starters are 1-11 with a 6.95 ERA. Take away Mike Fiers' two quality starts, and that ERA grows to 7.91. In 11 of the 13 games, the team faced a multirun deficit by the end of the fourth inning. In 10 of those games, the deficit was at least three runs.
After a blowout loss to the Cardinals on Sunday, the players held a closed-door meeting from which they emerged exuding optimism. On Monday afternoon, manager Ron Roenicke was asked whether anybody was mad about the team's slide down the standings.
"They're angry about what's happened," Roenicke said. "But baseball's not like football. When you get angry in football, you get the adrenaline flowing, you can do some nice things on a football field. Baseball doesn't work that way. It's the fine motor skills. It's putting the ball an inch here versus missing over the plate. You can get mad about it, but when you get mad about it, it has to be to get you back focused into doing something that is really fine-skilled.
"It would be nice if you could tell somebody to bear down and start playing and it would happen. That would be nice. Unfortunately, it doesn't work that way."
A few hours later, the offense actually gave Gallardo a one-run lead after the first inning, but he held the advantage for all of three pitches. Marcell Ozuna and Garrett Jones led off the second inning with successive home runs, Ozuna's sailing an estimated 453 feet before banging off the scoreboard. Christian Yelich added a two-out RBI single before the inning was over, and Miami added two runs in the third, one of them on Giancarlo Stanton's NL-leading 37th home run.
"We came back in the bottom of the first and scored two; I just have to stay away from that next inning, stay away from giving up those runs," Gallardo said. "I have to put up a zero. … I wasn't able to do that today."
Gallardo was charged with six runs (five earned) on nine hits in 3 2/3 innings, with two walks and a strikeout that pushed him past Ben Sheets for the most in franchise history. In his two September starts, Gallardo has allowed 10 earned runs and 17 hits in 8 2/3 innings.
Facing another early deficit, Brewers batters went meekly against veteran Brad Penny, who began the night with a 6.61 ERA in limited duty but allowed only two earned runs on four hits while lasting six innings for the first time since 2011.
"These past two weeks have been tough for all of us all around," Gallardo said. "We have to figure out a way. As far as [the starting pitchers], we set the tone for the rest of the guys around us. Obviously, today I didn't do the job I was supposed to do. It was just never there. It's not easy for the guys to come back from being down four runs that early in the game."
Adam McCalvy is a reporter for MLB.com. Read his blog, Brew Beat, and follow him on Twitter at @AdamMcCalvy. This story was not subject to the approval of Major League Baseball or its clubs.