Cubs can't solve Toronto rookie Stroman
Turner goes six and Chicago wins a challenge, but bats held silent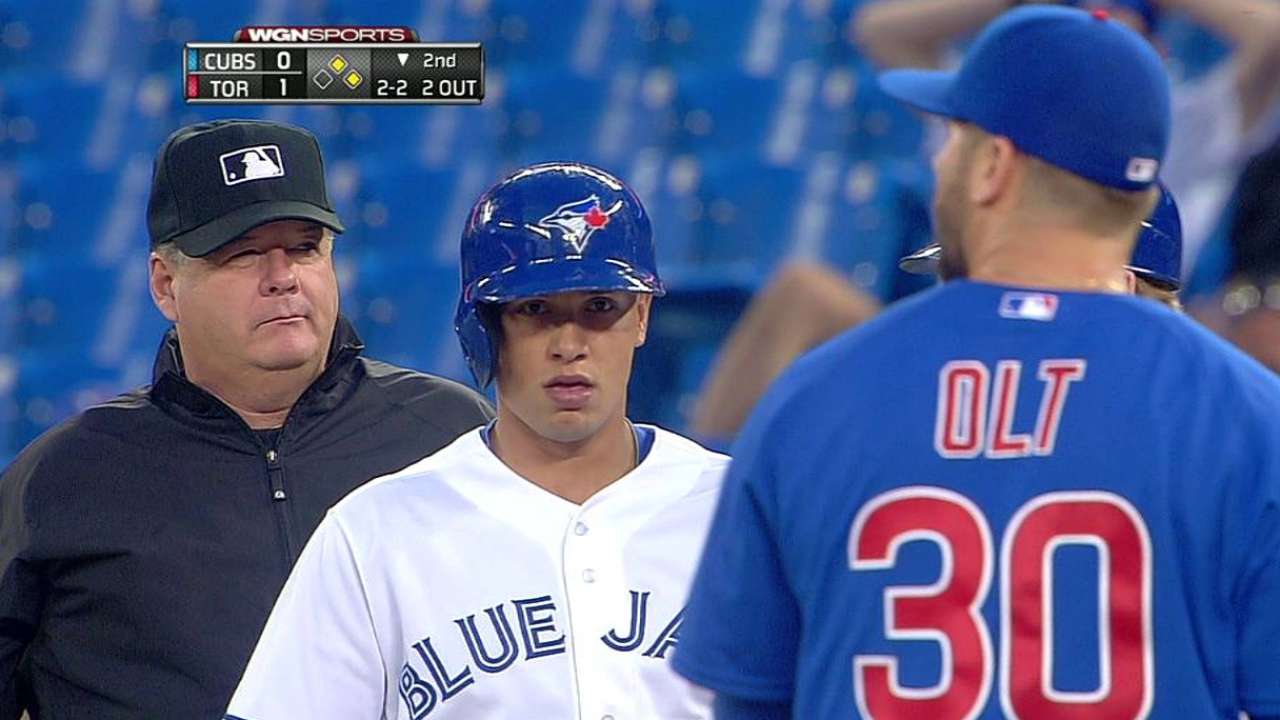 TORONTO -- The consensus in the Cubs' clubhouse was nearly unanimous after losing the series opener to the Blue Jays on Monday: Marcus Stroman was lights-out.
Toronto's rookie righty pitched a complete-game shutout to deal the Cubs their fourth straight loss in an 8-0 wash at Rogers Centre.
"He was very aggressive, attacked the zone and first-pitch strikes were high with him," said Cubs manager Rick Renteria. "Had good life to his pitches, and pitched very, very, very well."
Stroman dodged a bullet from the bat of Cubs leadoff man Chris Coghlan in the first, narrowly evading a comeback liner that could've done serious damage, and went on to allow only two hits and no walks with eight strikeouts as he improved to 10-5 with his first career complete-game performance.
"Thankfully for him, he was able to deflect," Renteria said of the early comebacker. "[Coghlan] has been hitting the ball pretty well. Being deflected was good for Stroman to keep him safe, but Coggy's been hitting the ball well."
It took Stroman 93 pitches (66 were strikes) to dispose of the Cubs, who were shut out for the 16th time this season.
"He got ahead of us with a first-pitch strike, which is huge, and he had the leverage to go anywhere he wanted," said Cubs third baseman Chris Valaika. "He got some quick outs and it gave him the chance to pitch deep in the game."
Cubs starter Jacob Turner, who was making his first career appearance against the Blue Jays, allowed five runs (four earned) over six innings to fall to 5-9 on the season. He struck out two and allowed seven hits, including a three-run bomb to Jose Bautista in the fifth.
The Blue Jays had been picking away at the 23-year-old right-hander through four innings -- inching out runs in the second and fourth -- to take a 2-0 lead into the fifth.
Back-to-back one-out singles from Ryan Goins and Anthony Gose gave the Blue Jays a pair of runners with Bautista coming to the plate in the fifth. Up 1-2, the Blue Jays' slugger took Turner's fourth-pitch cutter to the second deck in left field to make it 5-0 Toronto.
Turner said that with a base open in that situation, he was trying to get Bautista to chase something out of the strike zone. Instead, he missed his spot.
"It's one of those situations where you're trying to make a pitch that if he doesn't swing, you put him on, and if he does he's probably out," Turner said. "And like I said, I didn't execute when I needed to. It's a big moment in the game. That's on me. If we get through that inning from where we're at, it's a totally different game."
The Blue Jays added another in the seventh and two in the eighth off of reliever Dan Straily. He gave up a leadoff double to Kevin Pillar in the seventh, who scored on a fielding error committed by second baseman Logan Watkins. In the eighth, Straily gave up back-to-back doubles to Adam Lind and Dioner Navarro and an RBI single to Pillar to put the Cubs behind, 8-0
Jamie Ross is an associate reporter for MLB.com. This story was not subject to the approval of Major League Baseball or its clubs.