Stroman twirls shutout as Toronto keeps pace in race
Rookie fans eight in 93-pitch complete game against the Cubs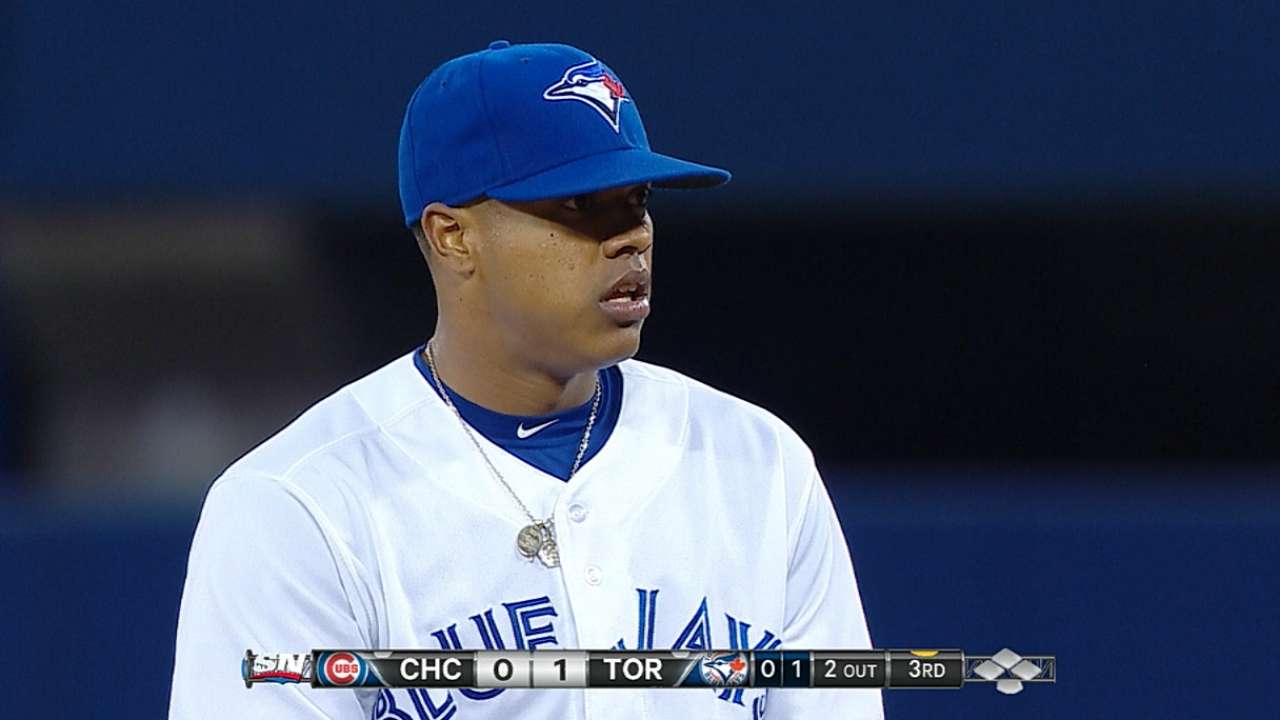 TORONTO -- Marcus Stroman was one of the most hyped prospects in baseball before the year began, but it's a pitch he learned midway through the season that could have the biggest impact on his career.
Stroman started throwing a sinker in the middle of July, and even though it's still relatively new, the pitch has already transformed the way he approaches each start. The goal was to make him a more efficient pitcher, and it certainly worked during Monday night's 8-0 victory over the Cubs.
Toronto's rookie right-hander had the best start of his career with a dominating three-hit shutout while Jose Bautista homered to lead the Blue Jays to their eighth win in 11 games.
"I used to be a high-pitch guy," Stroman said. "Five innings, six innings, ton of pitches and high punchouts, and now I feel like I'm really learning how to pitch. Using that pitch, I'm able to go deeper, keep the ball on the ground, get double plays when I need them."
The goal with the two-seam fastball is to be aggressive and force opposing hitters to swing early in the count. When located down in the zone, it's an ideal pitch to induce a high number of ground balls. The knock on Stroman during his early days in the Minors was that there was a tendency to leave some pitches up in the zone, but that hasn't been the case very often in Toronto.
Stroman got 14 of his 27 outs on Monday night via ground balls. He entered the game with a 53.6 groundball percentage, which is the highest on the staff and would have ranked fifth in the American League if he qualified with enough innings. The start vs. Chicago was a continuation of that, and he made it look easy.
The product of Duke University struck out eight and didn't walk a batter. He became the first Blue Jays rookie to toss a shutout since right-hander Dave Bush did it on Oct. 1, 2004.
"I've always wanted a sinker, I could just never find a grip that was comfortable for me," Stroman said. "I was lying in bed one day, fooling around with the ball, kind of gripped a two-seam kind of awkwardly. It was super comfortable in my hand, and the next day I came to the ballpark and ever since then I've been throwing it."
Chicago's Jorge Soler led off the second with a solid single to center field but was quickly taken off the basepaths when Welington Castillo hit into a double play. That was the only mark against Stroman until Mike Olt hit a check-swing opposite-field single that went over the head of first baseman Adam Lind with two outs in the eighth.
It's the first complete game of Stroman's career but the second time he has tossed nine innings. Stroman also threw nine innings on Aug. 9 vs. Detroit, but that effort came in a game that went to extra innings.
The dominating performance was a continuation of what has been a very impressive rookie campaign. Stroman has gone at least six innings with two runs or fewer in 12 of his 18 starts this season. He had a stretch from Aug. 3-Aug. 22 when it seemed like he might be hitting a wall with an 8.66 ERA, but he has since responded with three consecutive quality starts.
"He's probably getting better -- he's got a really good arm and I think that the strikes efficiency for him today was a big component in his ability to do what he did, stay in the game and finish it out," Cubs manager Rick Renteria said. "We probably went after a couple of early-count pitches we weren't able to do anything with. If you do swing early in a count, the whole goal is to get a pitch you can put a good swing on."
Danny Valencia opened the scoring for Toronto in the second inning with an RBI single to center. Dioner Navarro added to that lead with a sacrifice fly to center against his former club, and then Bautista broke the game wide open in the fifth when he sent a 2-1 pitch from Jacob Turner over the wall in left field for his 32nd home run of the season and 200th with the Blue Jays.
Toronto went on to add another run in the seventh and two more in the eighth. Lind, Kevin Pillar and Navarro each had two-hit nights as the Blue Jays scored eight runs for the third time this month. Toronto also has homered in 12 consecutive games for the first time since Aug. 6-18, 2011.
The win helped the Blue Jays stay within 5 games of the second Wild Card spot after the Mariners beat the Astros, 4-1, on Monday night. Despite a pair of difficult losses in Boston over the weekend, Toronto has won eight of its past 11 games and has outscored its opponents 52-31 over that span.
"It doesn't get any better than that," Blue Jays manager John Gibbons said. "[Stroman] was commanding that fastball, the breaking ball for a couple of games deserted him but it was back there tonight. He just attacks. He made a couple of nice plays himself on the mound, played some good defense behind him, gave him some breathing room and he settled in the whole way. It was a dominating performance."
Gregor Chisholm is a reporter for MLB.com. Read his blog, North of the Border, and follow him on Twitter @gregorMLB. This story was not subject to the approval of Major League Baseball or its clubs.