Prospect Barnes receives first callup to Majors
Righty starter to pitch in relief for Red Sox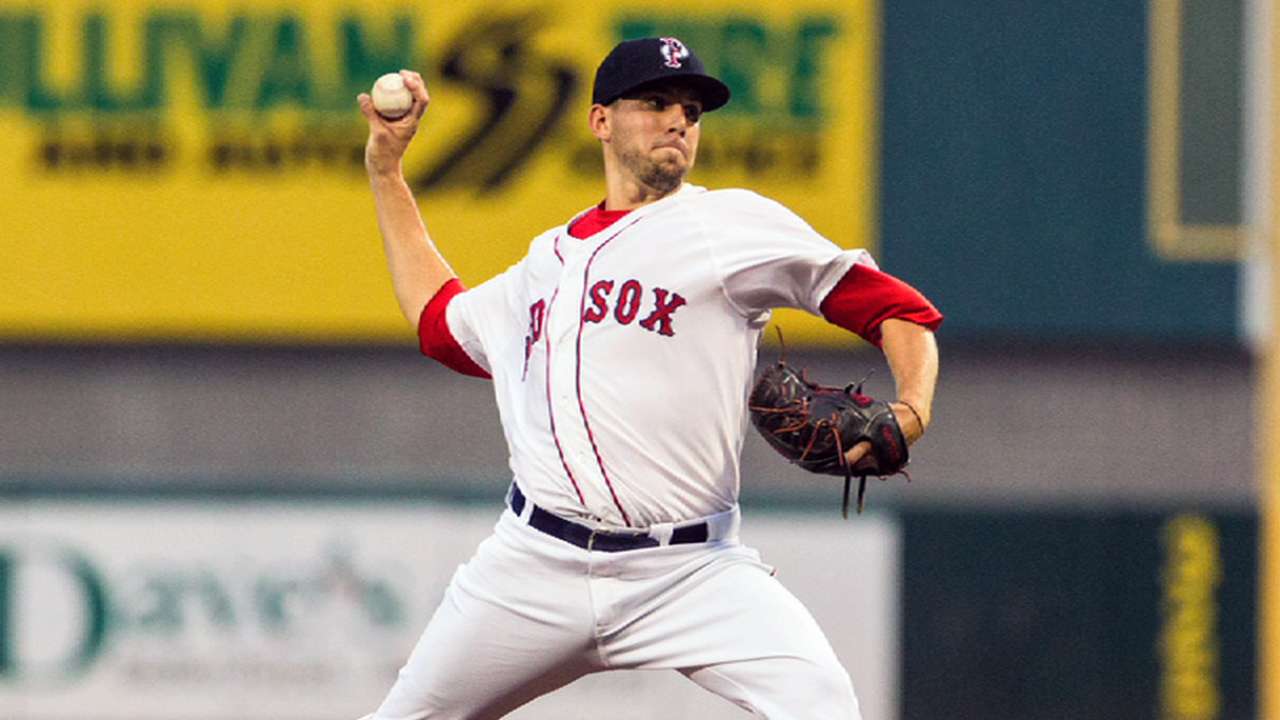 BOSTON -- Impressed with the progress he's made with Triple-A Pawtucket this season, the Red Sox called up right-hander Matt Barnes on Monday.
"I'm happy to be here. This is where I want to be," said Barnes, the Red Sox's No. 12 prospect, according to MLB.com. "This has been my dream since I was a young kid. It is awesome."
After going 4-7 with a 5.06 ERA before to the All-Star break, Barnes went back to the basics and focused on throwing his secondary pitches for strikes in any count. It paid dividends, and in eight since starts since the break, he posted a 2.38 ERA and led the International League with a 0.87 WHIP and a .167 opponent average.
"I had to take a step back and figure out how I wanted to use my secondary pitches in certain counts," Barnes said. "I'm letting those play off my fastball, where as in the first half, I wasn't really doing that. I was doing it in the wrong way without maximizing their capabilities. I drew up a new game plan on how to use them."
A starter his entire career, Barnes will work out of the bullpen the rest of this season.
"As effective as he's been and the progress he's made throughout the course of the season, we felt like exposure in September would be beneficial for him," said Red Sox manager John Farrell.
While he knows pitching out of the bullpen will be an adjustment, Barnes said he'll turn to some of his teammates for advice. One player he'll definitely seek out is Brandon Workman, who pitched out of the 'pen during Boston's playoff run last year.
"I'm not going to try and pitch any differently and change my approach. It has been working well for me for a few months, so I'm not going to change and be someone I'm not just because I'm pitching a few innings less," Barnes said. "I'll use my stuff the way I have been. If adjustments are needed, I'll make them."
Barnes last pitched Thursday against Syracuse in the second game of the Governors' Cup semifinals, earning the win with seven scoreless innings.
He was Boston's first pick, 19th overall, in the 2011 First-Year Player Draft out of the University of Connecticut. Barnes was a unanimous Big East Pitcher of the Year as a junior in '11 after leading the conference in wins (11), strikeouts (97), and ERA (1.20).
To make room for Barnes on the 40-man roster, the Red Sox shifted Shane Victorino, who underwent back surgery last month, to the 60-day disabled list.
"I'm just going to get the job done whenever I'm called upon. I'm going to focus on making pitches and get guys out, Barnes said. "My goal is to be in the Majors for 2015 in whatever role the Red Sox want me to be in."
Quinn Roberts is a reporter for MLB.com. This story was not subject to the approval of Major League Baseball or its clubs.