Thriving with O's, Miller would welcome return to Boston
Lefty reliever to become free agent in offseason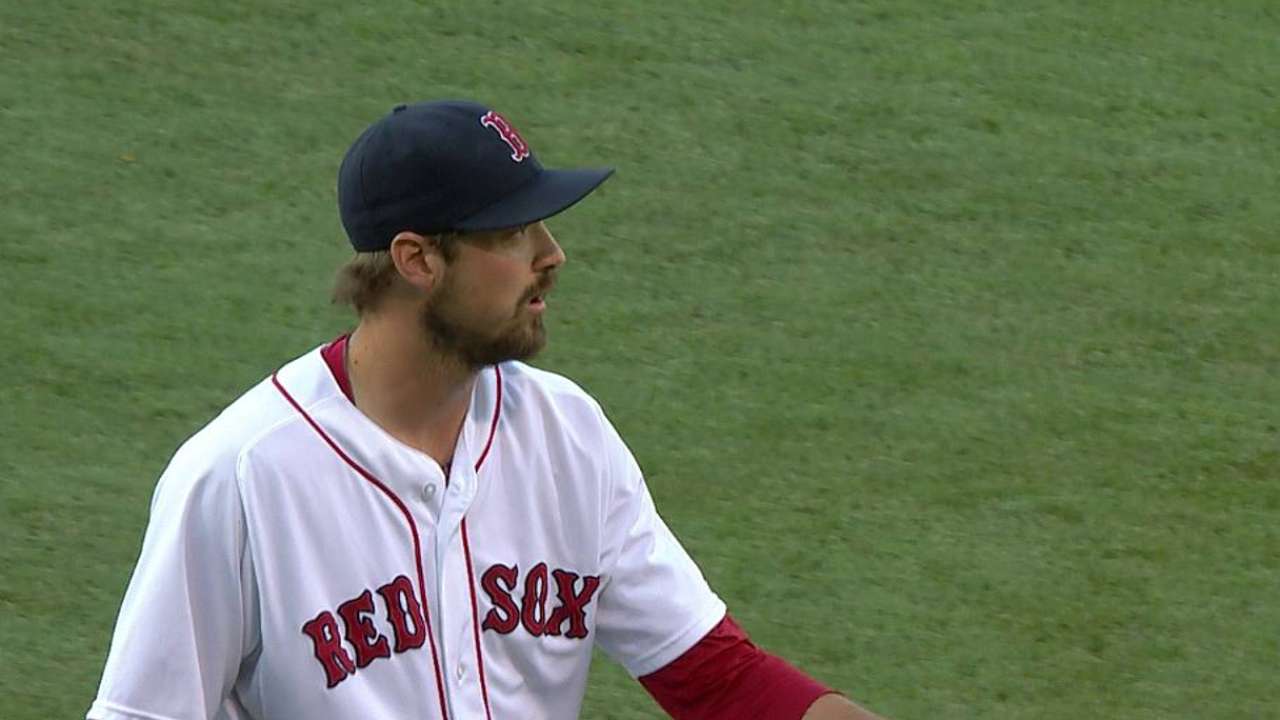 BOSTON -- Andrew Miller, the dominant lefty reliever the Red Sox traded July 31, is certainly enjoying being back in a pennant race with the first-place Orioles. But Miller made it clear he would also be pleased to have a return engagement with Boston if that's where free agency steers him this offseason.
"I certainly have relationships with a lot of people here. I loved my time here," said Miller before Monday's Orioles-Red Sox game at Fenway Park. "There's no secret to that. My wife and I loved it here. It's a great place to play, the way you get treated by the organization, it's a great place to live. It's a hard situation to leave."
As with any free agent, Miller knows that the decision will hardly be his alone.
"But to be totally honest with everybody, I have no idea what the offers will be, but something tells me it'll be pretty clear what the options are when it comes down to that," said Miller. "It's just a situation where you can pick where you want to go, but that might not be your best option financially, and that's just the reality of it. It seems kind of cold, but this might be my chance at free agency.
"The hope is that I get some good offers. I feel like I've put myself in good position to have that. I plan on finishing strong and improving that. Having not been down that path, the way it seems to me from the outside is that it pretty quick gets narrowed down to a couple of teams that were in the bidding, and you choose from them.
"You don't go to the 28th-most interested team on the list because you like living there or like the ballpark. Certainly my hope is that the front office here and the ownership here wants me back. I hope I left a lasting mark on them, and I hope everybody they talk to when they go over the reports in the offseason has good things to say about me based on the work I've put in here. So if I could script it, I'd say, certainly, I'd love to be back."
Once a highly touted prospect who struggled to live up to the scouting reports as a starting pitcher, Miller came into his own with the Red Sox, something that started when manager Bobby Valentine moved him to the bullpen in 2012.
"Moving to the bullpen was a big deal for me," said Miller. "That helped me. The fact that I pitched more frequently, I got to come to the ballpark expecting to pitch every day, that allowed me to correct some of the bad patterns I'd created. I enjoy relieving."
Miller is looking forward to some playoff baseball next month. Last year, he had to spend the postseason as a spectator thanks to a left foot injury that knocked him out July 15.
"That's the greatest thing about this whole ordeal, is that I got to go to a team that it certainly looks like we're putting ourselves in position for that, and as fun as it was to watch last year, it certainly seems like a lot more fun to take part in," said Miller.
Ian Browne is a reporter for MLB.com. Read his blog, Brownie Points, and follow him on Twitter @IanMBrowne. This story was not subject to the approval of Major League Baseball or its clubs.