Nationals looking good with multiple closers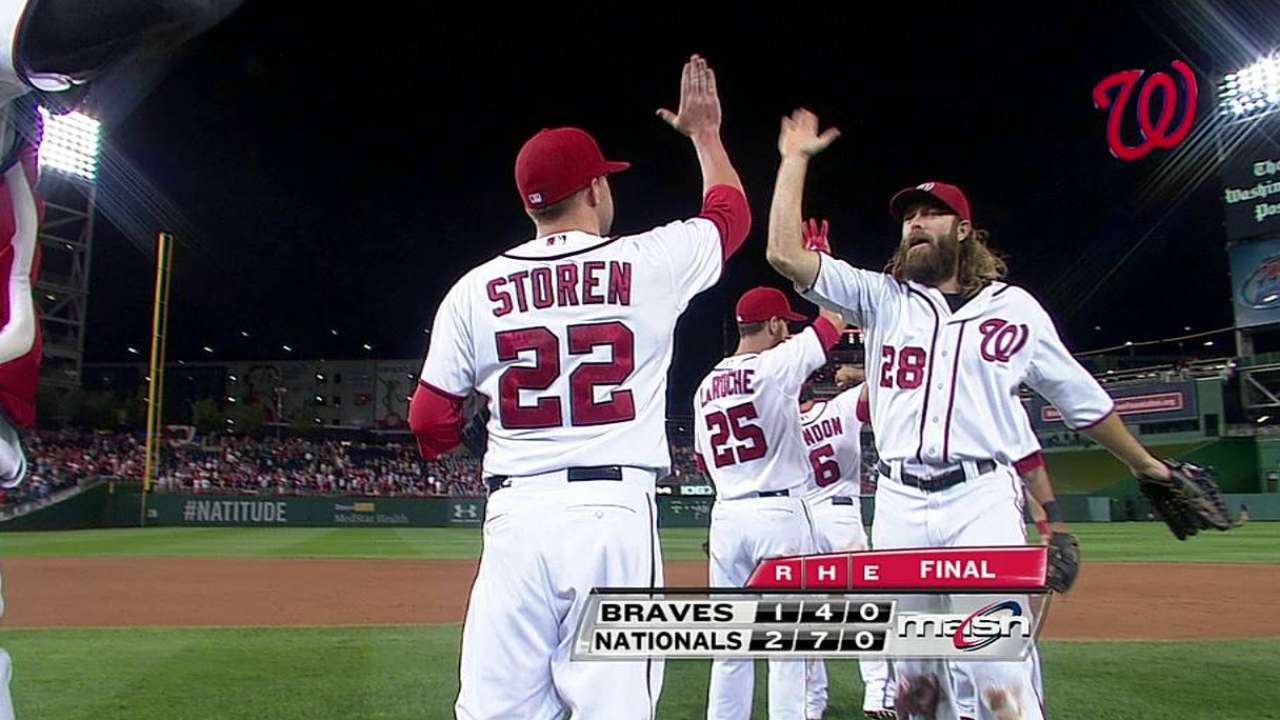 WASHINGTON -- The first-place Nationals are, until further notice, going with the bullpen-by-committee approach. Which dredges up the old baseball saying that a team with two closers really doesn't have any.
Of course, old baseball sayings aren't always true. And there are at least a few reasons to suspect this could actually turn into a positive development for the Curly Ws.
It certainly hasn't been a problem so far. Drew Storen struck out the side in the ninth Monday night at Nationals Park to preserve a 2-1 win over the Braves. It was his second straight save since Rafael Soriano began a sabbatical to try to straighten himself out after struggling mightily in the second half.
One reason this might turn into an advantage is that as long as Soriano was the designated go-to guy in save situations, manager Matt Williams was going to stand by him, unfailingly use him to protect a lead in the ninth unless he was unavailable after pitching multiple days in a row. Williams is now free to use the pitcher he believes has the best chance of nailing it down on a given night.
Second, without rigid roles, Williams can also mix and match in the seventh and eighth. After all, games can be won and lost there as well.
"A lot of it also depends on the seventh and eighth," said Williams, who used Tyler Clippard, Matt Thornton and Craig Stammen to get through the eighth Monday night. "How do we get a chance to potentially have a lead going into the ninth? That also plays a big part in it. So we'll do whatever we can to put guys in a position to succeed, whether it's seven, eight or nine. And it could be a number of guys."
Finally, the Nats have several relievers who have been used as closers in the past, which might be the biggest key to making it work.
"They've got a closer-by-committee, but it's a pretty good committee," observed Braves manager Fredi Gonzalez. "It's not like it's chopped liver. Clippard has done it in the past. Storen pitches the eighth inning because they have Soriano. But he could pitch in the ninth inning for a lot of clubs in the big leagues."
Including the Nationals, as it turns out. Storen struck out Chris Johnson, Tommy La Stella and Andrelton Simmons as the crowd of 25,448 roared its approval.
"That's as loud as I've ever heard it here," said Storen, who also saved Sunday's game against the Phillies. "I felt great. That was a big win for us, and as usual, it's all about locking it down. [Closing has] been fun. I've done a bunch of different roles down there. Any time you can throw the ninth inning, it's quite the adrenaline rush."
Williams noted that the right-hander has added a changeup to his fastball and slider, and he said that the expanded repertoire has made a big difference. Storen said that's helped his confidence.
"Absolutely. Any time you can go to three different pitches in a two-strike count, it helps," said Storen. "The changeup has been huge for me, and I've been able to use it against righties and lefties. So that's been something that's helped me a lot this year, and it's really helped out recently."
Said shortstop Ian Desmond: "The last two outings have been great, but really he's been throwing the ball well [1.31 ERA] all year. He's got a lot of confidence in himself and all his pitches. And [the catchers] are putting down good fingers for him. It's pretty exciting to see."
Added starter Doug Fister, who got the win: "We've got confidence in the whole bullpen, but Drew has come out and shut guys down all year. He's a guy we trust and have full faith in, and that's what you want."
Williams stressed that this doesn't mean Storen will pitch in every save situation from here on out.
"I would say it's fluid. It's depends on a matchup, it depends on a success for that particular pitcher against that particular team," the skipper explained. "So right now, that's the way we're going to go about doing it. We're going to try to get the best guy out there, given all that experience that they have, that can close that game out for us."
Clippard opened the eighth. He gave up a one-out double to Ryan Doumit that right fielder Jayson Werth almost caught, then walked Jason Heyward. Ramiro Pena struck out and the left-handed Thornton came in to face the dangerous left-handed-hitting Freddie Freeman, who delivered an RBI single to right. Stammen then came in to get Justin Upton to pop out, ending the inning.
That set the stage for Storen in the ninth. A few minutes later, a baseball with "Save #3" -- he had one earlier in this season -- was sitting on a shelf in his locker.
It wouldn't be surprising for several Nats pitchers to receive similarly inscribed baseballs before the regular season ends. And in this case, that ain't necessarily a bad thing.
Paul Hagen is a reporter for MLB.com. This story was not subject to the approval of Major League Baseball or its clubs.