After Niese's strong start, Mets walk off in ninth
Flores hits game-winning sac fly after Granderson's game-tying triple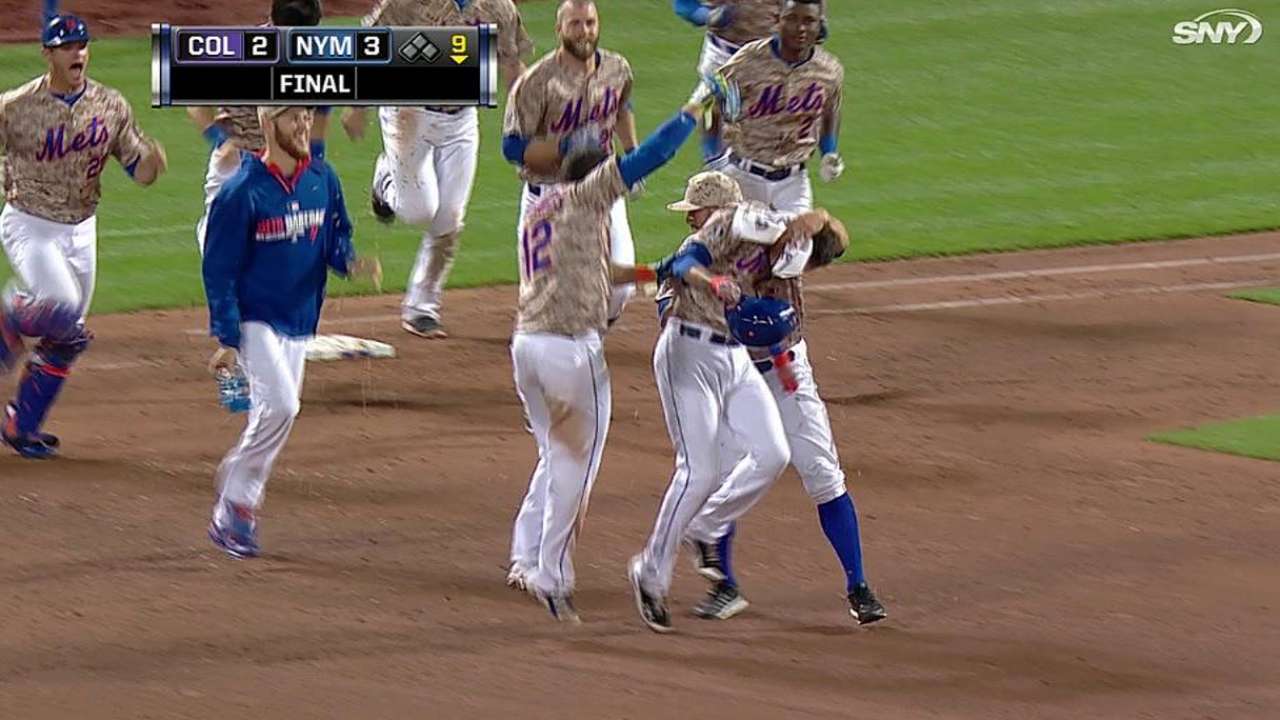 NEW YORK -- The Mets' most abundant asset is -- and has been for several years now -- starting pitching. It is their golden ticket to contention. So it is only reasonable that the Mets are taking steps to protect Jon Niese, Zack Wheeler and the other members of their pitching staff, both young and old.
Niese gave the Mets 6 2/3 innings of one-run ball on Monday in his finest start since June, settling for a no-decision in the Mets' walk-off, 3-2 win over the Rockies at Citi Field. With his team well out of contention by this point in the season, however, the most important number on Niese's stat line may have been the last one: 108 pitches, most of them relatively stress-free.
Though Niese was still performing well in the top of the seventh, using two quick groundouts to dull the sharpness of a leadoff double, manager Terry Collins removed him from the game at that point. An inning later, Vic Black gave up the go-ahead run on a Nolan Arenado homer, but the Mets rallied in the ninth off former teammate and current Rockies closer LaTroy Hawkins .
After Travis d'Arnaud opened the inning with a double, Curtis Granderson tripled him home. Wilmer Flores then lifted a sacrifice fly just deep enough to plate Granderson with the winning run.
"That's the cool thing about baseball is things can change real quickly," Granderson said. "They're bringing their closer in, which is a situation we don't want to be in. But Travis starts things off and I was able to drive him home. Flores comes up with one swing of the bat and we were able to win it."
It all made for a happy and -- more importantly -- healthy win for the Mets. Earlier on Monday, Collins bristled at a question regarding the coaching staff's self-imposed guideline of limiting starters to 330 pitches over any three-start span. Yet general manager Sandy Alderson made it clear that the rule is in place for his staff's protection, and that the organization as a whole agrees on it.
Simply put, if the Mets want to compete in the NL East next year, they will need most of the organization's top starting pitchers -- Niese, Wheeler, Matt Harvey, Jacob deGrom, Dillon Gee, Noah Syndergaard, Rafael Montero and Bartolo Colon, though they may trade at least one from that group this winter -- healthy and productive. The Mets believe one way to do that is to ensure that none of them work too much down the stretch.
"We've got a lot of young pitchers and we've tried to be as competitive as we possibly can," Alderson said. "All in all, I think [Collins] and [pitching coach] Dan [Warthen] have done a very good job monitoring the workload. That will be sort of doubly important this month, because ... one of the things we want to be able to do is come out of the season as healthy as we are right now."
Though the rule certainly applies to blue-chip prospects such as Syndergaard and Wheeler, it is just as important for the veterans of the staff. Niese, for example, has been inconsistent all summer, partially because elbow and shoulder injuries have disrupted him. Now healthy, he came away encouraged on Monday by what Collins called his best outing since returning from the DL.
"It's kind of been a struggle all year with arm strength and the shoulder," said Niese, whose only run came on a Michael Cuddyer solo homer in the second inning. "But I was able to fight through it."
The season, Niese said, has taught him to become more of a complete pitcher. It has also reinforced the value of health. To that end, Niese plans to spend much of his winter in Florida, training full-time to strengthen his shoulder.
Limiting innings down the stretch should help Niese in that regard, just as it can aid the team's other young pitchers. Because if the Mets want to win games like Monday's more consistently in the future, they know they will need a staff full of healthy starting pitchers.
Anthony DiComo is a reporter for MLB.com. Follow him on Twitter @AnthonyDicomo. This story was not subject to the approval of Major League Baseball or its clubs.