Lyles impresses, but Hawkins falters in ninth
Cuddyer, Arenado go deep, but it's not enough to lift Rockies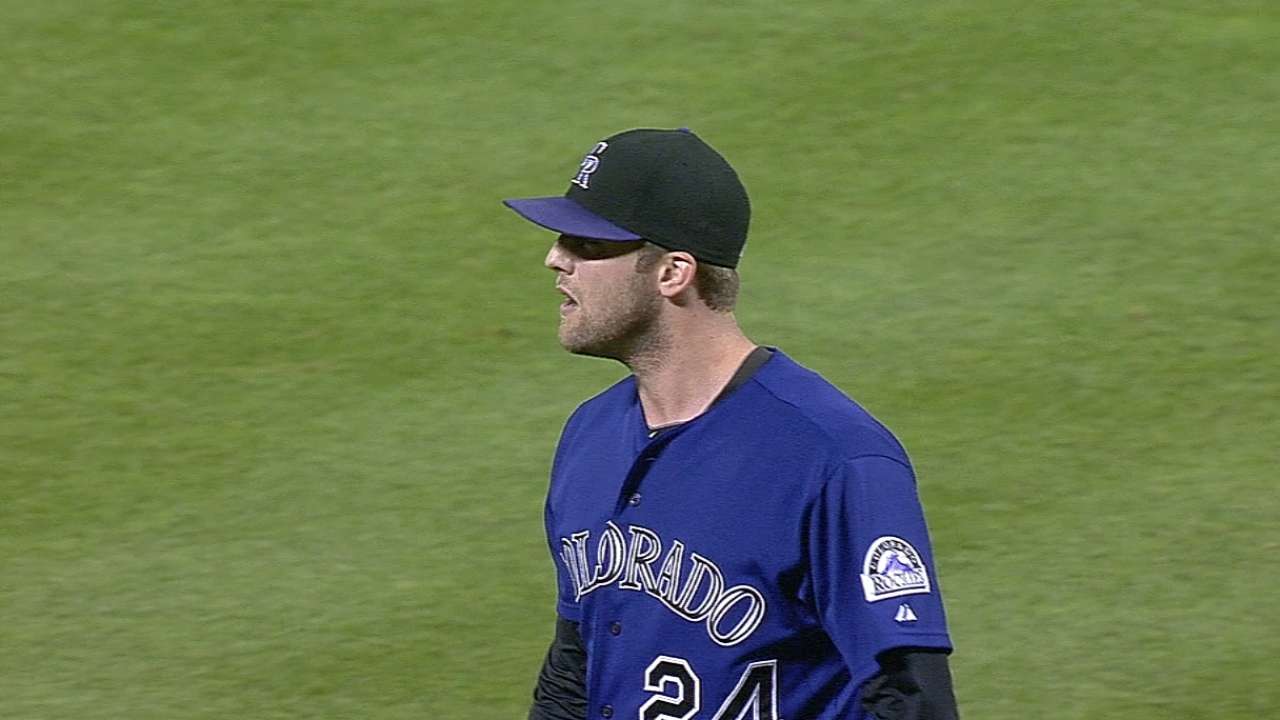 NEW YORK -- Jordan Lyles' effort Monday night in a 3-2 loss to the Mets was, according to his final line, one of his best in months. He just didn't feel that way.
"I thought last outing we threw it a little bit better than tonight even though I gave up [six] runs last outing," Lyles said after holding New York to one run over six innings. "[Catcher Michael McKenry] and I stayed in there, competed. They hit a lot of balls hard and at people. Lucky on that part."
The slow, deliberate words came from sullen Lyles, half-dressed and still sweaty. It's impossible to tell how his demeanor might have differed had the ninth inning gone differently, but it's difficult to imagine Lyles wearing the same downtrodden expression had LaTroy Hawkins closed out a one-run win instead of allowing the Mets two runs on six pitches in a walk-off loss.
Lyles did, after all, finish six innings for his third start in a row. He also allowed just one run for the first time since April. He even had a bit of luck on his side, with a handful of hard-hit balls off Met bats finding gloves rather than grass.
But on this night, after a tough loss, it was hard to find the positives.
"If you don't feel great, it's not a fun thing," Lyles said. "Luckily, we didn't give up many runs."
Lyles cited a fastball lacking its typical velocity, and the pair of walks he issued was frustrating. Even with all the fault he found, he did get to the bottom line: "You can't complain with a quality start."
Lyles grappled with a high pitch count early to get through six innings of three-hit ball. He stranded runners in each of the first three innings, at which point he had already thrown 65 pitches. From there, Lyles settled down to allow one hit his final three frames, the last of his 110 pitches catching the high-inside corner on Lucas Duda for a called third strike.
Michael Cuddyer and Nolan Arenado supplied the entirety of the Colorado offense in the form of solo home runs, which wasn't enough when the Mets rallied against Hawkins.
Hawkins gave up a leadoff double to Travis d'Arnaud and then an RBI triple to Curtis Granderson. Wilmer Flores lifted a sacrifice fly to center to end the Rockies' four-game win streak.
"That's the cool thing about baseball," Granderson said. "Things can change real quickly. We didn't do much offensively, but we were still in the ballgame. They're bringing their closer in which is a situation we don't want to be in. … Just like that, we take advantage of our last three outs and get a victory."
Cuddyer's homer came in the second inning on a 1-1 changeup down and away that he pulled into the left-field seats. Arenado found similar territory with his tie-breaking blast in the eighth off Vic Black, the result of a down-and-in curveball.
Arenado's long ball was a true odds-beater. In 100 career plate appearances in which he was down 0-2, Arenado had managed two extra-base hits -- neither of them homers. In 24 career plate appearances in which he was ahead 0-2, Black had allowed one hit -- a single.
"[Arenado] could've ended up having a big night tonight," manager Walt Weiss said. "Hit a couple line drives that got caught, and the home run. He's swinging the bat really well."
Early scoring opportunities were aplenty, with the teams combining to leave 10 runners on base and go 0-for-7 with runners in scoring position through the first five innings.
The Mets managed a run in the first when Duda doubled with two outs to score Kirk Nieuwenhuis, who walked. Cuddyer got the run back on the third pitch of the second inning with his homer.
Lyles made that stand up for as long as he could.
"Physically, I don't think I was there -- where I usually am," Lyles said. "For the most part, we had to fight a little bit."
Tim Healey is an associate reporter for MLB.com. This story was not subject to the approval of Major League Baseball or its clubs.