MLB.com Columnist
Bill Ladson
Nats ride Fister's effort to expand lead over Braves
Righty tosses seven shutout innings as East margin now eight games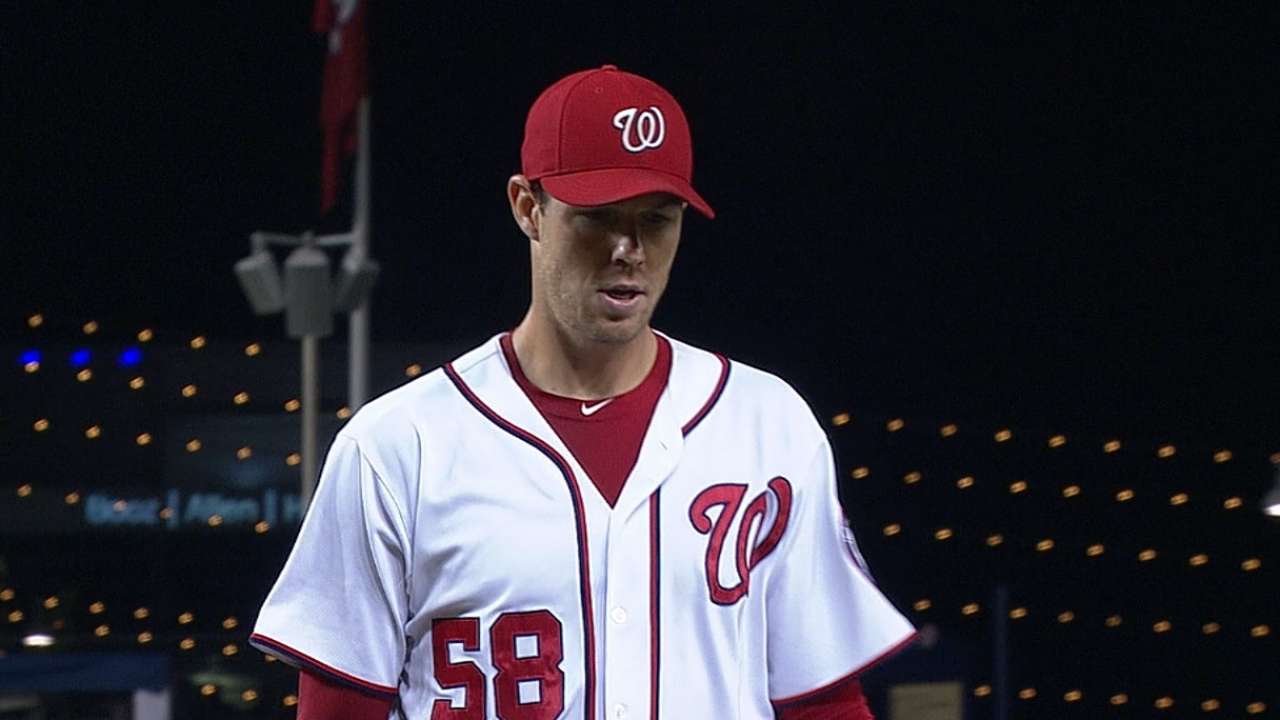 WASHINGTON -- The Nationals are a step closer to clinching a division title for the second time in three years. Doug Fister broke a personal three-game losing streak and helped the Nationals down the Braves, 2-1, at Nationals Park on Monday night.
The Nationals increased their lead in the National League East race to eight games and reduced their magic number to 12.
"It would be nice to win the division knowing that we can beat the Braves more than winning the division knowing that we can't beat the Braves," reliever Craig Stammen said. "This proves we can play good baseball against a good team, and [it can] prepare us for a playoff-type atmosphere if we get to that point."
Fister (13-6) pitched seven shutout innings, allowed two hits, struck out three batters and walked three others. It helped that he threw mostly fastballs during the game. Fister didn't throw many breaking balls to the Braves.
"That's our game plan, attack with our best. To me, my sinker is my best pitch. If I can locate that in and out and down, good things will happen," Fister said. "The biggest thing is let the guys hit it. That's the game plan going in, that's what we stayed with, and our defense was terrific. They made every routine play that we needed to make. I can't say enough about our defense."
The only time the Braves had runners in scoring position against Fister was in the top of the seventh.
The Braves had runners on first and second with two outs, and it appeared that manager Matt Williams wanted to take Fister out of the game. But Williams went out to the mound to let Fister know that Andrelton Simmons was his guy to get out. Williams looked in Fister's eyes and asked if he wanted Simmons. Fister's eyes were intense.
"Yeah, baby," Fister replied.
"I want to read him. I want to make sure that he is feeling OK. I asked him how he was and he said he was good. So I turned around [and went back in the dugout]," Williams said.
Fister appreciated that his skipper kept him in the game.
"That's epitome of showing confidence. That's what great managers do, they have confidence in their guys, and that's what he did tonight," Fister said.
Fister came through, inducing Simmons to ground into a fielder's choice to end the threat.
"We felt good going up there, as a group, to the plate," Braves right fielder Jason Heyward said. "I felt like [Fister] was just missing barrels, and that is kind of what he does. He wiggles his way around."
Braves left-hander Mike Minor was solid himself, allowing two runs in six-plus innings. Washington scored the first run in the first frame, when Ian Desmond singled to right field, scoring Anthony Rendon.
"I was able to get a fastball up, but I was able to stay on it and drive in a run," Desmond said.
Minor was out of the game in the seventh inning when the Nationals scored their second run. With the bases loaded, one out and right-hander David Hale on the mound, Rendon hit into a fielder's choice, but pinch-runner Jeff Kobernus scored on the play.
Atlanta made it interesting in the eighth, with reliever Tyler Clippard on the mound for Washington. With one out, pinch-hitter Ryan Doumit doubled into the right-field corner, and Heyward followed with a walk. After he struck out Ramiro Pena, Clippard was taken out of the game in favor of Matt Thornton, who allowed an RBI single to Freddie Freeman to make it a one-run game.
Clippard acknowledged that he wasn't happy about being taken out of the game. The eighth inning has been his the entire season.
"Yeah, I was hot, but I don't think they have a problem with me doing that," Clippard said. "Obviously I want the ball. They know that. [Williams] has to make tough decisions, and that was the decision he made."
Though he is usually not in the game when it is close and late, Stammen entered and was able to get Justin Upton to pop up to first baseman Adam LaRoche to end the threat. Stammen thought it was best to use the sinker over the slider.
"I was trying to pound him in," Stammen said. "In the past, I threw him a bunch of sliders. If things got to that point, I was going to use that pitch, too. I think the sinker was probably best rather than risk hanging a slider. That's kind of right in his swing path. He could do some damage. I wouldn't just lose the lead, but lose the game. The sinker was probably the safest."
Drew Storen pitched the ninth inning, striking out the side and saving his third game of the season. Storen has been unhittable in closing the last two games for Washington.
Williams declined to name Storen -- who saved 43 games in 2011 -- his closer, insisting that the Nats' closer will be based on matchups from game to game. But if Storen, who now features four pitches -- fastball, sinker, changeup and slider -- keeps it up, he could be the closer by the time the postseason starts.
Storen relishes being in the closer's role again.
"It's been fun," he said. "Obviously I've done a bunch of different roles down there, so anytime you can throw the ninth inning, it's quite the adrenaline rush."
Bill Ladson is a reporter for MLB.com and writes an MLBlog, All Nats All the time. He also could be found on Twitter @WashingNats. This story was not subject to the approval of Major League Baseball or its clubs.