Minor gives major effort, but Braves fall short in DC
Lefty battles Nats into seventh; Atlanta loses ground in WC race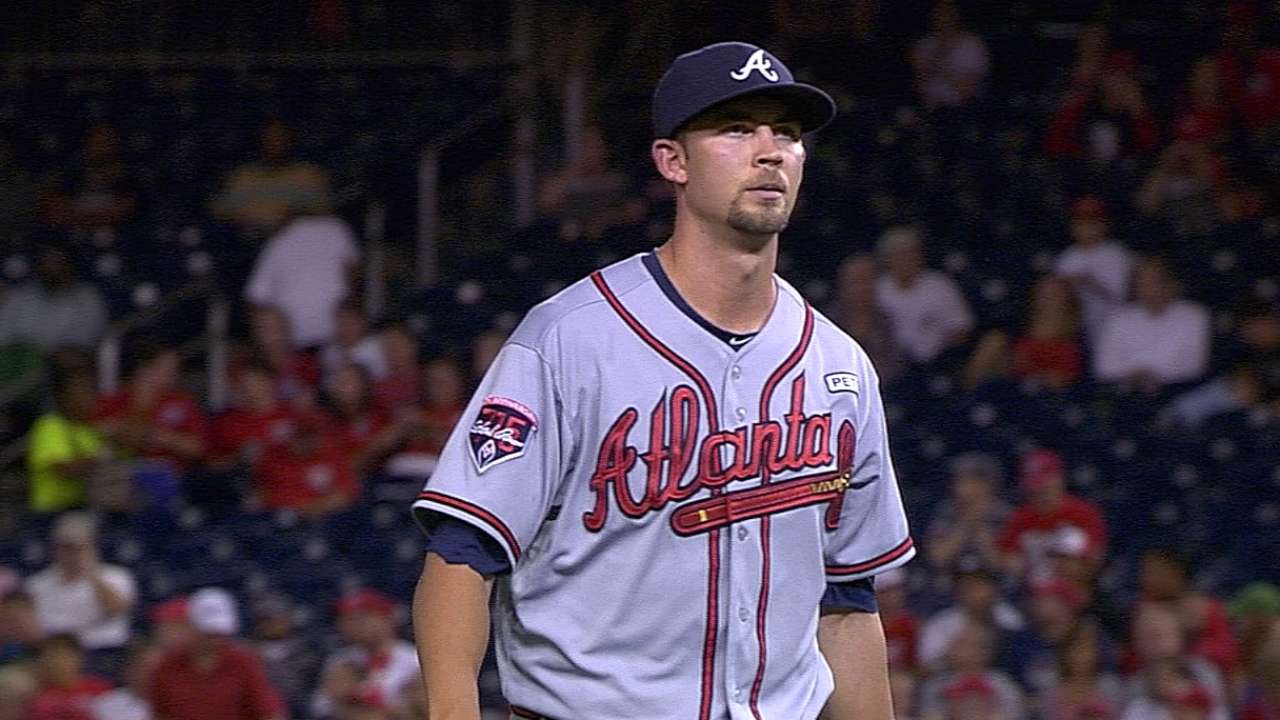 WASHINGTON -- As they have spent the past few weeks enduring an ugly offensive stretch that has extended the mediocrity they have produced most of this season, the Braves have nearly killed any hope of successfully defending their division crown. Now, they can only hope that their bats awake in time to avoid a fate that will be more painful than the one Mike Minor experienced during Monday night's 2-1 loss to the Nationals.
"Tonight was a baseball game, a well-played baseball game on both sides and well pitched," Braves right fielder Jason Heyward said. "No errors or mistakes there for either team. Their pitcher was able to hold us to one less run, and them getting the extra run with a groundout. It didn't take a lot. That's the definition of a good game."
Had this result not looked all too frighteningly similar for the Braves, it might have been easier to pass the game off as just one of those hard-luck experiences that will inevitably be encountered during the course of a 162-game season. But given that the Braves have now scored one run or fewer in six of their past nine games, it was not exactly easy for them to simply accept the fact that they ended up on the wrong end of an impressive pitchers' duel waged between Nationals starter Doug Fister and Minor.
With Fister scattering two hits over seven scoreless innings in the series opener, the Nationals gained an eight-game lead over the Braves in the National League East race. This latest loss, their fifth in seven September games, also dropped the Braves 1 1/2 games behind the Pirates, who currently are positioned to claim the NL's second Wild Card spot.
"It would be nice to win the division knowing that we can beat the Braves more than winning the division knowing that we can't beat the Braves," Washington reliever Craig Stammen said. "This proves we can play good baseball against a good team and prepare us for a playoff-type atmosphere if we get to that point."
After the Braves snapped a 16-inning scoreless drought with Freddie Freeman's two-out single off Matt Thornton in the eighth, Stammen got Justin Upton to chase a pitch off the plate and strand the tying run at third base with a weak popout in foul territory.
In the process of winning 22 of the previous 32 games that had been played against the Nationals, the Braves had taken advantage of numerous opportunities like the one they had in the eighth. But the tide has turned recently, and they currently find themselves in the midst of a 10-game stretch during which they have batted .157 (11-for-70) with runners in scoring position.
Freeman's single would have been enough to tie the game had Tommy La Stella not fumbled the double-play groundout that David Hale produced off Anthony Rendon's bat in the seventh. Hale entered after Minor began the inning by surrendering a Wilson Ramos single and Asdrubal Cabrera double to put runners at second and third.
Hale induced the ground balls that he envisioned. But La Stella's inability to cleanly field Rendon's gave the Nationals the insurance run they needed.
"I love the way we battled back," manager Fredi Gonzalez said. "We almost got out of that seventh inning without giving up any runs after [they put runners at] second and third with no outs. David did a great job there. He got a ground ball, and we just didn't turn a double play on them."
Minor, who was charged with two runs in six-plus innings, allowed hits to three of the first five batters he faced. But until the seventh inning, the only run he surrendered came courtesy of the consecutive two-out singles surrendered to Adam LaRoche and Ian Desmond in the first inning.
Ryan Doumit's rally-sparking double in the eighth accounted for the only extra-base hit notched by the Braves. Fister, who has tossed 15 scoreless innings against Atlanta this season, surrendered two singles and then pitched around the two walks he issued in the seventh.
Though the offensive struggles have to be taking their toll from a mental perspective, Heyward has been preaching the need to remain focused on doing whatever it takes to escape this nightmare stretch.
"This is my fifth year, and every year I've been fortunate enough to play for something coming down the stretch," Heyward said. "This year is no different. Tomorrow is another game."
Mark Bowman is a reporter for MLB.com. This story was not subject to the approval of Major League Baseball or its clubs.