Gonzalez, O's blank Red Sox, trim magic number to 11
Righty remains hot, while Baltimore capitalizes on three Boston errors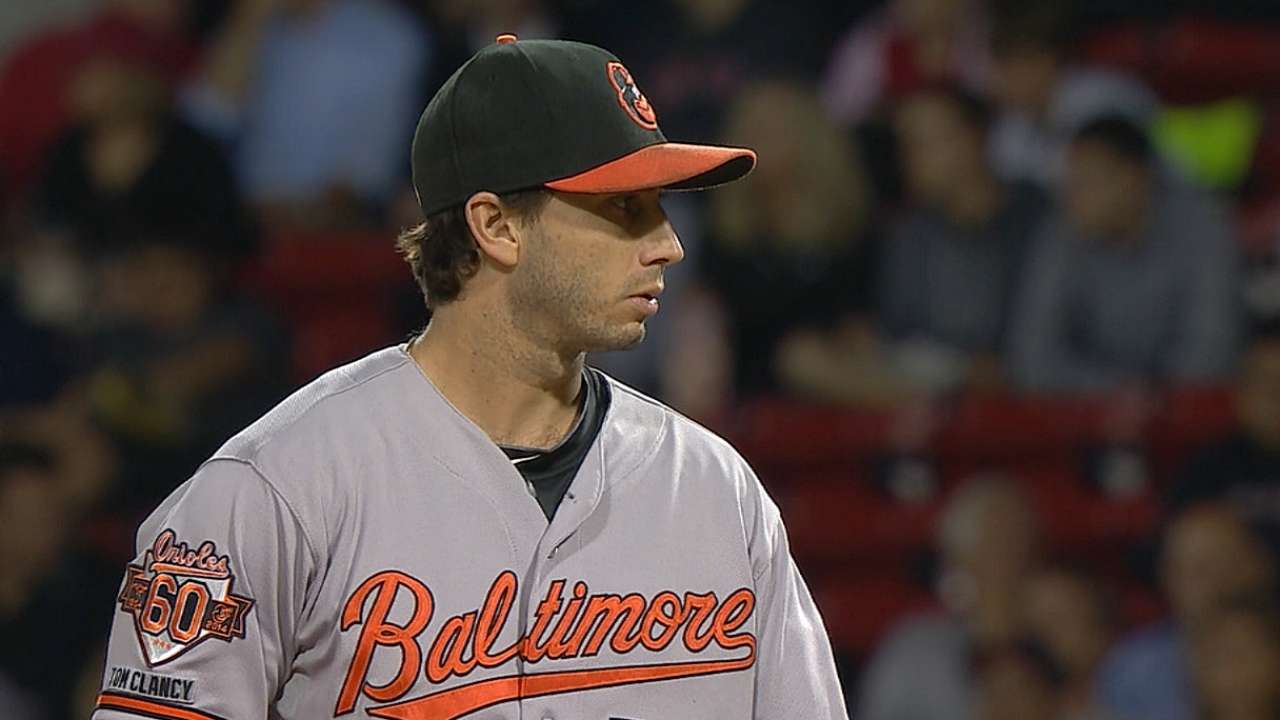 BOSTON -- The Orioles' September trip to Fenway Park isn't exactly the pivotal series it looked to potentially be this spring. Instead, it was a showcase of two clubs going in markedly different directions.
The O's, who received another terrific outing from right-hander Miguel Gonzalez, capitalized on three errors from the last-place Red Sox to pull away with a 4-0 series-opening victory Monday night. The win extended Baltimore's lead to 10 games in the American League East and lowered its magic number to clinch the title to 11 with 19 games remaining.
The Orioles -- who have won 13 of their last 16 series openers -- hadn't had a double-digit divisional cushion since Sept. 22, 1979, a date so long ago that no member of the active roster was even born yet.
"Yeah [it's cool], but just a step," said manager Buck Showalter, who was a player in the Double-A Eastern League 35 years ago, of reaching a 10-game cushion. "Every night you get the opportunity to take a step toward your goal. Like Boston has done. They set a real good example [in winning the World Series] last year. At times this year, you realize how fleeting and how close it all is."
The Orioles are certainly in some recently uncharted territory, trailing only the Angels for the AL's best record and on a seemingly fated course for what would be just their second postseason appearance since 1997.
"We hear it, we hear what's going on, but it doesn't feel like that," infielder Steve Pearce said of Baltimore's remarkable regular season. "We still know we've got a job to do. And we go out there and we play. We play hard and we let everything else take care of itself."
Gonzalez is taking care of his own business quite nicely as the righty continues to build a strong case for a postseason rotation spot. Coming off his first career shutout, Gonzalez continued his second-half surge and has allowed just one run over his last 22 1/3 innings.
"Any time he has the type of outing he had last time, you are wondering how he is going to respond the next time out, but I think he answered those questions pretty well," Showalter said of Gonzalez, who exited after a trio of singles in the seventh. "Miggy is attacking the strike zone with a lot of different pitches. And really pitching confident because he's got command of three pitches."
Gonzalez, who tossed 6 1/3 innings against Boston, has allowed two or fewer runs in nine of his last 10 starts. Asked where his confidence level is, Gonzalez -- who was optioned twice this season just to get the O's an extra arm -- seemed happy with where he is now. The difference?
"Staying positive and staying aggressive every time I go out there and not do too much," Gonzalez said of his recent adjustments. "Especially like today, it was a big zone. I thought we made some good plays behind me. Everybody they did their job."
Boston mustered just six hits off Gonzalez, who struck out four, with Tommy Hunter recording a pair of strikeouts in the seventh to keep his scoreless outing intact.
"He's strung it together," Hunter said Gonzalez. "When you feel hot, you want the ball. He's kept his roller coaster on the uphill climb. Hopefully it keeps going. We've all got his back. Hopefully he just goes out and keeps throwing the way he's been for the last three months, three-and-a-half months, whatever it's been. It's been incredible. It's fun to watch."
Red Sox righty Joe Kelly also went 6 1/3 innings, but was victimized by some shoddy defense -- including Boston's inability to turn several double plays -- and allowed four runs (three earned) on six hits and three walks.
The O's got started on Pearce's second-inning RBI and added a pair of runs (one unearned) in the sixth. Adam Jones' sacrifice fly in the seventh, which was dropped by left fielder Yoenis Cespedes, extended the lead to four.
Brittany Ghiroli is a reporter for MLB.com. Read her blog, Britt's Bird Watch, and follow her on Facebook and Twitter @britt_ghiroli. This story was not subject to the approval of Major League Baseball or its clubs.