Shoddy defense, lack of offense sink Red Sox
Kelly delivers quality start, but receives no support in loss to Orioles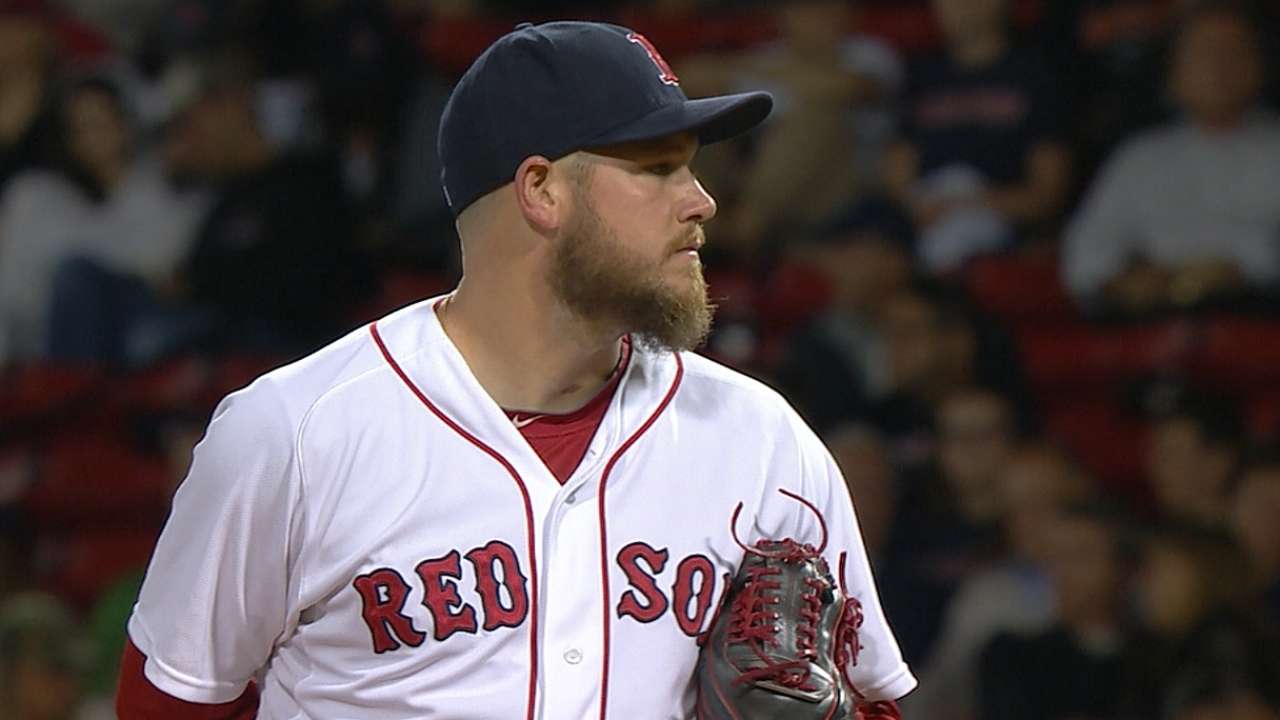 BOSTON -- Last year at this time, the Red Sox were beaming with excitement each day they got to the field, knowing that the postseason was another day closer.
But last year felt like a long time ago Monday night at Fenway, as the Orioles -- the team that is all but certain to win the American League East -- dispatched last-place Boston with a 4-0 shutout.
Lacking sharpness in the field and production at the plate, the 63-81 Red Sox were outplayed in this one throughout.
Boston made three errors and also narrowly missed turning several double plays.
"Yeah, we were not sharp defensively," said Red Sox manager John Farrell. "We had a number of opportunities to turn some double plays that probably factored into some runs allowed, particularly in the fifth inning. We rolled into a couple ourselves. Still, not a sharp night defensively."
Meanwhile, the Orioles just keep chugging along. With the win, they opened up their first 10-game lead in the AL East since 1979 and lowered their magic number to 11.
"Yeah, but just a step," said Orioles manager Buck Showalter. "Every night you get the opportunity to take a step toward your goal. Like Boston has done. They set a real good example last year. At times this year you realize how fleeting and how close it all is. It's all relevant. The difference between this year and last year is such a fine line, it's not near the separator people think it is when they look at games ahead or behind."
Losing pitcher Joe Kelly competed on a night he didn't have his best command, allowing six hits, four runs (three earned) and three walks while hitting two batters. He also struck out six on a career-high 120 pitches.
"I made some good pitches today when I had to," said Kelly. "I didn't make terrible pitches. The other guy threw a hell of a ballgame. He's been pitching like that all year. When you face a guy like that, letting up one run would have beat us today."
The other guy was Orioles starter Miguel Gonzalez, who cruised for 6 1/3 innings as the Red Sox couldn't generate much of anything offensively.
"Well, he made pitches," said Farrell. "He had a four-pitch mix working. He threw a lot of strikes. When we did get a leadoff guy on, they were erased on two occasions with a ground ball to the left side and a double play. He kept us off balance. When we did start to create some opportunities, particularly in the seventh inning, [Tommy] Hunter comes in for two big strikeouts in the opportunities that we did have late."
The Orioles broke out to a 1-0 lead in the top of the second on an RBI single by Steve Pearce.
Kelly got himself into trouble in the sixth when he opened the frame by walking Nelson Cruz and hitting Chris Davis. Pearce loaded the bases with a single to right. With one out, Ryan Flaherty hit a grounder to first, and Mike Napoli hoped to start an inning-ending double play. But the throw by Xander Bogaerts back to first one-hopped Kelly, who was covering the bag, and two runs scored on the play to make it 3-0.
Pearce helped break up the potential double play with an aggressive takeout side, the kind that is commonplace for teams gearing up for playoff baseball.
"That's baseball," said Showalter. "We'd feel the same way if they did it. We don't think twice about it and I don't think they do, either. That's the way Boston plays, too. That's why they've had so much success."
Kelly was more frustrated at himself than his defense.
"I was definitely kind of irritated," Kelly said. "I hate losing. I'm probably one of the biggest poor sports in all of baseball. But yeah, it was just one of those days where you've got to tip your cap to the other pitcher. He made pitches, he got some double plays and he definitely pitched good enough to win the game."
In the seventh, Boston made two more errors. The first was a throwing error by catcher David Ross that allowed Alejandro De Aza to take an extra base on a stolen attempt of second. And the second was a routine fly ball that Yoenis Cespedes dropped. That one was ruled an error and a sacrifice fly.
"I think it all hurt," said Ross. "Me throwing that one ball away hurt. I think that cost us one. And not being able to capitalize on some ground balls. I think there were three or four bang-bang plays at first where we almost turned double plays. But those guys are really good up the middle with Dustin and Bogey, and they're really working hard and doing the best they can."
The Red Sox finally seemed on the verge of a successful rally in the seventh when they loaded the bases with one out. But Hunter struck out Will Middlebrooks and Ross to snuff out that threat.
Ian Browne is a reporter for MLB.com. Read his blog, Brownie Points, and follow him on Twitter @IanMBrowne. This story was not subject to the approval of Major League Baseball or its clubs.