MLB.com Columnist
Lyle Spencer
By the numbers, Marlins' outfield class of MLB
Ranking clubs by WAR, Miami most complete; Royals, Angels, O's, Braves round out top 5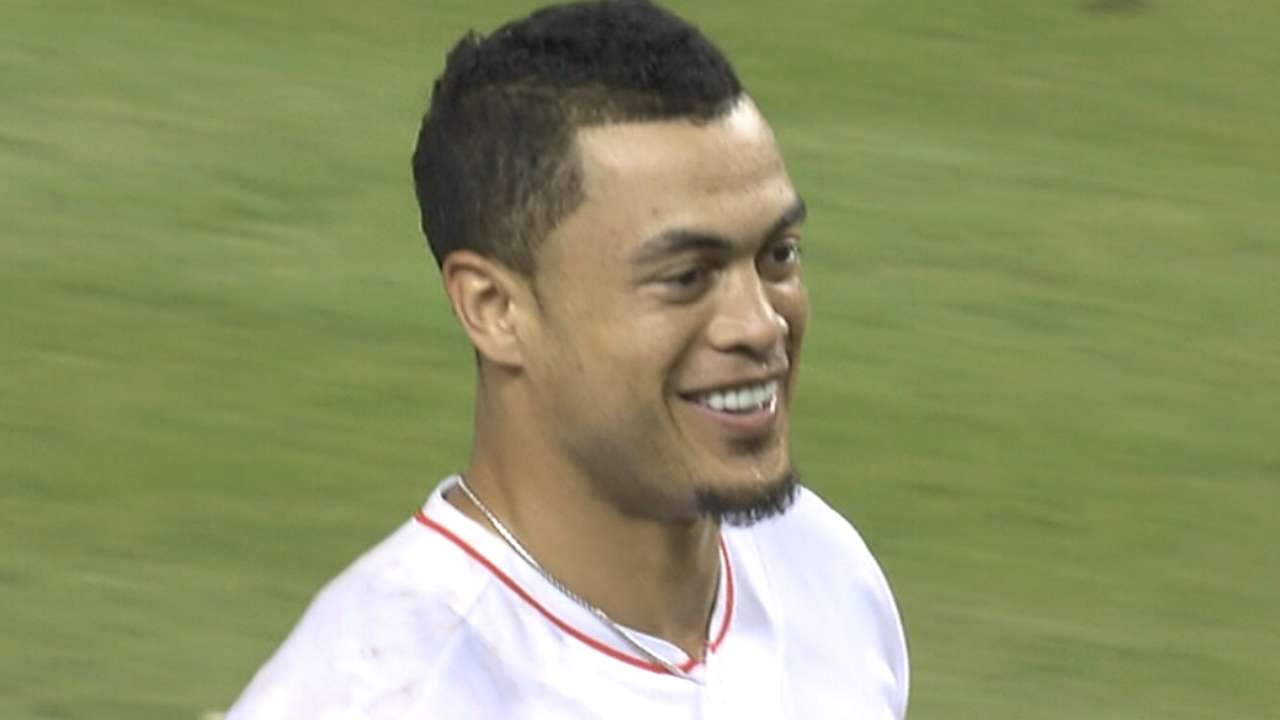 Everywhere we look around the Major League landscape, we marvel at sensational outfield play: diving catches, athletes scaling walls to take back home runs, bazooka arms saving runs with laser throws to home.
While the Pirates' heralded outfield of the future featuring a trio of amazing athletes hasn't quite arrived, with Gregory Polanco just getting acquainted with the Majors, there are other trios who have consistently amazed fans with their all-out efforts all season.
"I'll take our outfield against any in baseball," right fielder Kole Calhoun of the American League West-leading Angels said. "I know there are a lot of great outfields, but our guys can do everything. And we've got Mike [Trout]."
Taking it all into consideration -- defense, offense, baserunning -- and using WAR (wins above replacement) figures compiled by FanGraphs.com as the measuring device, let's take a look at the best outfields in the game at the moment.
1. Marlins, 12.7
With his stunning power and cannon, Giancarlo Stanton (5.7) dominates on the field and in the media. But his companions -- Christian Yelich (4.3) and Marcell Ozuna (2.7) -- also are producing handsomely to make this the game's complete outfield.
2. Royals, 12.6
Led by the matchless play in left of Alex Gordon (6.1), the Royals cover the outfield as few teams can when Lorenzo Cain (3.4) takes right with Jarrod Dyson (3.1) in center. Nori Aoki (1.4) brings solid play to right, giving Kansas City a foursome without equal.
3. Angels, 11.9
Trout (6.6) is the game's best player, and leadoff catalyst Calhoun (3.2) has emerged as a superb all-around performer in right. Fourth outfielder Collin Cowgill (2.1) has a higher WAR than Josh Hamilton (1.2) in left, but Hamilton's recent surge suggests his number could be climbing.
4. Orioles, 10.4
All-Star Adam Jones (4.9) is enjoying another terrific season in center, flanked by Nick Markakis (1.7) in right and a combination of Steve Pearce (3.8) and Nelson Cruz (3.3) in left. In terms of offensive firepower, it doesn't get any better than this group.
5. Braves, 9.6
There is not a more athletic threesome than Atlanta's, but B.J. Upton's struggles with the bat and his minus-0.2 WAR drop this outfield a few notches. Jason Heyward (5.3) in right and Justin Upton (4.5) in left are elite performers. If B.J. finds his groove, this trio soars.
6. Pirates, 9.3
Reigning National League Most Valuable Player Award winner Andrew McCutchen (5.3) is having another superlative season, and Starling Marte (3.1) using his great tools effectively in left. This becomes the No. 1 unit if Josh Harrison (4.4) plays right, but he's made only 23 starts there, getting most of his time at third base. Travis Snider (0.9) mans right as Polanco (0.3) gets his flying feet wet.
7. Giants, 9.2
Hunter Pence, the completely unique right fielder, is having a brilliant season (5.4 WAR). Angel Pagan (1.9) has missed time with injuries in center, and San Francisco is a different team when he's healthy and flying around. Gregor Blanco (1.9) has a superb glove in left, sharing the job with imposing Michael Morse (1.1).
T8. Rays, 8.8
Kevin Kiermaier (4.0) has emerged as a quality player in right and center, and Desmond Jennings (3.2) is having a solid season in center. Matt Joyce and Brandon Guyer (1.6) have shared left. If Ben Zobrist (5.0) spent more time in the outfield -- second base has been his main position this year -- this unit is surpassed only by the Marlins. And to think, they've done it with minimal help from injured Wil Myers.
T8. Nationals, 8.8
Denard Span (3.8) and Jayson Werth (3.7) have been rock-solid for the NL East leaders. When a healthy Bryce Harper (1.2) picks it up in left, this unit climbs the rankings. Ryan Zimmerman (1.3) made the most of his time in left while Harper was sidelined.
10. Brewers, 8.0
No outfield is more impressive in terms of power. Featuring the multitalented, ultra-exciting Carlos Gomez (4.7) in center, the Brew Crew flanks him with Khris Davis (2.3) and Ryan Braun (1.0).
11. Yankees, 7.5
Covering vast amounts of turf with their speed, Jacoby Ellsbury (3.8) in center and Brett Gardner (3.7) in left have been the Yanks' best players, according to FanGraphs' WAR calculations. Right field has been a revolving door with no positive WAR figures to enter into the equation.
12. Dodgers, 7.4
Few outfields have this talent level, but the performances have been up and down. Streaky Yasiel Puig (4.3) has put up some big numbers, with Scott Van Slyke (2.1), Carl Crawford (1.0) and Matt Kemp (0.9) roaming the ever-changing L.A. landscape. Crawford and Kemp are showing signs of turning this into an elite outfield.
Lyle Spencer is a columnist for MLB.com. This story was not subject to the approval of Major League Baseball or its clubs.