Soria nearing return after simulated game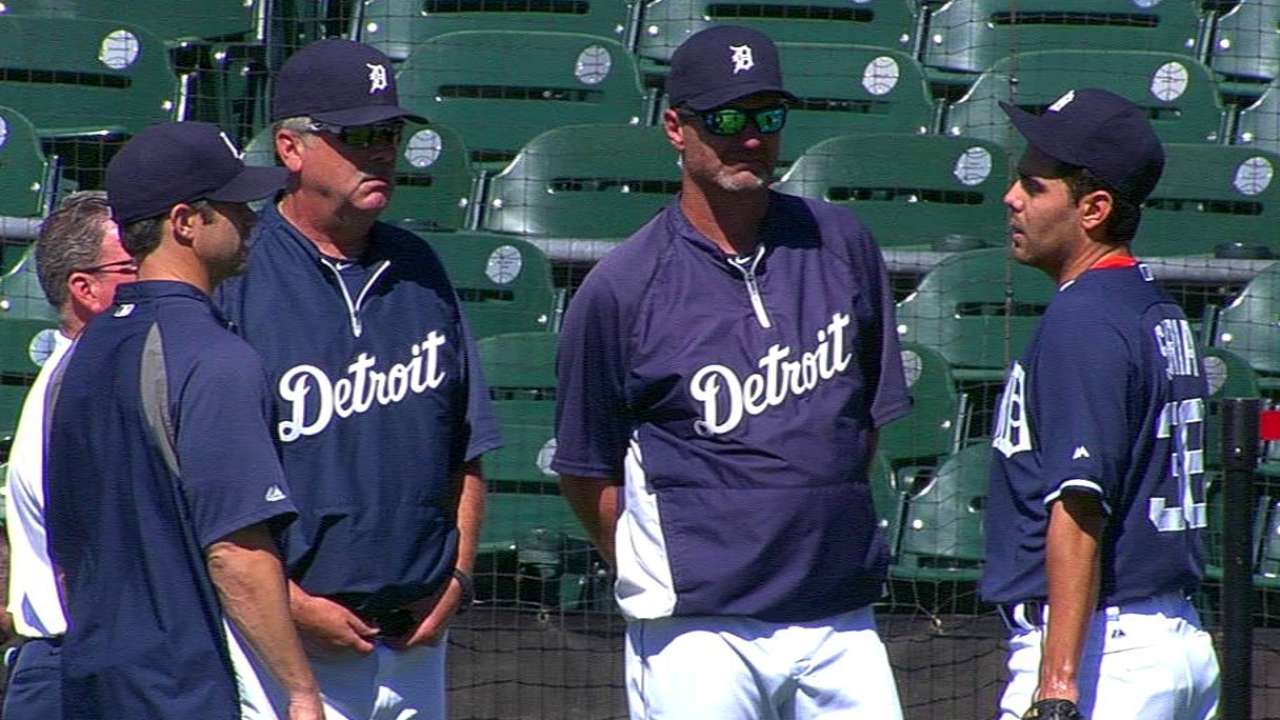 DETROIT -- Comerica Park was quiet enough to hear Joakim Soria exert some energy as he dropped a breaking ball under Steven Moya's swinging bat for a strike. The stands were empty, and the Tigers' division clash with the Royals was still three hours away.
The way Soria looked and felt in his simulated game Monday afternoon, however, could end up making an impact on the American League Central race, possibly directly. As long as the Tigers reliever feels fine Tuesday morning after 27 pitches on Monday, he could be activated from the disabled list as soon as Wednesday.
That could put Soria on track to be available for the series finale against his old team Wednesday night.
"I'm excited," Soria said. "We took a big step today."
Soria, out for the last four weeks after suffering a left oblique strain during a game in Toronto, threw his entire arsenal to a group of September callups, then did some agility drills in the outfield.
It wasn't game intensity, but it was close enough to simulate the effort he'll have to put on a pitch to retire a hitter. While Soria said he felt good, manager Brad Ausmus said he didn't see any signs to suggest otherwise.
"It didn't look like anything was bothering him," Ausmus said. "He said he felt good afterwards, said he didn't even get tired. All signs are pointing in the right direction. We just have to make sure tomorrow he comes in and there's no issues."
Even if Soria feels fine, Tuesday will be a rest day for him. That means Wednesday would be the earliest he can return. It could be a huge game in the AL Central race, and it could mean Soria taking the mound against his original organization, the team he spent five years trying to get to this point with, and several players he still considers friends.
It's an interesting subplot, but for Soria, it's business.
"It's fun to watch them playing really good," Soria said, "but now I've got a new family. We need to win these games and hopefully get back on top of the division."
Soria pitched everywhere from the seventh inning to the ninth and extras in the half-dozen appearances he made for the Tigers before going on the 15-day DL. Ausmus indicated he'll likely reprise that role once he returns, though with some precautions.
"We probably still have to be careful in terms of usage, at least initially," Ausmus said, "but I still expect him to be pitching toward the back of the bullpen."
Jason Beck is a reporter for MLB.com. Read Beck's Blog and follow him on Twitter @beckjason. This story was not subject to the approval of Major League Baseball or its clubs.