Make-or-break time for playoff-hungry Giants
Several factors will impact club's chances at reaching postseason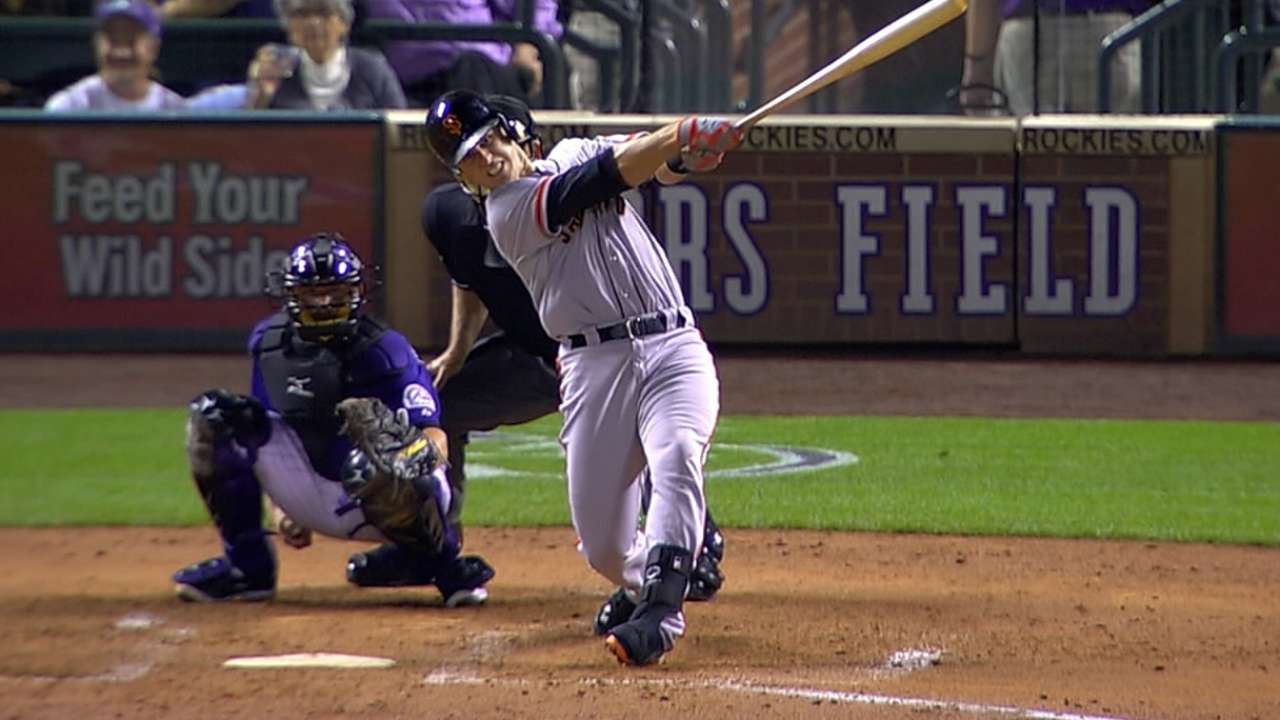 SAN FRANCISCO -- Consider this the pre-postseason for the Giants. Until they clinch the National League West, secure an NL Wild Card berth or endure the sting of elimination, each of their final 19 games might as well be a postseason contest.
Though San Francisco trails first-place Los Angeles by three games in the NL West, the Giants' six games remaining against the Dodgers offer ample opportunity to close that gap. In the NL Wild Card race, San Francisco is the hunted, not the hunters. The Giants led the NL Wild Card standings entering their scheduled off-day Monday, but three teams trailed them by four games or fewer. Urgency has become part of their daily routine.
"This is the time of year to let it all hang out," left-hander Madison Bumgarner said. "It's make-or-break time. We have a chance to play for the division title; we're not out of that. This should be a fun few weeks to finish up here."
Since nine is such an operative number in baseball, here are nine factors that could influence the Giants' fate once they return to action Tuesday night against the Arizona Diamondbacks:
Dodgers, Part 1: The Giants have opportunities to trim the deficit separating them from the Dodgers, with home-and-home series Friday to Sunday at AT&T Park, followed by a three-game set Sept. 22-24 in Los Angeles. San Francisco's 7-6 edge in the season series is deceiving, since both teams -- particularly the Giants -- have changed since they last met in late July. Los Angeles will employ its top three starters -- Clayton Kershaw, Zack Greinke and Hyun-Jin Ryu -- against San Francisco this weekend. But Bumgarner, the Giants' ace, will receive a turn in each series, and Jake Peavy, who's 7-1 with a 2.85 ERA in 13 Dodger Stadium starts, is scheduled to pitch in L.A.
Dodgers, Part 2: Enjoy this competition. The traditional rivals haven't been this close to each other in the standings with a division title at stake since 2004, when they entered the final weekend with Los Angeles needing one victory in a three-game series to clinch the NL West. The Dodgers got it when Steve Finley hit a walk-off grand slam against Wayne Franklin in Game 161.
Looking at the rest: San Francisco also has six games left against Arizona and seven games remaining with San Diego. Neither should be regarded lightly, though the D-backs entered Monday sharing the NL's worst record with the Rockies. The Giants lead the season series against the D-backs, 8-5, but nine of those games were decided by three runs or fewer. San Francisco split its 12 previous games against San Diego and has struggled to muster offense against the Padres, batting .205 for the season.
Feeling at home: The Giants play 10 of their remaining 19 games at AT&T Park. A few weeks ago, this might not have been considered an advantage. San Francisco performed miserably at home from June 9-Aug. 12, losing 22 of 29 games. Since then, the Giants have regained their winning knack by the bay with a 9-2 surge. Maintaining that pace is virtually essential.
Travel trio: The Giants' next and final regular-season trip will be their third three-city excursion of the year. They finished 7-3 at Atlanta, Pittsburgh and Los Angeles from May 2-11 and 4-6 at New York, Milwaukee and Kansas City from Aug. 1-10. Their upcoming swing through NL West cities won't be as geographically challenging as the previous ones. But Arizona (Sept. 15-17) and San Diego (Sept 19-21), the opponents on the first two stops, will be intent on playing the spoiler role. And the potential importance of the Dodgers series (Sept. 22-24) needs no elaboration.
2010 revisited: San Francisco finishes the regular season with a home series (Sept. 25-28) against San Diego, as was the case in 2010. That year, the second-place Padres won the series' first two games and whittled the Giants' lead to one before Jonathan Sanchez and the bullpen stopped San Diego on the season's final day to win the division. This time, though the Giants and Padres aren't both pursuing the same prize, San Francisco would prefer to enter the weekend with a postseason spot fully or almost secured.
Who's hot: Plenty of guys, given the club's recent offensive binge. Before going 0-for-2 Sunday, Buster Posey had recorded five consecutive multihit games. He's still batting .493 (33-for-67) in his last 16 games. Posey and Hunter Pence, who tops the NL in hits and is tied for the league lead in runs scored, have emerged as NL Most Valuable Player Award candidates. And the production of rookies Joe Panik (.347 in his last 11 games) and Andrew Susac (.350 with 16 RBIs in his last 10 starts) has been well-documented.
Who's not: Before saving last Saturday's victory at Detroit, closer Santiago Casilla was scored upon in five of nine outings. Left-hander Jeremy Affeldt yielded eight runs in a recent seven-game stretch. He has allowed three hits and walked two while facing eight batters in his last three appearances. Michael Morse was hitting .211 with five RBIs in 12 games before an injured oblique sidelined him.
Key performers: Pablo Sandoval has hit consistently, but what the Giants really need from him is more power, particularly if Morse remains sidelined. With two blasts in his last six games, Sandoval could be regaining his homer stroke. As always, the offense functions better when leadoff batter Angel Pagan reaches base. And few players give San Francisco a lift more than right-hander Tim Lincecum, whether he's relieving or starting.
Chris Haft is a reporter for MLB.com. Read his blog, Haft-Baked Ideas, and follow him on Twitter at @sfgiantsbeat. This story was not subject to the approval of Major League Baseball or its clubs.