Vargas poised to prove sizzling start is no fluke
Improving walk rate, pitch selectivity would help rookie keep up numbers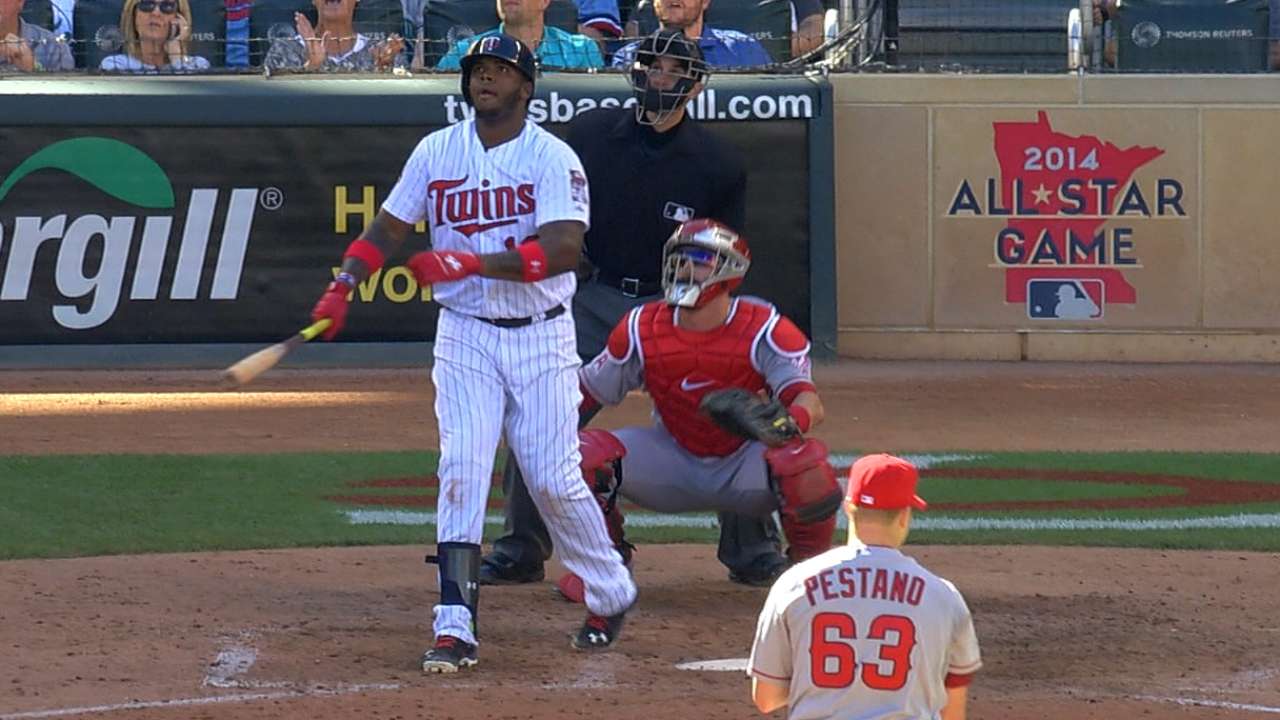 MINNEAPOLIS -- Kennys Vargas has undoubtedly made a huge offensive impact for the Twins since getting called up from Double-A New Britain on July 31.
The switch-hitter has successfully made the jump from Double-A, hitting .303/.321/.493 with seven homers, eight doubles and 33 RBIs in 36 games. Vargas joined some impressive company with his hot start, as the only Major Leaguers to reach 40 hits and 30 RBIs quicker than he did are Hall of Famer Joe DiMaggio and Albert Pujols, who did it in 32 games.
But teams are starting to adjust to Vargas, and he'll have to make his own adjustments to prove his sizzling bat isn't just a fluke. After all, Chris Parmelee had similar numbers as a September callup in 2011, and he hasn't been able to replicate them. Chris Colabello had a red-hot April this season, only to cool off, and he didn't even make the expanded roster.
The Twins, however, are confident that the 6-foot-5, 275-pound Vargas is already making those adjustments and can be their designated hitter of the future while backing up Joe Mauer at first base.
"[Vargas] has done a good job making some adjustments," Minnesota assistant general manager Rob Antony said. "They're not going to throw him fastballs unless they have to. He's hit some balls a long way on offspeed pitches and breaking balls. He's chased some, which every young player does. But he's also done a pretty good job laying off some and getting himself into decent counts."
Vargas, however, still has plenty to prove after his hot start, so here's a look at what the 24-year-old has done well and what he can improve on going forward.
Three things Vargas has done well
Driving in runs: Vargas has fared well with runners on base, as he ranks 11th in the Majors in RBI percentage, according to baseballmusings.com. Vargas has come up to the plate with 133 runners on base and has driven in 33. Miguel Cabrera leads the Majors with a 23.71 RBI percentage, while Vargas is at a very respectable 19.55 percent, which ranks just ahead of Mike Trout.
Making hard contact: Vargas has made solid contact, as 15 of his 49 hits have gone for extra bases. He is also tied for 21st in the Majors in hard-hit rate in August, according to ESPN.com, which tracks the stat based on video of each hit. Vargas hit the ball hard in 21.6 percent of his at-bats that month. Of the more than 100,000 balls hit over the last two years, Vargas hit the hardest ball ever tracked on a single on Aug. 5 that went 120 mph, according to data collected by Trackman.
Hitting for average: Vargas is hitting .303, which is helped by the fact he's hitting .358 on balls hit into play, when the league average is roughly .300. But he's also shown the propensity to hit the ball the other way, which should help him with his average, as he's not a dead-pull hitter and teams can't simply rely on using infield shifts against him. Teams have employed shifts on Vargas, but they haven't been as pronounced, given his ability to go with a pitch and drive it the other way. Of his 49 hits, only 14 were classified as pulled, according to baseball-reference.com.
Three areas where Vargas can improve
Walk rate: Vargas has walked in just 2.5 percent of his plate appearances, which is one of the lowest rates in the Majors. The only player with enough plate appearances to qualify for the batting title with a lower walk rate is former Twins center fielder Ben Revere (2.2 percent). But Vargas has shown patience in the Minors, as he walked in 10.6 percent of his plate appearances at Double-A this year and had a 9.6 percent walk rate with Class A Advanced Fort Myers. Minnesota sees Vargas as a run producer, so the club is not too worried about his aggressive tendencies now, but he will have to become better at taking walks to be a more productive hitter down the road.
Pitch selectivity: It goes hand in hand with his walk rate, but Vargas has been a free swinger so far. The switch-hitter has swung at 56.2 percent of all pitches he's seen, which would rank as the sixth-highest swing percentage if he were qualified, according to FanGraphs.com. It's not the swing rate that's the issue, though; it's Vargas' propensity to chase pitches out of the zone. He's swinging at 41.2 percent of pitches out of the zone, which would rank as the seventh-highest mark in the Majors and is much higher than the league average of 31.1 percent. Vargas is only making contact on 53.2 percent of those pitches out of the zone, which is also lower than the league average of 65.9 percent and has led to 40 strikeouts in 162 plate appearances.
Hitting offspeed pitches: Vargas has crushed fastballs so far, as six of his seven homers have come on fastballs, so he'll likely see fewer and fewer heaters from pitchers moving forward. According to data at FanGraphs.com, he's struggled against sliders and changeups, but has done fine against curveballs. It was evident in a big at-bat against Angels closer Huston Street on Friday, as Vargas worked the count to 3-1 with two on and the Twins trailing by two, but he saw three straight changeups and struck out swinging. Vargas called it a learning experience after the game, and he knows he will need to continue to make adjustments against offspeed pitches. The one thing that should help him is that he's a switch-hitter, so he usually doesn't have to deal with pitches breaking away from him.
Rhett Bollinger is a reporter for MLB.com. Read his blog, Bollinger Beat, and follow him on Twitter @RhettBollinger. This story was not subject to the approval of Major League Baseball or its clubs.