MLB.com Columnist
Marty Noble
Jordan's presence put Jeter's career in perspective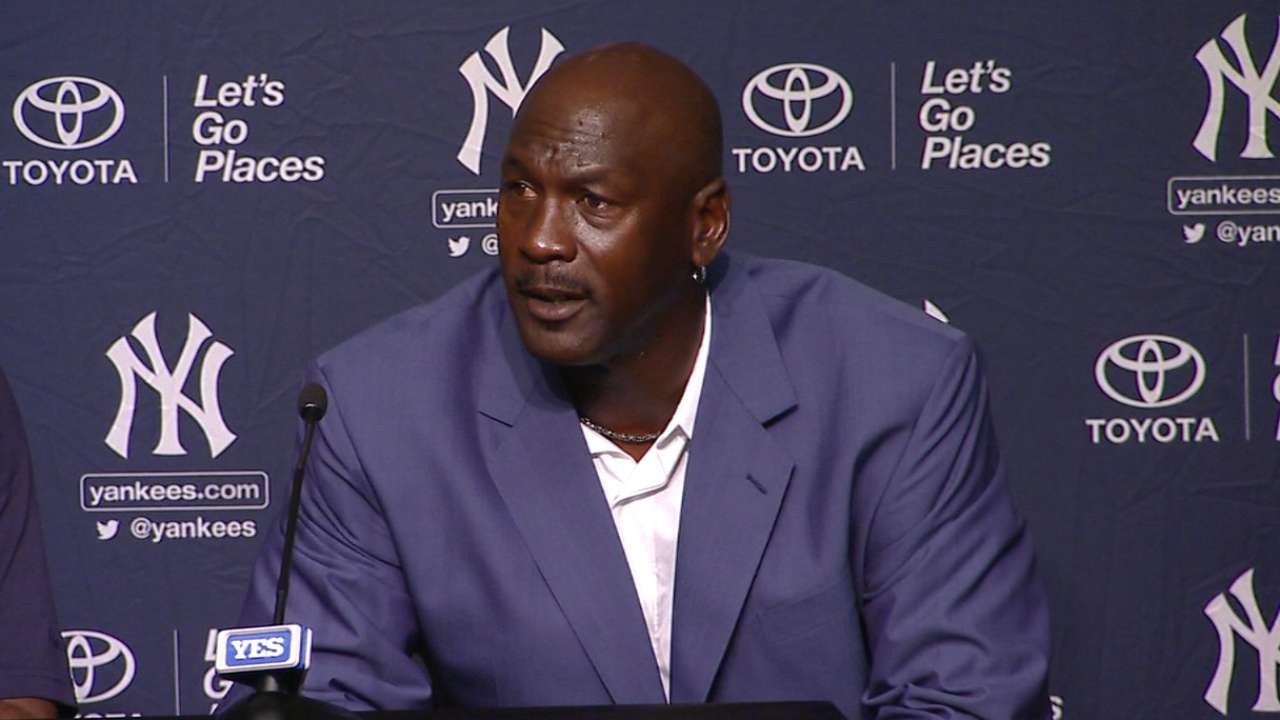 NEW YORK -- The presence of Michael Jordan, the other great winner of that generation, said so much about Derek Jeter, didn't it? It said more than the words of Michael Kay, Rudy G., Tulo, Big Papi, Shaq and Kobe, said more than the thousands of words spoken by others at Yankee Stadium on Sunday and more than words written by the folks paid to provide perspective. That 23 showed up for 2 was more eloquent, too, and a powerful means of measuring the Yankees shortstop on his day of days.
Not many of us knew his Airness and the Captain had forged a relationship back when Jordan was trying his hand at the game Jeter would conquer. Their 20-year friendship had something to do with Michael being there Sunday, of course, but Jordan's presence -- whether or not it was the Yankees' intent -- provided another means of putting Jeter in his place.
It brought together two ultimate winners, two athletes recognized as much for their resolve as their considerable talent and uncommon accomplishments. What other winner could have been invited to the South Bronx to spend a September Sunday and better validate Jeter's greatness? Tom Brady was otherwise occupied. Lance Armstrong could have come if his tires hadn't been punctured by the truth. Another Michael -- Phelps -- could have been invited, but the ceremonies were staged on grass and clay, not in water. Moreover, we pay attention to events in the pool once every four years. Jeter had commanded our attention for the better part of two decades.
The Yankees usually have one of their own serve in that capacity, as validator whose greatness is equal to or greater then Jeter's. But Joe D. and Mickey are gone. Yogi and Whitey aren't getting around very well. And none of the players who have been Jeter's teammates have comparable cachet, not even Mariano.
No entity in sports does anything as well as the Yankees do the Yankees. And to maintain that sense in this endeavor, the Yankees had to go outside the organization, the city and even the sport and bring in MJ.
He's got six rings to Jeter's five, but winning a big league championship is more challenging that finishing first in the NBA. Remember, nothing is as fickle as the bounce of a baseball.
Mentioning or even displaying Jeter's championship jewelry wouldn't have been enough of a show on Sunday. Throwing in videos of his two dozen moments in the sun, moments that distinguished the Captain in months other than October (and November), plus the presence of his storied former colleagues Mo, Paulie, Tino, Bernie, Jorgie, Mr. T and that other shortstop from Baltimore -- all that together wouldn't have said what Jordan's attendance said. And that 48,000-plus forsook the first NFL Sunday to holler themselves hoarse said something, too.
Jordan's presence said more.
Derek Jeter Day would have been an extraordinary event, an afternoon of uncommon tributes and sincere salutes had the afternoon passed without Michael. But when his shaven skull popped out of the Yankees' dugout, it served as the most powerful exclamation point available.
Jeter would express the proper sentiment when he took the microphone. He always does the right thing. Jeter saluted those gathered and those who had hailed him through the years for all his achievements and all those of his teams. He thanked them. But as a proud man and magnificent competitor, Jeter had to be most touched by the inclusion of the 51-year-old basketball icon who still looks as if he could give LeBron trouble in a one-on-one game to 11.
"I don't think anybody can say one bad thing about Derek Jeter," Jordan said.
Interesting that he framed one part of his salute with those terms. As successful as Jordan was in his game, as successful as he apparently is in his NBA afterlife, Jordan hasn't made it through his time in the limelight without a few scars and suspicions and some innuendo. Jeter has no blemishes on his image. It remains nearly pristine. In that regard, he's one up on Michael and almost everyone else in his game and others.
The Captain probably isn't going out on top. DJ isn't going to hit his final J as MJ did in his final moments with the Bulls. Far more than likely, Jeter is not going to have the ball in his hands in the final seconds. If he were so fortunate, he'd probably hit it, as he hit the jumper he mentioned on Sunday when asked about his developing grace under pressure. He was a sophomore at Kalamazoo Central High when his coach put the ball in his hands for a final play.
Whether it was two points or three doesn't matter. Jeter's shot turned defeat into success and allowed the Kalamazoo faithful to hold their hands above their heads and flash Vs for victory. The same digital message is used to identify the number on Jeter's back when he wears the pinstripes.
Even the great Jordan can't claim so direct a link to winning.
Marty Noble is a columnist for MLB.com. This story was not subject to the approval of Major League Baseball or its clubs.