Adjustments key to McCarthy's resurgence in Bronx
Pitch selection changes since trade have yielded big results for veteran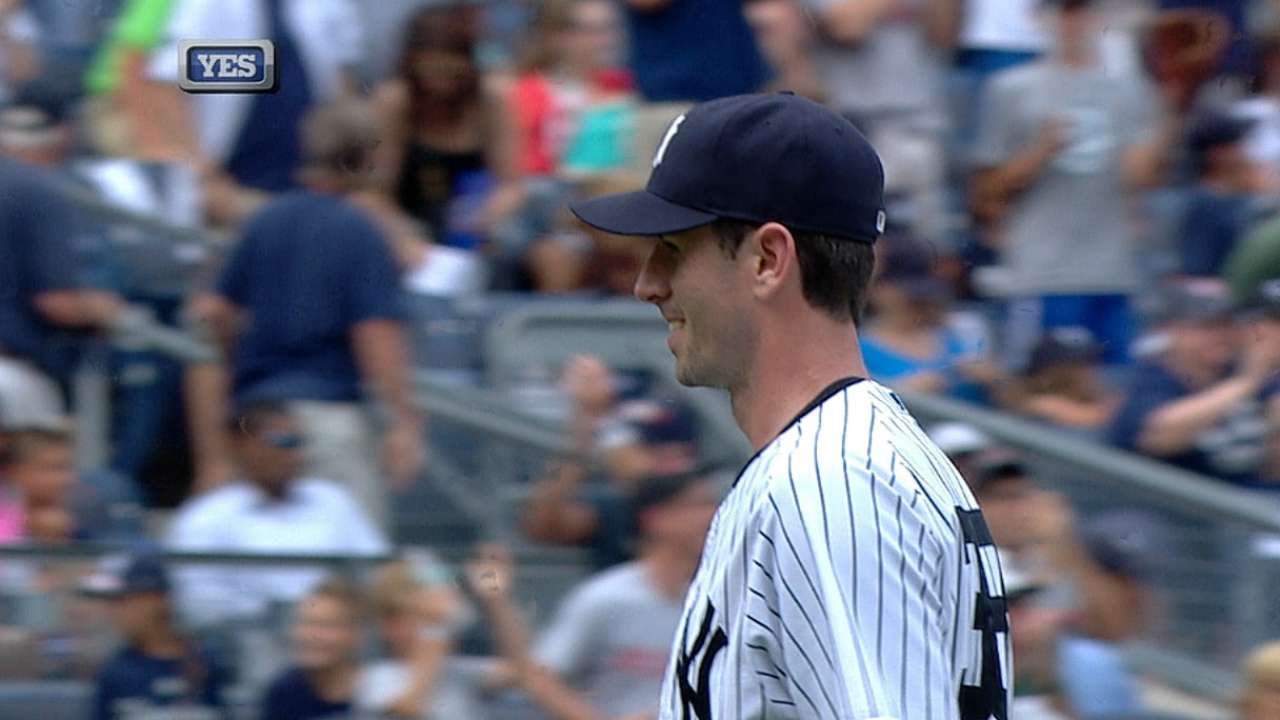 NEW YORK -- The Yankees traded for Brandon McCarthy on July 6, just two days before Masahiro Tanaka was placed on the disabled list with an elbow injury, and the acquisition wasn't considered a blockbuster.
McCarthy, who was 3-10 before he came over from the D-backs, came to a team that had lost four-fifths of its starting rotation, and the Yanks were in desperate need of someone to help stabilize their rotation. But McCarthy has emerged as the team's ace as it pursues an American League Wild Card spot.
"It's nice just to contribute," McCarthy said. "I spent the first half of the season being a hindrance on an organization, and that's something that doesn't sit well. To come somewhere where there's a playoff race going on and you're a positive influence and something that's helping the team, that's really all you can ask for when you're playing."
McCarthy is 7-4 with a 2.79 ERA in 11 starts since being dealt to New York. The Yankees pointed to the fact that McCarthy seemed to be pitching better than the numbers truly indicated in Arizona, but even they could have hardly envisioned this return when they flipped a struggling Vidal Nuno for McCarthy.
McCarthy felt it too. His velocity was higher. McCarthy's command was better. He felt better physically than he ever had in his career.
Yet, for some reason, McCarthy arrived in the Bronx with a 5.01 ERA.
"It felt like everything was better and the results just kept getting progressively worse," McCarthy said. "It felt like at some point something was going to have to give."
Simply put, McCarthy had gotten too predictable with the D-backs and too heavily reliant on his sinker.
According to Brooksbaseball.net, McCarthy threw that pitch on average 61 percent of the time to right-handers and 51 percent of the time to left-handers, while complementing it with his curveball 29 and 23 percent of the time to righties and lefties, respectively.
Larry Rothschild, the Yankees' pitching coach, saw McCarthy as more of a pitcher with a sinker than a sinkerball pitcher. So the Yanks immediately informed McCarthy that he would be reintroducing the cutter into his pitching arsenal more frequently.
It helped give McCarthy a better variety of pitches, and now to lefties and righties, respectively, he is throwing his sinker 31 percent and 44 percent of the time, using his curveball at 24 and 15 percent, while mixing in a cutter 23 and 15 percent.
"Now I have a few different options to get through some different counts," McCarthy said.
Rothschild also pointed out McCarthy's cutter can be a really good pitch when he is using it effectively. But it had stopped being effective in Arizona, and the D-backs instructed him to use it less often.
McCarthy did not fight the change, saying it was a part of their pitching philosophy. And he is also quick to point out that his cutters were getting hit hard and he was not throwing it with much conviction.
"At a certain point, you lost confidence in it," McCarthy said. "You lose the ability to use it when you want and the performance is spotty at best when you do use it, and so it's hard for anybody to encourage it."
Rothschild said the dryness in Arizona was a possible hindrance for McCarthy's cutter and a reason the pitch was not working so well there.
"There's no stickiness to the baseball," Rothschild said. "Rosin doesn't do any good, you don't sweat, so you never get that real good feel of tackiness on the baseball."
Still, the subject of McCarthy is a bit touchy these days with the D-backs.
"We did the best we could," D-backs manager Kirk Gibson said of McCarthy. "Maybe sometimes it isn't good enough, but we certainly gave him full dedication, and we still wish him well. I don't know what his goals are exactly. I know what mine are and hopefully we'll meet again."
McCarthy also needed some averages to eventually even out. Surely, he thought, these fly balls could not all leave the yard, even at hitter-friendly Yankee Stadium.
McCarthy had surrendered 15 home runs with the D-backs in 109 2/3 innings. But since joining the Yankees, he has allowed six, and three of them came within two innings in Toronto on Aug. 31, after he had cruised through the first five scoreless innings.
"I'm making better pitches, I'm more confident," McCarthy said. "I think I got a better mix right now, we're changing movement, changing eye levels, changing so it's not so much of a comfortable at-bat for hitters."
McCarthy's performance on Aug. 21 against the Astros was a microcosm for his latest resurgence. He did not walk a batter and only one hitter, Chris Carter in the fourth inning, got to a three-ball count before becoming one of his eight strikeout victims. McCarthy flummoxed Houston in short order during a four-hit shutout in the fastest nine-inning game -- two hours and seven minutes -- in the history of the new Yankee Stadium and the fastest Yanks home game since June 18, 1996.
"Here I feel confident again," McCarthy said. "I feel like I'm able to get through situations I wasn't there. Then you start to believe you can. It's just kind of the story of the season, riding those ups and downs."
Jamal Collier is an associate reporter for MLB.com. This story was not subject to the approval of Major League Baseball or its clubs.