Duffy to miss start with rotator cuff inflammation
Left-hander's shoulder is structurally sound, will be reevaluated after few days of rest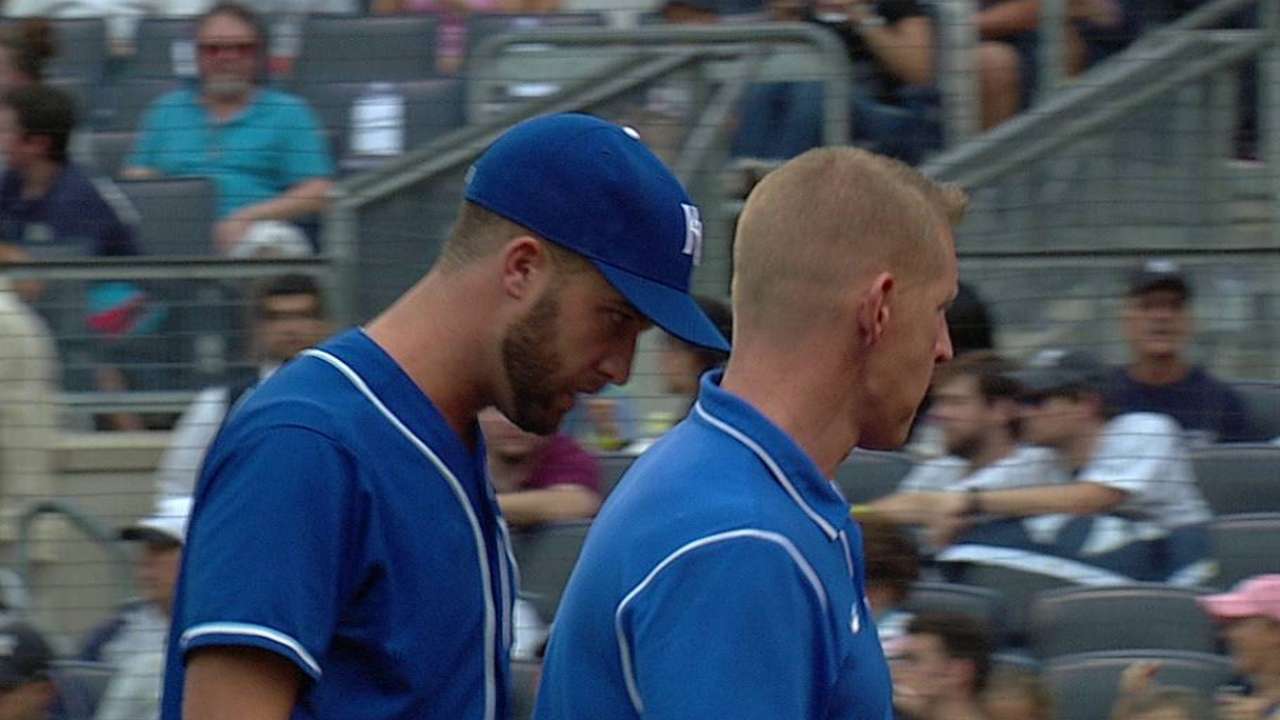 DETROIT -- The first news on left-hander Danny Duffy from the Royals appears to be good.
"Duffy's shoulder is structurally sound," general manager Dayton Moore said on Monday in Detroit.
"I'm really encouraged with what they told me," Duffy said by phone from Kansas City.
Moore added: "He has rotator cuff inflammation and will require three to four days of rest before being reevaluated. He will not make his next start."
Duffy, one of the Royals' five starters as they seek a postseason berth, left Saturday's game in New York after making just one pitch, citing shoulder stiffness. The Royals had to fill in with relief pitchers and lost to the Yankees, 6-2.
"In a perfect world, you're Superman and say, 'Go-go-gas-it-on,'" Duffy said, "but I understand that getting this far into the season entails a lot of maintenance, and it's something we'll have to sit one out for and get back there and try to do it again in one rotation turn."
Duffy was sent to Kansas City on Sunday to undergo an MRI and an examination at the University of Kansas Hospital, and the results were positive.
"I think so," Moore said. "It's never a good thing when pitchers miss starts, but it's a long season and he's prepared well. Fortunately, the MRI revealed that structurally he's in good shape with some severe inflammation."
Severe?
"Obviously, highly inflamed," he said.
Manager Ned Yost has taken a positive slant on the Duffy problem from the beginning based on information from the club's head athletic trainer, Nick Kenney.
"That's kind of what I figured," Yost said. "Nick is really on top of this stuff, he really is. He's got like 50 tests that they run them through and just has a real good feel for what's going on. The MRI just proves it."
Duffy, who underwent reconstructive surgery on his left elbow in 2012, sounded relieved about the report on his shoulder.
"It's huge," Duffy said. "What a lot of people don't know is you go through a long season and you finally get to a point where you're pushing more innings than you ever have, there are going to be adaptations that your body makes so you can continue to do that. But sometimes it makes a couple of muscles mad, and my rotator cuff got a little bit upset with me there."
Duffy was relieved on Saturday by right-hander Liam Hendriks, who will take Duffy's place against Boston on Friday night during the Red Sox's four-game visit to Kauffman Stadium.
Hendriks pitched four innings after taking over for Duffy in New York, giving up four runs (three earned), seven hits and no walks. Hendriks, called up from Triple-A Omaha on Aug. 28, made a spot start for Yordano Ventura, and went seven innings in a 6-1 win over Minnesota. He surrendered just one run, four hits and no walks.
Beyond the Red Sox game, Yost said that Duffy would have three more possible starts.
"Three after that, plus ..." he said.
Oh yes, that "plus" -- meaning, of course, the playoffs.
Duffy has an 8-11 record and an impressive 2.42 ERA in 29 games (23 starts) and 141 1/3 innings.
"He's going to pick up a ball in three or four days from now and be reevaluated at that time," Moore said. "You never know. You start shutting guys down and sometimes that's a good thing and sometimes it's a bad thing. It's hard to predict. We'll just have to wait and see and be optimistic in the meantime. It looks like we've got enough quality pitching to cover and keep moving in the right direction."
Until then, Duffy is in Kansas City under the care of the Royals' physical therapist, Jeff Blum. They did some exercises on Monday.
"I feel pretty good today, but I haven't picked up a ball," Duffy said. "I definitely have stiffness, but that kind of comes with the territory of inflammation."
Yost will get a look at Duffy when the club returns home for the Red Sox series on Thursday.
Dick Kaegel is a reporter for MLB.com. This story was not subject to the approval of Major League Baseball or its clubs.