Unpredictable Smyly baffling hitters with four pitches
Lefty's backdoor cutter, high fastball have improved since joining Rays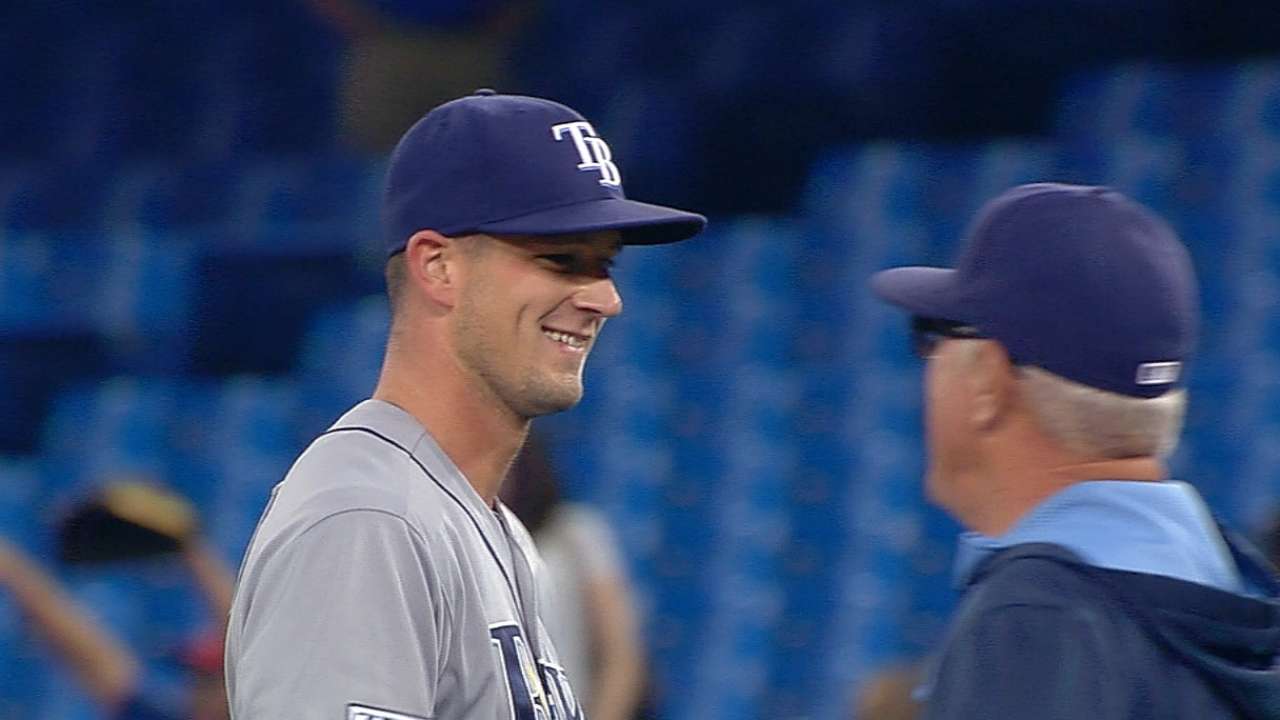 ST. PETERSBURG -- Around the time David Price gave up his ninth straight hit to the Yankees on Aug. 27, Drew Smyly was sitting in the Rays' dugout in Baltimore, waiting to go back out and dominate the American League East's top team.
Smyly went seven innings in that start, giving up just one run on two hits to beat the Orioles, while Price was knocked out of his game in the third inning. It was Price, of course, whom the Rays traded to the Tigers for Smyly and prospects on July 31.
In seven starts since arriving at Tropicana Field with a Tigers baseball bag slung over his shoulder, Smyly has pitched like an ace. The 25-year-old left-hander has a 1.70 ERA and has held opposing hitters to an AL-low .155 batting average.
"[My] ceiling, I think, is very high," Smyly said. "You can't limit yourself. You're not gonna say, 'I can never be that guy. I can never be David Price.' His skill set is outstanding -- I don't throw 98 [mph] like he does -- but you can still get a guy out. You've just got to get the guys out."
With Tampa Bay, Smyly has done exactly that by doing certain things extremely well. Smyly has increased his use of the fastball up in the zone. He's executed his cutter more consistently against right-handed hitters. And Smyly has kept batters off balance with his unpredictability, his use of four pitches and his game-by-game tweaks.
Smyly is on the verge of being shut down for the season, his career-high 153 innings pitched within his Rays-imposed cap of 150-160. But he's shown Tampa Bay just what he can be.
"He can give you what you're seeing right now," Rays manager Joe Maddon said. "That's a pretty complete pitcher."
* * * * *
Smyly's first day in St. Petersburg, he threw a bullpen session. It gave pitching coach Jim Hickey the chance to see what he had -- fastball, curveball, cutter, changeup. Catcher Ryan Hanigan got to know Smyly, too. And seeing him pitch, Hickey and Hanigan noticed something.
"He wasn't aware that he's pitched really well at the top of the zone with his heater, and also, he's got a backdoor cutter to righties," Hanigan said. "When I first got talking to him, those were two things he hadn't really done that much."
As Smyly began making starts for Tampa Bay, he used those pitches more. With the Rays, 50.43 percent of his fastballs have been in the upper third of the strike zone or above, compared to 32.85 percent with the Tigers earlier this season, according to heat maps from Brooks Baseball. That's allowed Smyly to overpower some of the league's best hitters, like Baltimore's Adam Jones on Saturday.
The high fastball is a staple for Tampa Bay pitchers -- Jake Odorizzi, especially, relies on it. But the backdoor cutter is all Smyly's.
"It's a really good pitch," Hickey said. "It's a ground-ball pitch, or even a swing-and-miss pitch."
Against right-handed hitters, only 12.51 percent of Smyly's cutters with the Tigers this season were backdoor, but with the Rays, that number has jumped to 30.01 percent. One such cutter induced a weak groundout from Nelson Cruz in Smyly's Aug. 27 start."
"I've thrown the cutter since 2012," Smyly said. "It's just better right now."
* * * * *
The game logs of Smyly's starts with the Rays reveal very little with regard to his tendencies -- Smyly's usage rate of each pitch varies greatly from start to start.
"I mix it up," Smyly said. "Literally just pull a pitch out of the hat. That's my thinking: 'Be unpredictable' -- which means just throw everything whenever you want."
Often, though, the pitches that Smyly uses more frequently in a game end up being the most successful. That seems to indicate that he identifies which pitches are working and which aren't, and he adjusts accordingly.
Take Smyly's Sept. 1 start against the Red Sox, when, he said: "My cutter wasn't very good." The numbers back that up -- according to FanGraphs, his cutter posted a minus-5.02 run value per 100 pitches that day.
As FanGraphs explains, Pitch Type Linear Weights, or pitch run values, measure the runs saved by individual pitches. Zero is average, a positive value is above average and a negative value is below average. On a standardized per-100-pitch basis, pitches generally fall within a range of minus-1.5 to 1.5.
Smyly's cutter, then, was significantly ineffective Sept. 1. But he also threw it just 17.7 percent of the time, according to FanGraphs, when he had been averaging more than 25 percent cutters over his three previous starts. Instead, he threw 53.1 percent fastballs, after hovering around 40 percent in his prior two outings.
"I think it's a lot less random, and a lot more what [Smyly] has that day and what the lineup is that he's facing," Hickey said.
On Aug. 22 against the Blue Jays, Smyly tossed a two-hit shutout. He threw his changeup a season-high 13.3 percent of the time, for an 8.79 run value per 100 pitches.
Smyly rarely throws his changeup -- often only once or twice per start -- for good reason. On Aug. 15, FanGraphs' Jeff Sullivan concluded it was baseball's single least-effective pitch. Yet, against Toronto's lineup, stacked with power-hitting righties with big swings, it was working. So Smyly threw it, compensating with slightly fewer fastballs and curves.
"I threw it for strikes. I threw it with control," Smyly said. "It was a special day for me. I mean, I did something I've never done in my career -- I threw a complete game."
An offering to Jose Bautista was especially revealing.
Not only was the pitch unexpected from Smyly, it was also perfectly located. And really, it's that ability to go to any of his four pitches that's made Smyly so baffling.
"Even when he hasn't been particularly sharp, he's gone into the sixth and even seventh inning by mixing and matching," Hickey said. "Just making those in-game adjustments -- which he's very astute for."
David Adler is an associate reporter for MLB.com. This story was not subject to the approval of Major League Baseball or its clubs.