Halos ride six-run inning to rout behind Weaver
Calhoun, Freese go yard in fifth; Pujols, Kendrick add late blasts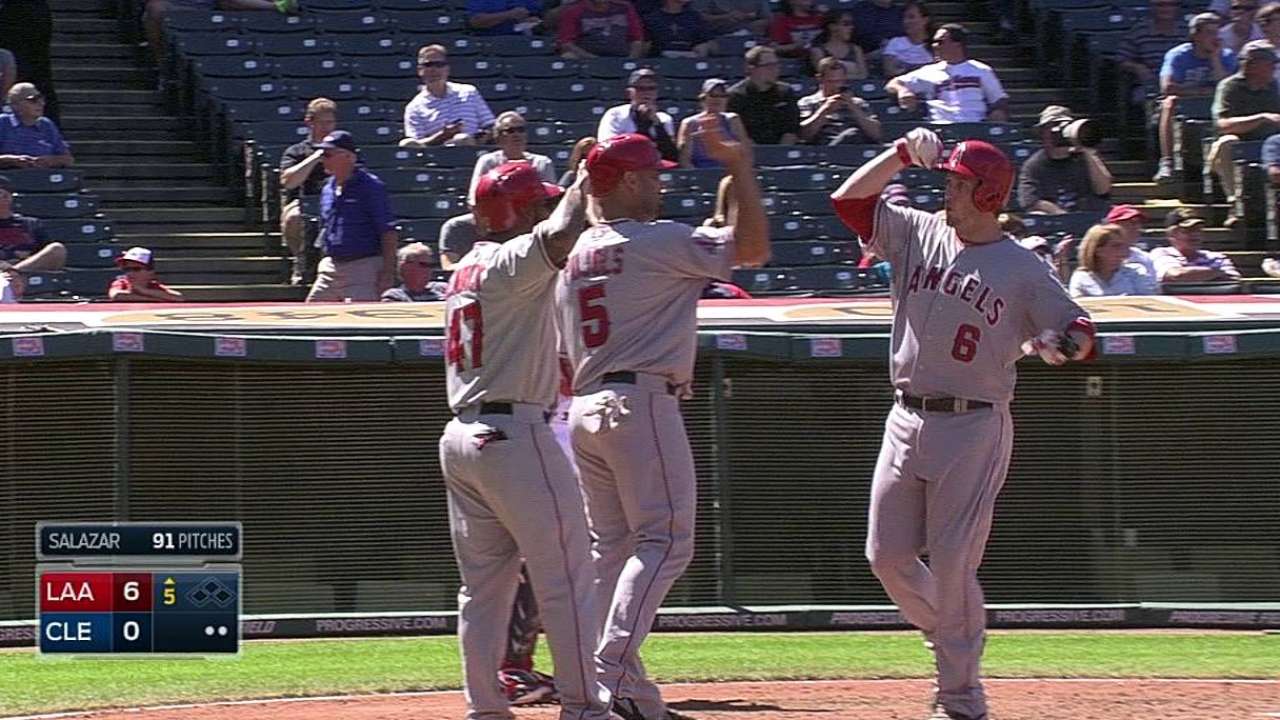 CLEVELAND -- The Angels have the highest-scoring offense in the majors, but they've taken it to a whole new level during their five-game winning streak.
Kole Calhoun hit a two-run shot, David Freese and Albert Pujols crushed three-run homers and Howie Kendrick hit a solo blast on Monday afternoon at Progressive Field, powering Los Angeles to a 12-3 victory over the Indians.
The Angels amassed 34 runs in a four-game sweep of the Twins, then rung up a dozen more upon arriving in Cleveland for the makeup of a June 18 contest that was rained out. In doing so, Los Angeles improved its Major League-best record to 88-55 and increased its lead over Oakland to eight games in the American League West.
"Our offense has been pretty strong all year, but these guys have hit another gear over the last few days," Angels manager Mike Scioscia said. "With David Freese, Mike [Trout], Howie and Kole, the lineup is pretty deep, and Albert is obviously very confident at the plate. We've talked about the potential this group had, and you saw it again today."
Los Angeles right-hander Jered Weaver (16-8) took over the AL lead in wins, tossing six innings of three-run ball while striking out two. He earned his seventh victory in eight career decisions at Progressive Field, where he has a 2.24 ERA over 72 1/3 innings and 11 starts.
Jason Grilli and Fernando Salas pitched the seventh and eighth, respectively, while Jairo Diaz made his big league debut with a scoreless ninth.
"Obviously, the story of the day is the way our offense has been scoring and swinging the bat," said Weaver, whose ERA rose to 3.58. "They just exploded again and made my job a lot easier. All I had to concentrate on was throwing strikes after they gave me the big lead to work with."
The Angels got on the scoreboard first by plating six runs in the fifth off Indians right-hander Danny Salazar (6-7). Collin Cowgill started the onslaught with an RBI groundout, while Calhoun and Freese both went deep, chasing the rookie after 4 2/3 innings.
Salazar entered the frame with a team season-high 21-inning scoreless streak for Cleveland, which fell four games behind Seattle for the second AL Wild Card spot.
"It was just a bad day for me," said Salazar, who said he felt tired upon arriving at the ballpark for the 1:05 p.m. start. "Physically, my arm and everything is fine. I was just leaving everything up and missed a couple of pitches."
Kendrick, batting cleanup in place of the injured Josh Hamilton, went 3-for-5 with two runs and two RBIs. Pujols also had three hits and scored three times, joining Kendrick in homering off Cleveland rookie Bryan Price in the ninth.
Hamilton missed his fourth straight game with discomfort in his right AC joint and trapezius muscle, but he told Scioscia that he is feeling better.
"We'll still go day to day with Josh, and have the trainers take a look at him when we get to Texas," Scioscia said.
Los Angeles collected 16 hits off six Indians pitchers, one day after banging out a season-high 19 hits in a 14-4 victory in Minnesota. The Angels arrived at their downtown Cleveland hotel at 9 p.m. Sunday, then checked out 12 hours later to play the game.
Less than 90 minutes after the final pitch, all of Los Angeles' equipment was packed and on its way to the airport for a late-afternoon flight. The Angels begin a three-game series Tuesday at Texas.
"It's been two pretty good days for us, even with everything going on," said Calhoun, who had three hits and a walk from the leadoff spot. "Any inning, our offense can explode, which is what makes it so much fun to be a part of."
The Indians cut Los Angeles' lead to 6-2 in the fifth on a two-run homer by Lonnie Chisenhall, who added an RBI single in the sixth. Carlos Santana and Jason Kipnis, who scored one run each, also had two hits for the hosts.
"The Angels came in and did what they're supposed to do," Cleveland manager Terry Francona said. "When we got a couple runs back, we gave it right back to them. It makes for a long day."
Brian Dulik is a contributor to MLB.com. This story was not subject to the approval of Major League Baseball or its clubs.