MLB.com Columnist
Anthony Castrovince
With Abreu, future of White Sox looking good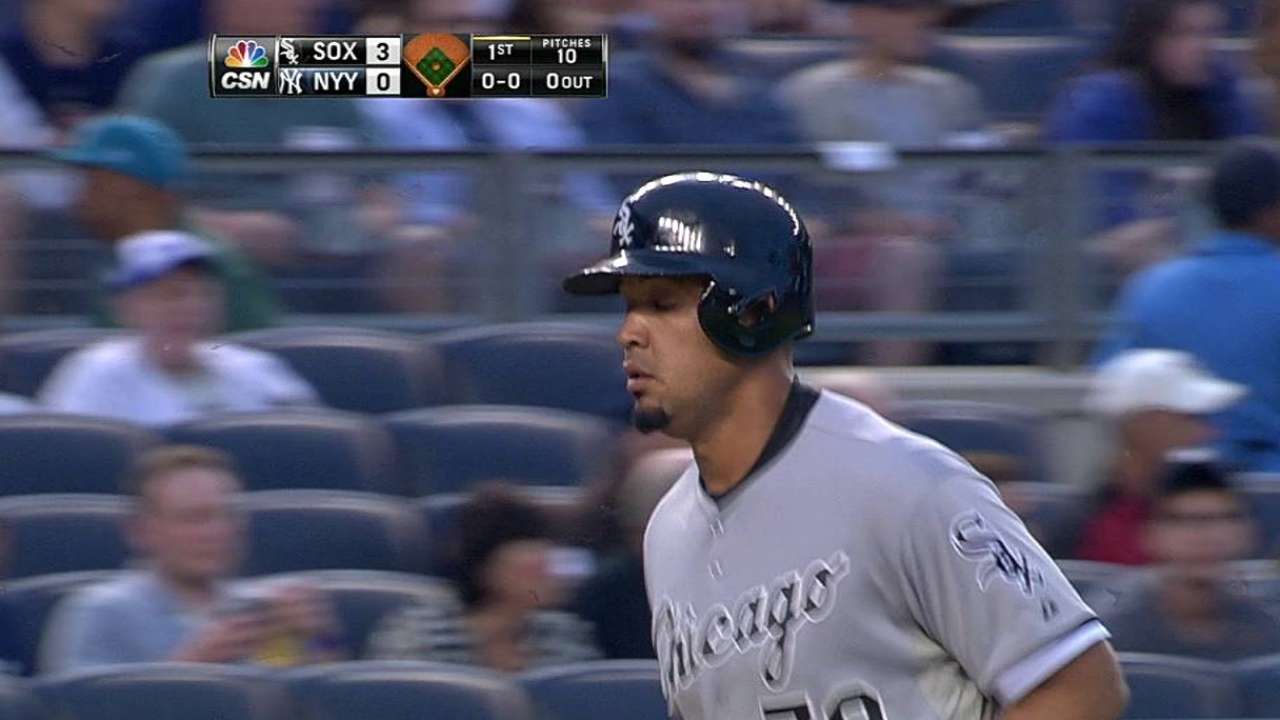 So here's Paul Konerko, nursing the broken bone in his left hand that nearly brought his career to a screeching halt. And here, across the room, is Jose Abreu, putting the finishing touches on one of the greatest rookie seasons the game has ever seen.
It's an interesting crossroads in the White Sox clubhouse. The understated, underrated Konerko is wrapping up a reticent retirement tour, hoping the hand cooperates in time to squeeze out just a few more at-bats. And he's handing to keys to the South Side baseball kingdom over to the equally understated but impossible-to-miss 6-foot-3, 255-pound Cuban first baseman with the weird jersey number (79) and the incredible power numbers in this time of muted bats.
Konerko led the White Sox to their last World Series title, and in Abreu, he sees the talent that could very well lead them to their next.
The captain, though, is convinced the club is in good hands for reasons far beyond Abreu's offensive output.
"You don't care about how good the guy is or what he winds up doing or if he's an All-Star," Konerko said. "You just want him to be a good guy. I learned that with him right way. He's a good person, he's an extremely hard worker, so it makes it a heck of a lot easier to know that it's getting passed on to somebody who will do right by it."
Those of us on the outside, obviously, still prioritize the stats, and Abreu certainly doesn't disappoint there, either.
It's amazing, in this age of shifts and strikeouts and deflated averages and egos, to see a player bring both the power and the consistency that Abreu has demonstrated. We've largely learned to divorce ourselves from batting average, but, seriously, look at this: Seventeen games into his career, Abreu was batting .200. Fifty games in, on June 8, he was batting .255. Today, Abreu is batting .320, which means he's hit .364 over the past three months. With a .428 on-base percentage.
"I take a lot of pride in that, not only hitting for power but also average," Abreu said through interpreter Lino Diaz. "I try to be modest, but inside of myself, I really thought the results would be there in the end."
They're there, all right. Abreu has a .978 OPS, 33 homers, 32 doubles and 99 runs driven in. He's one RBI away from joining Albert Pujols (2001), Ted Williams (1939) and Hal Trosky (1934) as one of only four rookies in history to hit at least 30 homers and 30 doubles while driving in 100 runs.
Again, though, we've got to look at Abreu within the context of his time. It was one thing, for example, for Pujols to hit 37 homers in 2001, which was the height of baseball's offensive explosion. It's quite another for Abreu to hit 33 at a time when the home-run rate is at its lowest point since 1992.
Consider, then, Baseball Reference's adjusted OPS+ stat, which attempts to measure a player's performance against that of his peers, with park and league factors taken into account.
Abreu this season has a 172 OPS+, which is a way of saying he's been 72-percent better than average. In the game's long history, just one other rookie who qualified for the batting title has posted an OPS+ of 170 or higher, and, no, it wasn't Mike Trout (168) in 2012.
It was Shoeless Joe Jackson (193), way back in 1911.
The best offensive season by a rookie in more than a century? Yeah, Abreu has at least one statistical argument for it.
So Abreu will run away with the American League Rookie of the Year Award. And if it weren't for the stigma associated with non-contenders, he'd probably be a legitimate threat to Trout for the AL Most Valuable Player Award.
"I feel really proud about the individual results," Abreu said. "Of course, we still need to work on the group results, and that's more important."
Predictably, the Sox have been non-factors in the AL Central. But you don't have to squint too hard to see a winner built around Abreu and Avisail Garcia in the middle of the order, Adam Eaton at the top, and Chris Sale and Jose Quintana in the rotation. Konerko and the recently traded Adam Dunn have been important clubhouse influences on the 27-year-old Abreu, in particular, but equally important is the fact that, with Dunn traded and Konerko retiring, more than $17 million worth of salary will be coming off the books.
"I think there are definitely some pieces in place where [general manager] Rick Hahn and those guys have done a good job," Eaton said. "With Paul being gone and Dunn being gone, it seems like we might have some money to spend this offseason."
The gritty Eaton has been a fantastic addition, with a .369 on-base percentage that is well above that of the average leadoff man (.329). And that sparkplug OBP is itself sparked by the mental mantra he's adopted:
Get Abreu up.
"Everybody's expectation in Spring Training is, 'We're going to the World Series and this guy's going to hit 40 homers and .300,'" Eaton said. "Well, it usually doesn't happen. But with this guy, he had a tremendous amount of hype, and he's delivered. Not too many people do that."
And not many people approach the game with the attention to detail that Abreu does. At one point this summer, he asked Sox hitting coach Todd Steverson to move him from the first group in batting practice to the third, because he felt it important to do his in-cage work slightly closer to game time. Once in the cage, where many power hitters might focus on driving the ball, Abreu's first round is usually focused on going the other way, gradually shifting to pull-side power as the session progresses.
"The one thing that I have always done," he said, "ever since I can remember becoming a better hitter, is staying inside the ball. That's what I do. I'm thinking, 'Stay inside, stay inside.'"
Really, Abreu is not unlike Konerko, who is notorious for his highbrow approach to hitting.
"I thank God," Abreu said, "for the opportunity to have him on the team."
With the swelling in his hand going down, Konerko has vowed to finish his career on the field, even if it means going to the plate and taking three pitches. One way or another, though, a prolific 18-year career that peaked with a grand slam in the 2005 World Series -- the one that helped end the South Side's 88-year championship drought -- is coming to a close.
But with Abreu arriving just as Konerko departs, the future of the White Sox looks as bright as their past.
Anthony Castrovince is a reporter for MLB.com. Read his columns and follow him on Twitter at @Castrovince. This story was not subject to the approval of Major League Baseball or its clubs.