Bogar values numbers, but trusts gut in role as skipper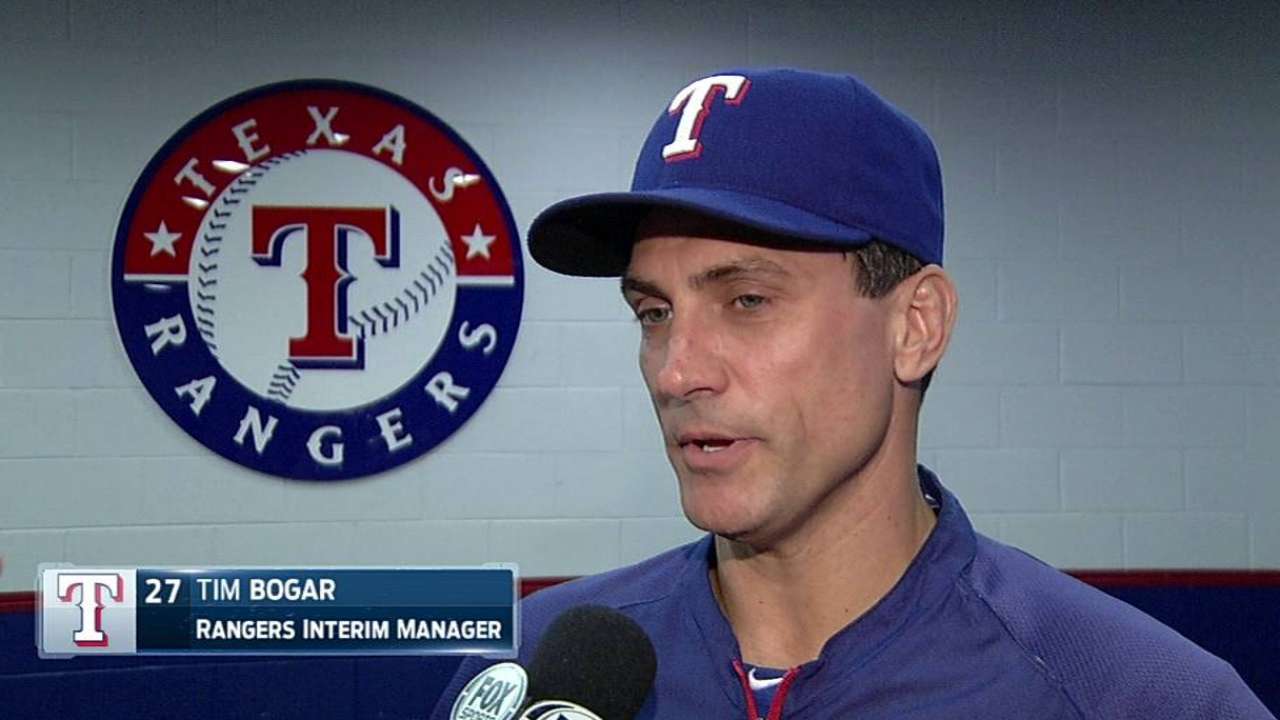 ARLINGTON -- Rangers interim manager Tim Bogar was the "quality assurance coach" with the Rays in 2008. One of his duties was to crunch information and data on opposing hitters so that Tampa Bay could implement the drastic defensive shifts that have become the rage in baseball.
That experience suggests Bogar will be the type of manager who devours every possible bit of information spat out by a computer before he makes his on-field decisions. That may not quite be the case.
"I understand all the numbers," Bogar said. "I appreciate them. I study them. I also know your stomach tells you more than the numbers ever will. Numbers lead you in the right direction, but you still have to make decisions based on all the information you have received. Sometimes experience or something you saw in the past will tell you, even if the numbers say otherwise, that the guy is going to hit today or make a pitch."
Former manager Ron Washington never professed to be a big numbers guy. His favorite statistic was the RBI, and he believed in managing by the "gut." That's why Washington left himself open to criticism when one too many runners got thrown out on the basepaths or he ordered one too many sacrifice bunts.
But Bogar said he appreciated Washington's approach to the game.
"What Ron trusted was his eye and his 44 years of experience," Bogar said. "He wasn't against numbers. He used him. But he wasn't going to let them overrule what his eyes tell him. A good manager does that.
"You are a fool if you don't use numbers. But if you trust what you see and feel, along with the numbers, you'll be a lot better off."
T.R. Sullivan is a reporter for MLB.com. Read his blog, Postcards from Elysian Fields, and follow him on Twitter @Sullivan_Ranger. This story was not subject to the approval of Major League Baseball or its clubs.