Bogar looks to capitalize on opportunity with Rangers
Interim skipper hopes September audition with Texas leads to full-time job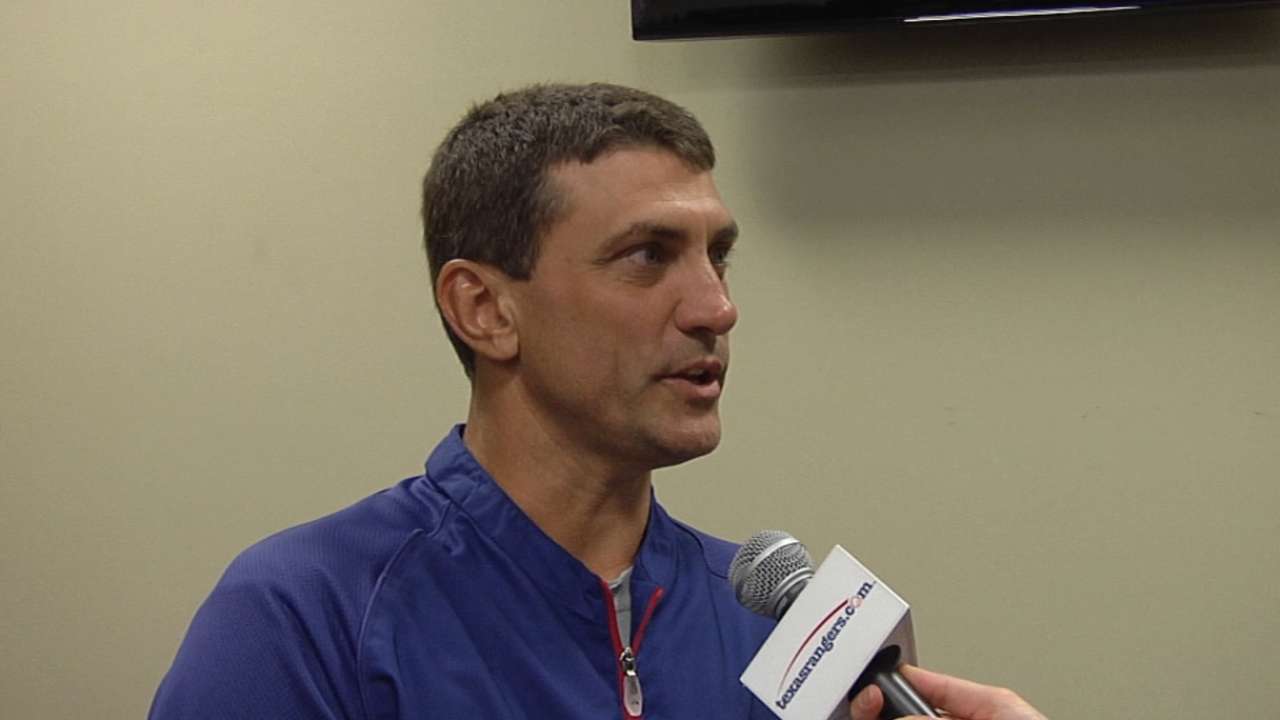 ARLINGTON -- The Rangers are expected to conduct a managerial search as soon as the 2014 regular season is over. They are expected to consider some highly qualified candidates from within the organization as well as from outside. Since general manager Jon Daniels has a reputation for being methodical and thorough when it comes to major decisions, the search could be a long process involving multiple candidates.
There is also a possibility it could be over quickly, or even before it ever really starts. There is a possibility that the Rangers could have the right man on the job right now in Tim Bogar, a 47-year-old former utility infielder, Major League coach and Minor League manager who is serving as the interim field boss after Ron Washington resigned Friday.
There are those who have watched Bogar through the years who believe that he is ready to be a Major League manager and would be perfect for what the Rangers want and need right now.
"I think he has a real feel for the game, understanding how to run a game." Rays manager Joe Maddon said. "Personality-wise, I think he's easy to communicate with, and again, I think when it comes to building relationships, he should have a knack for that also. So it's just about, like anybody else -- and I'm included -- experience. Just give somebody an opportunity and he can run with it. I think he has all the necessary ingredients, absolutely."
"I think this is what he ultimately wanted to do," Indians manager Terry Francona said. "I don't think this is the way he wanted to attain it. I think he kind of said it like that. He'll do fine. He's always prepared, and whenever he's given a challenge, he'll do fine. He has a big passion for the game. I don't think there's any doubt that at some point [Bogar] was going to manage one way or another."
Bogar worked under both Maddon and Francona. They are among the many successful managers that he played for, worked with or just studied on television or from the opposing dugout during his 28 years of professional baseball.
A utility infielder during his nine-year Major League career, Bogar also put in his time riding the buses for five years as a successful Minor League manager as well as six years as a big league coach. He has been preparing for this opportunity maybe going back to 1987, when he was an eighth-round Draft pick by the Mets out of Eastern Illinois University. Maybe well before that.
"I love the game and I love the strategic part of it," Bogar said. "One of the things I've said before is baseball is not a tic-tac-toe game; it's a chess game, and not everybody is smart enough to play it. I'm not smart enough to play chess, but baseball is a difficult thing to do, and I've always enjoyed it.
"I've always spent a lot of time studying what's going on out on the field; not only my players, but the other players and on the other side of the field, the other managers: Bobby Cox, Joe Torre, Tony La Russa. You watch how they do things ... and the decisions they make. I have always been intrigued by the strategy of this game and how it is different every night."
One of Bogar's first managers was Clint Hurdle, now with the Pirates. Hurdle managed Bogar at three levels of the Minor Leagues in the Mets' system, beginning in Class A ball in 1988 in the Florida State League.
"Blue-collar player, very heady shortstop," Hurdle said. "First relationship we had -- he came to our [Class] A ball club in St. Lucie at a very pivotal time in our season and basically became the glue of our infield. I put him at short, hit him second.
"He was always the guy who asked questions. Great leadership skills in [Class] A ball, working with pitchers and catchers. Game awareness. [I] managed him throughout the Minor League system, and his attention to detail, focus and preparation was exemplary."
Bogar said Hurdle was the first manager to teach him about motivation. From Francona, he learned how to treat people right. Working for Maddon in 2008 when the Rays went to the World Series was a "managerial internship," Bogar said. He has learned from a variety of people, including Washington.
"The common thread I've learned from every manager is they care about their players and their players know it," Bogar said. "One thing I've always thought is you have to get their trust before you gain their respect. To get their trust, you have to care about them. Once they care about you, then they trust you.
"Once they trust you, they respect you. Then you can get them to do whatever they need to do."
How the Rangers perceive Bogar's ability to lead, teach and motivate young players could be the pivotal factor if he gets the job. That is always what Daniels admired most about Washington: his ability to teach, to get his players to play hard every day and maintain a winning culture in the clubhouse. Those areas have been far more important to Daniels than when to bunt and when not to bunt.
Bogar worked closely with Washington, but in some ways, he will be different. He won't be as demonstrative as Washington, waving runners around third base from the dugout or giving pitcher Derek Holland a light slap in the face before taking the mound.
Bogar, who managed young players in the Minor Leagues for five years, has a more reserved personality, but still, like Washington, it is one molded toward his players' best interests and getting the most out of them. He is likely to be as honest and approachable as Washington but in a more quiet, less colorful manner.
"He wouldn't really push anything on to you," said Angels first baseman C.J. Cron, who played for Bogar at Double-A Arkansas last year. "However, if you had any source of questions, he would have an answer for you. He wasn't the kind of manager where it was his way or the highway. He was very good with player interaction and relating to you.
"Last year was probably my worst year. Double-A was probably the biggest jump that I've had in my baseball career. Just talking to him about an approach, and how I can maybe alter it a little bit to alter what they were going to do to me. Just from that aspect, that's probably what he was there for. We just talked about pitchers and what they try to do."
Daniels said how Bogar communicates with his players in the final weeks will be more important than wins and losses. Going in, Daniels said there is a lot to like about Bogar.
"I think he's extremely knowledgeable about the game," Daniels said. "He's done a little bit of everything and had success in every area. He's won everywhere he's been. He's learned from some good people. He's a high-integrity character family guy. He was the natural choice for this spot, but we're going to take a step back and discuss things internally. He certainly gets an opportunity."
It is the opportunity Bogar has been waiting for and maybe just what the Rangers need.
T.R. Sullivan is a reporter for MLB.com. Read his blog, Postcards from Elysian Fields, and follow him on Twitter @Sullivan_Ranger. This story was not subject to the approval of Major League Baseball or its clubs.