Brewers' players meet after loss to Cards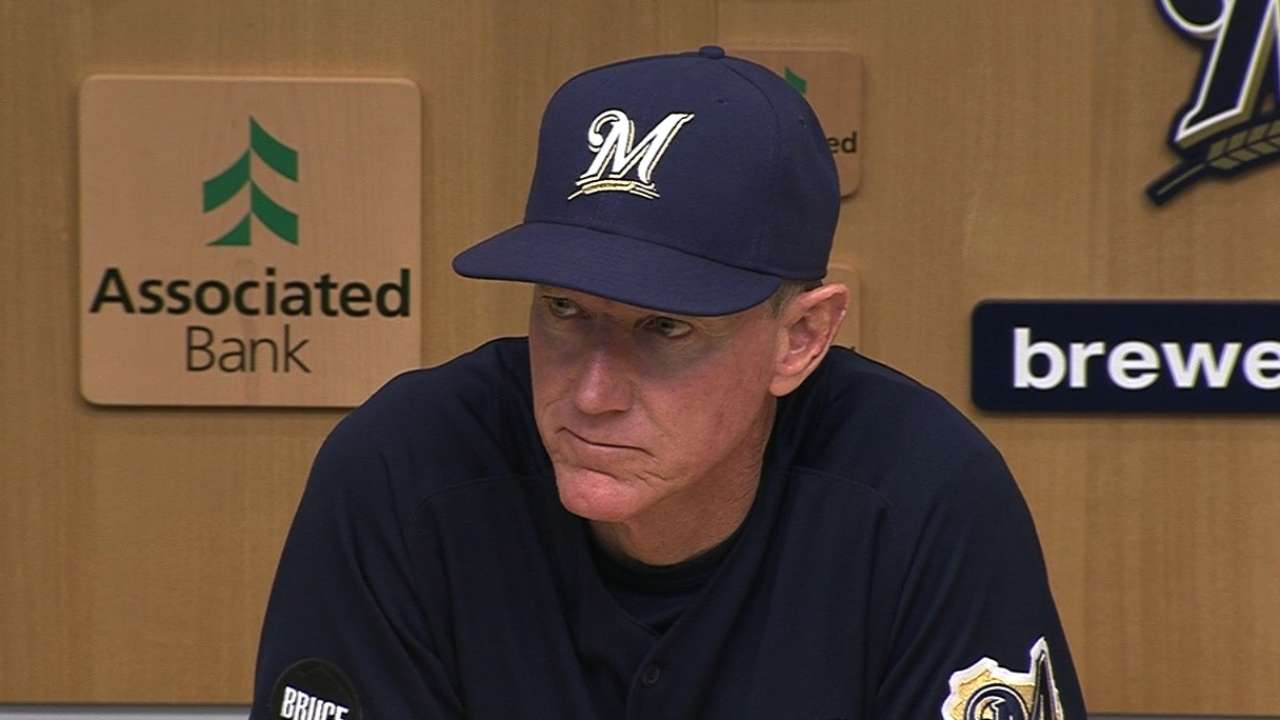 MILWAUKEE -- Had the season ended on Sunday, the Brewers would have missed the playoffs for the third straight season. But the season did not end, which is why players met behind closed clubhouse doors following a particularly lifeless loss to the Cardinals to have a conversation.
According to one teammate, Ryan Braun, Carlos Gomez, Kyle Lohse, Aramis Ramirez and Rickie Weeks all spoke up during a players-only meeting that lasted 10-15 minutes. The discussion came on the heels of a 9-1 loss that dropped the Brewers out of a postseason position for the first time since they were 2-2 on April 4.
"Something like that kind of wakes you up," said catcher Jonathan Lucroy. "We got punched in the mouth today. It's about time we woke up from the little trance we've been in and move forward here."
After leading the National League Central for 150 consecutive days, the Brewers are no longer even in position for a Wild Card. They are one-half game behind the Pirates in the race for the second of two berths for non-division winners.
The Brewers host the Marlins for a four-game series starting Monday.
The meeting was meant, in part, to be a confidence builder.
"It's no question, we are good -- probably one of the best teams in baseball," said Gomez, who hopes to return to the lineup on Monday after dealing with a left wrist injury for the past week. "If for 150 games we do it, well, we can do it the last 20."
The reasons for the Brewers' recent slide are myriad. Since the start of a stretch in which they have lost 11 of their last 12 games, only the Padres have scored fewer runs -- and only the Twins have surrendered more -- in all of baseball.
The Brewers have trailed by at least three runs by the end of the fourth inning in nine of their last 12 games, including the blowout loss on Sunday that prompted the rare team meeting.
"It is everybody," Braun said. "It is a team. But for the veteran guys, we've been through it. We've been through meaningful Septembers. Almost all of us veteran guys in here have played in the postseason. You know that it is not easy. You know that you go through ups and downs as a team. But you have to find a way to minimize the down phases like we are going through right now. I think for us, as veterans, we have to do everything we can to show the young guys that it is not an easy game. You are going to deal with adversity, you are going to deal with plenty of failure, but you have to continue to stay positive and play with as much energy and enthusiasm as you can."
"I mean, it's your own responsibility," said Gomez, when asked about the veterans speaking up. "You have to come every day positive -- and for me personally, it's the stuff that I love to do. I'm not looking at this like a job. I look at this like, it's a job that I love. I'm happy to be here, and that's why you care, why you want to win."
Lucroy was among the players who listened.
"We need to get that edge back, we need to get that energy back," Lucroy said. "We need to get going and move forward. We still have time. We definitely have time. [The Cardinals] always play us good, but I still think we're better than they are, I do. All-around match-ups, player-for-player, I think we are. We're not playing to our potential. We need to get our energy back and get things going again."
The meeting was just wrapping up when manager Ron Roenicke finished his usual postgame briefing with reporters. He has mentioned several times recently the need for vocal veteran leadership.
"We don't have a lot of guys that talk a lot," Roenicke said. "That's an issue. When you want guys to lead, you need guys to say things. We don't have very vocal guys. We have a couple guys on our pitching staff that are. But, other than that, we're very quiet. We play hard, we work hard, they talk to each other individually. But in front of the group, they don't say much."
When asked whether he said anything to players after Sunday's loss, Roenicke said, "You can't talk to guys every time you have a bad game. That doesn't work. I talked to them a couple days ago. They're talking right now. You can't address everything when you have a bad game. You get too much talking and then guys think you either panic, or they get tight. It doesn't work."
Adam McCalvy is a reporter for MLB.com. Read his blog, Brew Beat, and follow him on Twitter at @AdamMcCalvy. This story was not subject to the approval of Major League Baseball or its clubs.