Confusion, arguments follow final play of game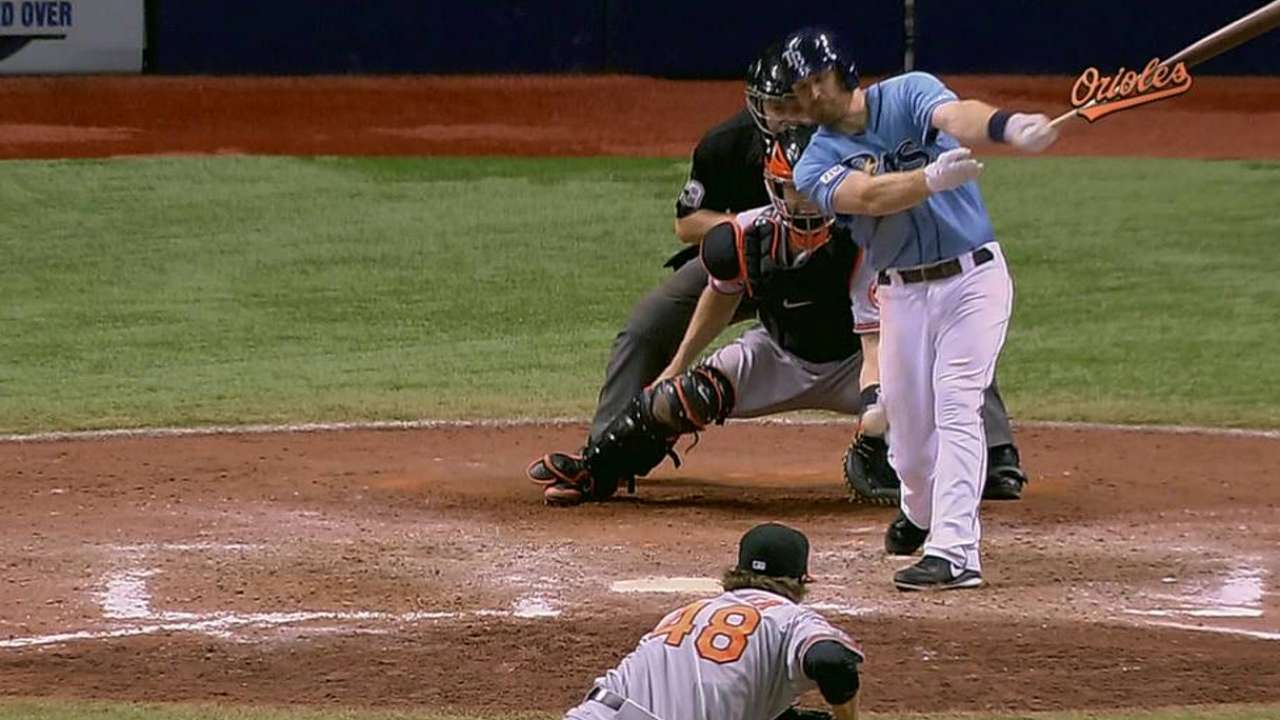 ST. PETERSBURG -- Crack open your MLB rulebooks -- the Rays' series finale against the Orioles at Tropicana Field Sunday certainly ended on an interesting play.
The final out of Tampa Bay's 11-inning, 7-5 loss was a dead-ball strikeout, as Logan Forsythe swung and missed at a third strike from Baltimore reliever Andrew Miller that hit him in the thigh. When a batter swings at a pitch that hits him, the ball is dead, the pitch is a strike and no runner is allowed to advance.
"I swung at the ball and it hit me in the leg," Forsythe said. "It was a good slider, 3-2 pitch, started in. It was better than the previous slider and just kept coming in on me. As soon as I saw it, I tried to hold up, but the swing was going.
"I've seen that play before, and that's always been a dead-ball situation."
At first, though, home-plate umpire Greg Gibson did not rule that the pitch had hit Forsythe, and the pitch bounded away from catcher Nick Hundley to the backstop. Hundley, too busy arguing that the pitch had hit Forsythe to retrieve the ball, allowed Sean Rodriguez to score from second base and Forsythe to advance to first on the apparent dropped strike three.
"You never know," Forsythe said.
But after the dust settled, Baltimore manager Buck Showalter came out to ask Gibson to confer with the rest of the umpiring crew.
"He swung at the pitch and it hit him," Showalter said. "The ball's dead and the game's over."
After a short discussion, the umpires ruled that Forsythe had indeed swung and been hit by the pitch, resulting in a game-ending strikeout.
At that point, Rays manager Joe Maddon left the home dugout to argue the overturned call himself, as he thought that Forsythe had not swung at the pitch. Replays, though, showed that the umpires had made the correct call, and Maddon acknowledged his error after the game.
"I owe the umpires a bottle of wine," Maddon said. "Because they were right. So that's how the game ended. It's unfortunate, it's weird -- but what hasn't been weird this year?"
David Adler is an associate reporter for MLB.com. This story was not subject to the approval of Major League Baseball or its clubs.