Mattingly, Kershaw get tossed
Tempers flare after D-backs' Perez hits Ethier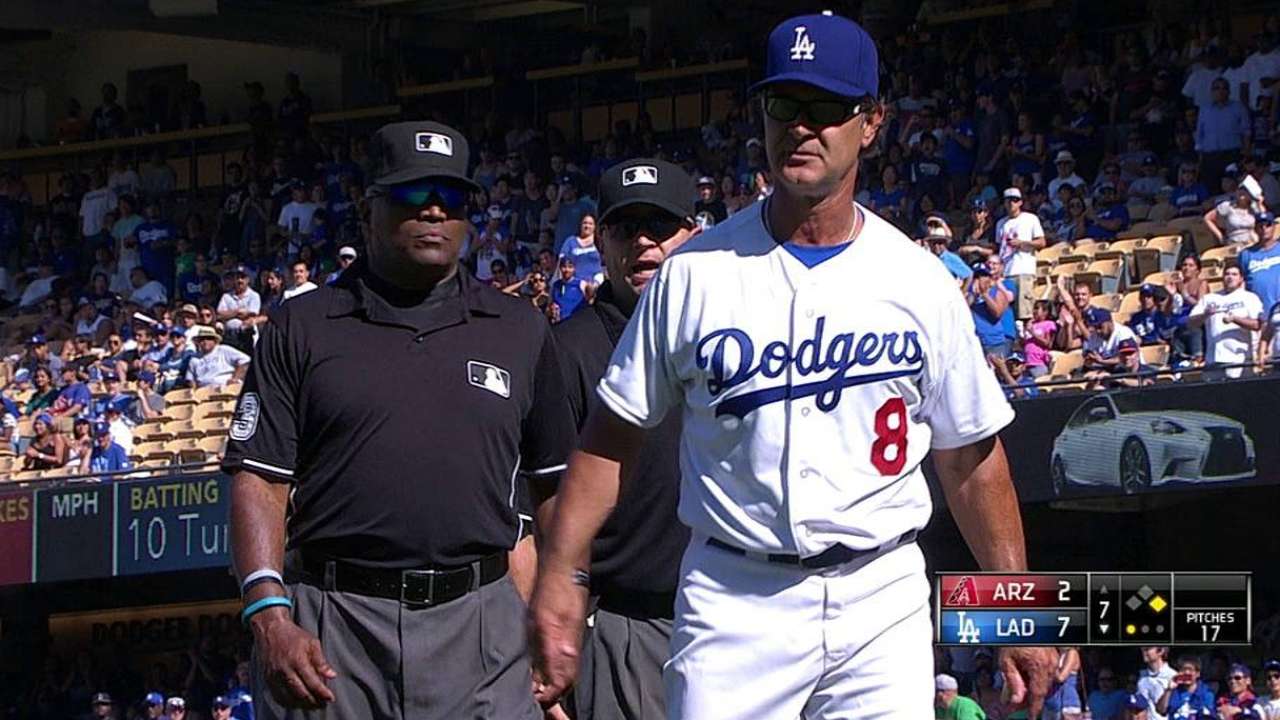 LOS ANGELES -- Dodgers manager Don Mattingly and Clayton Kershaw were ejected in a heated seventh-inning exchange with the umpiring crew during Sunday's 7-2 win over the D-backs at Dodger Stadium.
After Adrian Gonzalez and Matt Kemp hit back-to-back home runs off Oliver Perez, the D-backs left-hander hit Andre Ethier with a 79-mph slider. Plate umpire Scott Barry issued warnings to both benches rather than ejecting Perez, causing tempers to flare.
But the Dodgers didn't have any ill will toward Perez or the D-backs. Mattingly said his issue was with Barry warning both benches.
"I don't think there should have been a warning at all. I don't think he's trying to hit him there," Mattingly said. "We're smart enough to know that he hit him with a breaking ball. If he hits him with a fastball in the middle of the back after two home runs, that's something different. But I don't think any of us thought he did it on purpose."
Mattingly came out to argue with Barry, and Kershaw -- who did not pitch Sunday -- was ejected by first-base umpire Laz Diaz apparently for yelling from the bench.
It was the 15th career ejection for Mattingly, the third this season, and the third career ejection for Kershaw.
"I was surprised when he [the umpire] came out there," Perez said. "I think maybe it was because they [the D-backs and the Dodgers] had a big fight last year. I was not throwing at him."
Added Ethier: "No, I don't think [it was intentional]. I had no idea. I'm just standing up there, trying to get a hit."
The Dodgers and D-backs had a tense season series a year ago, culminating in a brawl last June.
"Last year I thought was pretty intense, but this year I feel it's been more normal games," said Zack Greinke, Sunday's starting pitcher. "The umpires are more warned, and I guess they're a little bit more on their toes, but I don't feel like anything's happened that anybody's gotten real mad at."
From Ethier to Gonzalez to Kemp, the consensus in the Dodgers clubhouse was that the hit-by-pitch was unintentional.
"It's a slider, man," Kemp said. "I don't understand how they gave a warning right there. They were jumping the gun a little too much. I don't know how you get mad about a slider. It's a 70 mph pitch."
Only Greinke offered a dissenting view.
"I don't really disagree with the umpires' decision," he said. "It was a curveball, but back-to-back homers, and sometimes pitchers get mad. I don't know if he did, but I thought it was a good idea by the umpire."
Michael Lananna is an associate reporter for MLB.com. This story was not subject to the approval of Major League Baseball or its clubs.