Miggy dealing with bone spur in right ankle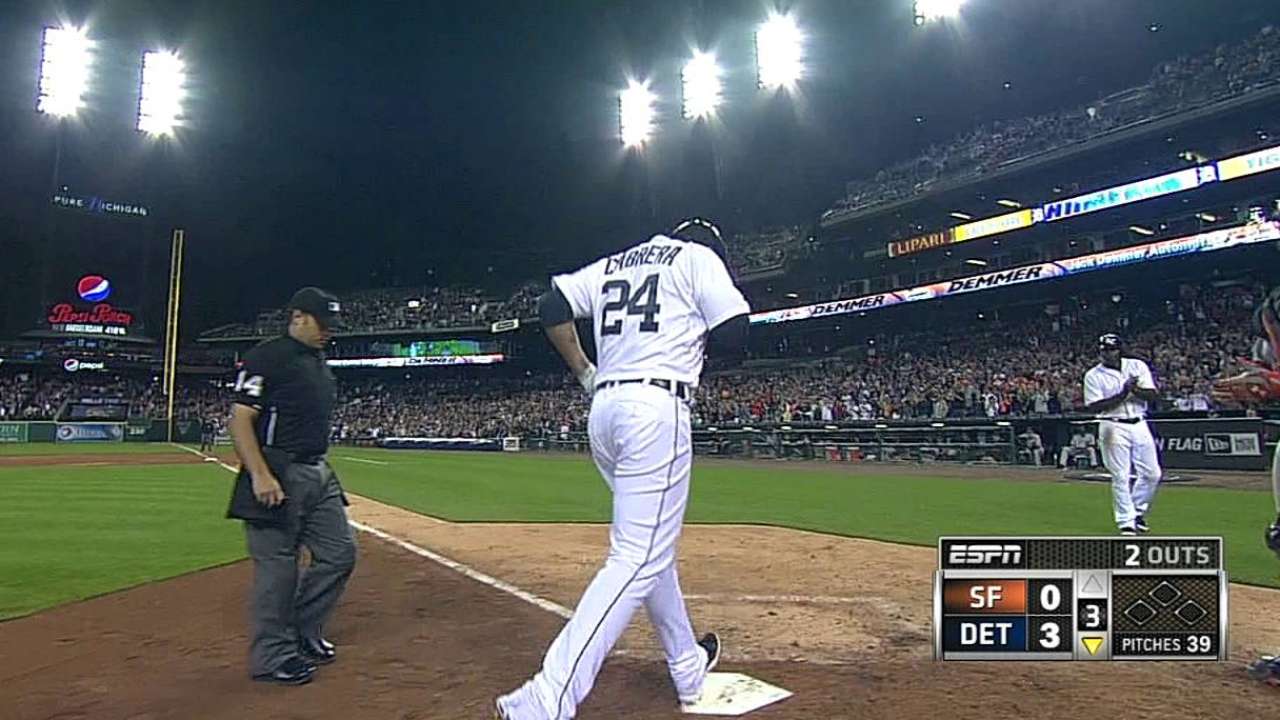 DETROIT -- The right ankle injury that has hobbled Miguel Cabrera for the better part of the last month could well lead to a second consecutive offseason surgery. Cabrera is dealing with at least one bone spur in his right ankle, which could require surgery to correct.
ESPN first reported the bone spur diagnosis Sunday evening. While the report included a medical opinion that surgery is likely, the Tigers said no decision has been made on that front.
"We don't know if he requires surgery," manager Brad Ausmus said after Sunday's 6-1 win over the Giants. "We don't know if it's going to be [healed by] rest, or if surgery would help, and that'll be determined when the season's over.
"That is what's causing the irritation -- not spurs, I would say it's one. That's what the general consensus is, but whether it's rest that will help the inflammation or the irritation go down in the area, or whether it's something that has to be done surgically, we don't know that."
The presence of bone spurs would explain the change in how Cabrera feels from one day to the next, feeling well enough to play first base one day before feeling limited the next. Sunday marked his third consecutive game at first base, and he hit his fifth home run of the week in the third inning.
Cabrera -- who also added an RBI single to record his 11th consecutive season with at least 100 RBIs -- later aggravated the ankle scoring from first base on a Victor Martinez double. He left the game for a defensive replacement with the Tigers up handily.
"We had to get him out of there," Ausmus said. "I'll wait and see how he feels tomorrow, but certainly DHing tomorrow is a very good possibility."
Cabrera had core muscle surgery at the end of last postseason, leading to a rehab program for most of the winter. The hope around team circles has been that a healthy offseason would allow him to return to his regular winter workout program, which would lead to a rebound in his power numbers for 2015.
The normal timetable for recovery from an ankle surgery to remove spurs, according to injury expert and national sports medicine writer Will Carroll, is four to six weeks. It's obviously not as severe as core muscle surgery, but with Cabrera's body frame, explosive swing and the weight put on his ankles, full recovery is crucial.
Playing through the injury isn't likely to make it worse. The only issue is pain tolerance, and Cabrera showed his when he played through a groin tear down the stretch last season.
Cabrera himself has not commented on his health since telling USA Today during All-Star festivities that his core muscles had good and bad days, taking some strength out of his swing. He hasn't commented at all on the ankle injury.
Jason Beck is a reporter for MLB.com. Read Beck's Blog and follow him on Twitter @beckjason. This story was not subject to the approval of Major League Baseball or its clubs.