Giants lose ground in NL West as Hudson takes loss
Righty allows three Tigers runs over six; division deficit now three to LA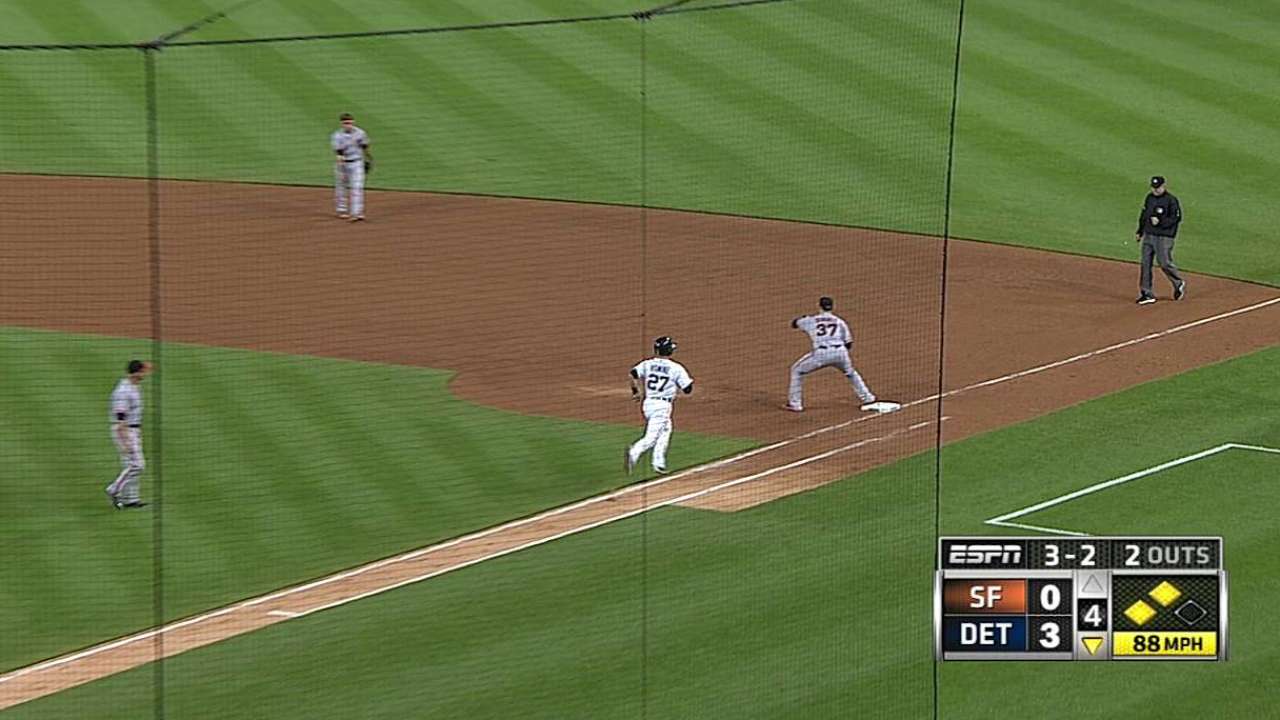 DETROIT -- The Tigers' lineup looks slightly different than it did the last time Tim Hudson saw it, over 10 years ago. Chiefly, it now includes someone named Miguel Cabrera.
Hudson hung a breaking ball to the Detroit slugger that Cabrera crushed for a two-run shot, the homer capping a three-run third as the Tigers avoided a San Francisco sweep, taking the finale, 6-1, on Sunday night.
The Giants, who still hold the National League's top Wild Card spot, are now three games behind the Dodgers in the NL West.
It was Cabrera's third home run of the series.
"Miggy looks like he's starting to get locked in a little bit," Hudson said after the game. "He's not going to miss those kinds of hangers.
"I don't think there was anything else he could have done but hit it out."
In all, Hudson allowed three earned runs, all in the third, off eight hits in six innings. The loss dipped his win-loss record to below .500. He's never had a sub-.500 season in his 16-year career.
The Giants' bats were quieted by a rookie named Kyle Lobstein -- as unfamiliar with the San Francisco lineup as the current Detroit order was to Hudson. Lobstein earned his first Major League win in his third big league start, fooling a team that had defeated Rick Porcello and David Price the two days prior. The lone blemish to Lobstein's otherwise-scoreless 5 2/3 innings of work came in the fifth, when Angel Pagan singled home Gregor Blanco.
San Francisco managed just six hits off the lefty.
"We didn't know him, but we had reports on him," Giants manager Bruce Bochy said. "We just couldn't do much with him. We needed a timely hit a couple times to get back in the game, and we were missing that. He threw a nice game for them."
The 39-year-old Hudson kept the Giants in the game but was visibly frustrated at times by his inability to command his pitches. Detroit played small ball, in addition to long ball, in order to build its lead off Hudson, who made 14 starts against the Tigers from 1999 to 2004.
Earlier in the third, Andrew Romine reached via a swinging bunt and stole second when Buster Posey dropped the ball in preparing to throw. Torii Hunter singled to center to drive in the game's first run.
Cabrera, dealing with right ankle issues that may require offseason surgery, certainly didn't look hurt when he followed Hunter's RBI single with the massive towering blast to left-center.
"The numbers speak for themselves," Bochy said. "You just hope you don't make mistakes for him. That breaking ball got away from [Hudson] there, and [Cabrera] took advantage of it. That's how good he is. I don't know if there's a better hitter in the game. He's in a good groove right now."
Hudson said his arm was late in his delivery, and it didn't break anywhere near as much as he had planned. The result was a hole that the Giants couldn't dig themselves out of.
San Francisco had its best chance to tie the game in the seventh, when it put two men on to begin the inning, including Blanco, who drew a 10-pitch walk. But after Brandon Crawford flied out to center, Tigers left-hander Blaine Hardy got Pagan with a flyout and Joe Panik with a foul pop to the catcher.
Ian Kinsler pushed the Detroit lead to three when he doubled home Romine off George Kontos in the eighth. Cabrera followed with a single for his 100th RBI, then Victor Martinez scored him with a double to the gap off Jeremy Affeldt.
All of San Francisco's 19 remaining games are against NL West opponents. Six of them are against the division-leading Dodgers.
"We've got the guys coming into town that we need to play good against and win," Hudson said.
Matt Slovin is an associate reporter for MLB.com. This story was not subject to the approval of Major League Baseball or its clubs.