Lobstein's first MLB win aids Tigers' playoff chase
Lefty allows one run over 5 2/3 innings; Detroit gains in WC pursuit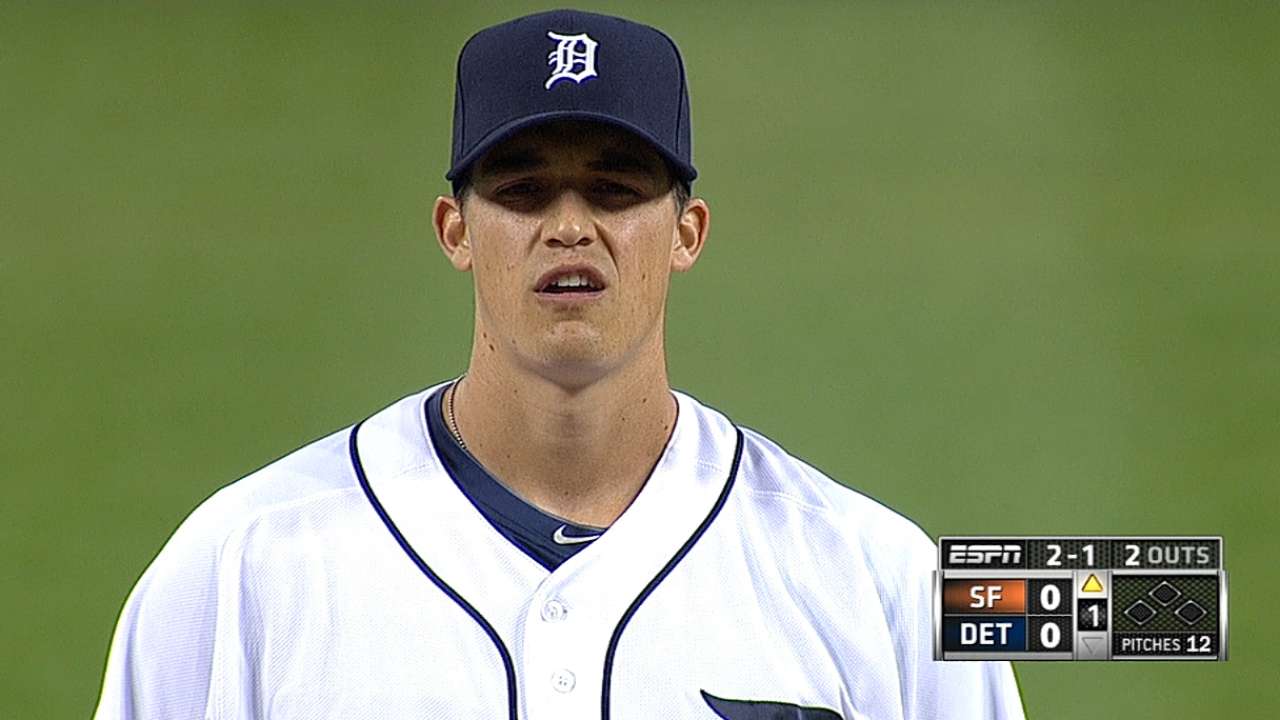 DETROIT -- The Tigers needed some heroics Sunday night to break the struggles that had them on the brink of a sweep by the Giants and a season-high deficit to the Royals in the American League Central. Miguel Cabrera's heroics, mainly a go-ahead two-run homer, were no surprise. Kyle Lobstein's contribution was.
Then again, Lobstein now has three solid outings in as many Major League starts, including 5 2/3 innings of one-run ball in Sunday night's 6-1 Tigers victory at Comerica Park.
The win kept Detroit within two games of Kansas City as the Royals arrive for three games beginning Monday afternoon. A sweep would now move the Tigers in front, rather than simply tying. Taking two out of three would move Detroit within one game rather than two.
Sunday's win also put the Tigers within a half-game of Seattle for the second AL Wild Card spot.
Maybe Lobstein's effort shouldn't feel as stunning, but in baseball, it tends to follow that the more a pitcher throws in the big leagues, the more scouts see him, and the more teams realize what to expect. As other Tigers rookies before Lobstein this season have shown, the second and third outings can sometimes be the toughest.
Lobstein, however, seems to defy the logic. He doesn't look like a pitcher who can keep a savvy team guessing, not with a fastball that occasionally cracks 90 mph. However, he's a pitcher that adjusts readily.
"There's guys that throw 82 and get guys out in the big leagues," catcher Alex Avila said. "It's just a matter of locating with movement, stuff like that. He's got a good sinker, a good four-seamer that may be 90, but when you're able to mix in all your other pitches, it looks 94."
Lobstein is getting results now that no one would've anticipated. Success is one thing, strikeouts another.
"He's not reinventing the wheel," manager Brad Ausmus said. "He's executing his pitches more than anything else."
That still works in this game. So does the game of adjustments. The best way to handle teams watching him for information that can help them is to glean some information from them that can help him.
"I'm sure they are [scouting]," Lobstein said, "just like how I'm starting to see more hitters, too, and obviously getting scouting reports on everyone else, as they are with me. At that point, it just comes down to executing your pitches. Sometimes, even if they know what's coming, if you make the right pitch and throw it to the right spot, you still get a guy out."
The Giants, who seemingly reaped the benefits of superb advance scouting with a game plan against Rick Porcello and David Price, looked relatively lost against Lobstein by comparison.
"We faced two really good pitchers and had a lot of success," Giants manager Bruce Bochy said. "The kid threw well. He'd been throwing well. He hit his spots. He got ahead. Kept the ball down. Worked from there.
"We didn't know him, but we had reports on him. We just couldn't do much with him."
At a time of the season when math takes priority, from magic numbers to remaining games, the Tigers finally made their numbers work. While the numbers from Cabrera looked familiar, Lobstein's pitching line looked like a veteran starter rather than a late-season callup.
"He's got deception," Avila said. "I think every pitcher has some sort of deception, or at least you want some. He creates some good deception, hides the ball well. That's just a product of the way he throws it. But he changes speeds well and commands it well. When you command four pitches in the strike zone, and throw it out of the zone when you want to, you're going to get outs in the big leagues."
Five days after striking out 10 batters over 5 1/3 innings in a no-decision at Cleveland, Lobstein didn't have nearly as many swings and misses from Giants hitters. However, he also had far fewer situations with traffic on the basepaths, allowing two walks, three singles and a double. His lone run allowed was also his lone runner in scoring position, when Gregor Blanco doubled and scored on Angel Pagan's infield single in the fifth.
His strikeouts, while few, were timely. Two ended innings, the other prevented a leadoff runner for the top of the order in the third.
When Cabrera's 22nd home run of the season gave Lobstein a 3-0 lead to protect after the third inning, he needed just eight pitches to provide a shutdown inning in the fourth, sending down the middle of the Giants lineup in order.
Cabrera's home run followed a pair of two-homer games earlier in the week. The reigning AL MVP Award winner has hit as many home runs over seven September games as he did over his previous 73 games from June 11 through Aug. 31.
Cabrera singled in an add-on run in a three-run seventh for his 100th RBI of the season, his 11th straight year reaching the century mark.
Jason Beck is a reporter for MLB.com. Read Beck's Blog and follow him on Twitter @beckjason. This story was not subject to the approval of Major League Baseball or its clubs.