Jeter takes field alone as teammates hold back
Headley comes up with idea for Yanks players to show their appreciation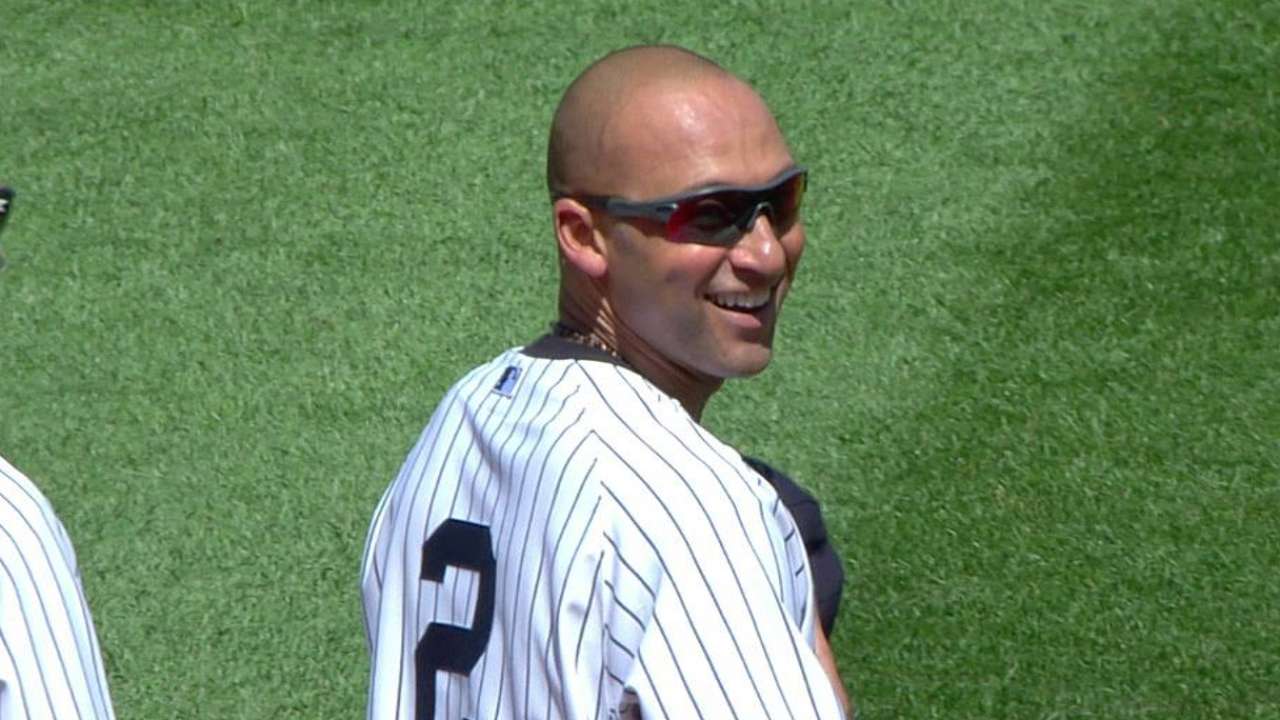 NEW YORK -- Derek Jeter's teammates came up with their own way to recognize the Yankees' captain on his day, allowing the shortstop to take the field by himself prior to the game against the Royals at Yankee Stadium.
Jeter bounced out of the first-base dugout and made his usual jog to his position, then turned back and realized that he was alone on the diamond. Jeter waved his teammates onto the field, where they eventually joined him for the playing of the national anthem.
Third baseman Chase Headley acknowledged that it was his idea to hold the rest of the team in the dugout, though he said that he bounced it off a few people first to set it into motion.
"We thought that it was the right thing to do for him," Headley said. "Just another little way that the fans, I guess, got their opportunity to say thanks. It was something for us just to let him know that we're thankful as well. He deserved the moment to be out there by himself on his day."
Yankees manager Joe Girardi said, "I thought it was a nice gesture on our players' part, understanding who he is and what he's meant, and give him that opportunity."
Jeter said that it took him a few moments to realize he'd run onto the field unaccompanied.
"I didn't know there was no one there -- I do the same thing every game, so I was unaware of the fact that no one was behind me," Jeter said. "Chase and [Martin] Prado are usually next to me during the anthem, and when I saw they weren't there, I turned around and saw that no one was there.
"My first thought was that I had run out there too early; first thought was that I messed up and ran out there too early on accident. I appreciate my teammates doing that for me. But at the same time, we're still trying to play games and win games. It's kind of an odd situation."
Bryan Hoch is a reporter for MLB.com. Follow him on Twitter @bryanhoch and read his MLBlog, Bombers Beat. This story was not subject to the approval of Major League Baseball or its clubs.