A's lose control in ninth of back-and-forth affair
Walks trip up Oakland's bid to build lead in AL Wild Card race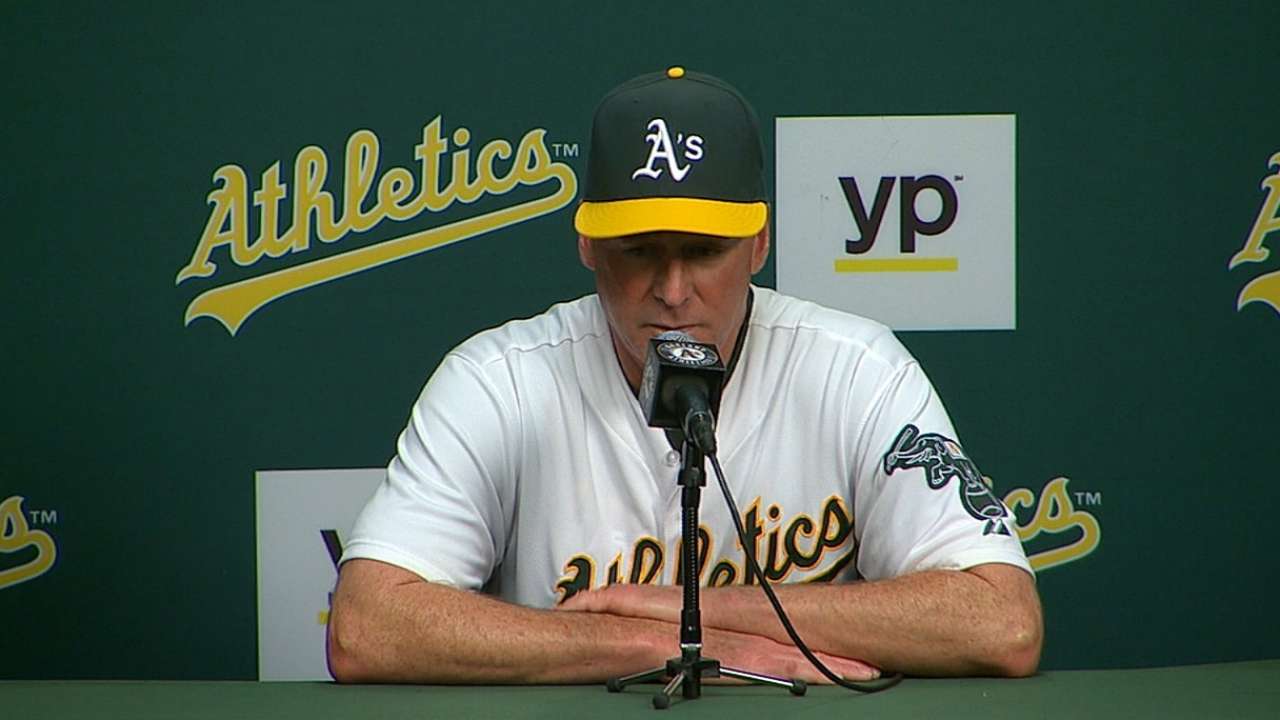 OAKLAND -- The A's swift plunge continued Sunday afternoon at the Coliseum, where Ryan Cook and Fernando Abad combined for five walks in the ninth inning to surrender not just a lead but yet another game in the standings.
The A's have lost seven games in the standings in the last 15 days and 11 games in the last 28 days, leaving them a season-high seven games back of the Angels in the American League West following a 4-3 loss to the Astros.
Unable to carry the momentum gained from Saturday's wild walk-off win, the A's missed a chance to record back-to-back wins for the first time in two weeks. They've done it on just three occasions since the beginning of August, around the same time this disturbing collapse began.
The A's went 12-17 in August and are 2-4 in September, and they're now 29-32 since the midpoint of the season on June 29, after going 51-30 through the first half of the schedule. And with just 20 games to play, despite three of them being against the first-place Angels, the A's chances of rallying for a third consecutive division title appear slim. That leaves one of two Wild Card spots, and Oakland has control of the top spot by a two-game margin over the Mariners.
But the A's have too many internal issues to be focusing their attention elsewhere at the moment.
"It's just all about winning games for us," said manager Bob Melvin. "You never know what kind of run you can go on, but, really, that's just too far out for us to look right now. We really have to focus on winning tomorrow's game and trying to follow that with another win."
Melvin was without his interim closer, Eric O'Flaherty, on Sunday because of back tightness, so he gave the ball to Cook with a 3-2 lead in the ninth inning. Cook was alarmingly out of sorts from the start, walking his first batter on four pitches, and proceeded to walk the bases loaded with just one out, throwing only five of his 18 pitches for strikes.
Next up was Abad, who was ordered to intentionally walk Jose Altuve after giving up a game-tying sacrifice fly to Jake Marisnick. With the bases loaded, Abad gifted the Astros the go-ahead run by walking Dexter Fowler.
"There's no excuses," said Cook. "I didn't make pitches. That's all there is to it."
"Pretty amped up out there," Melvin said of Cook. "Velocity was good, he just had a tough time getting his arm slot to where he wasn't missing up and away to lefties."
A's hitters struck out twice in a scoreless ninth to ring up their first losing homestand (2-4) since Aug. 13-21, 2013.
"It was disappointing to lose today after having a lead late," said Nate Freiman, who was nearly the hero with a go-ahead, two-run homer in the seventh. "We're going to spend some time today gathering ourselves, but, tomorrow, we have another series, and good teams have short memories, and the best thing we can do is show up tomorrow and be ready to go."
Having dropped eight of their last 10 games and 10 of their last 14, the A's will be in Chicago on Monday for a four-game set with the White Sox, to be followed by a three-game showdown with the Mariners.
On Sunday, they not only wasted Freiman's home run off tough lefty Dallas Keuchel but yet another quality start from Jason Hammel, who allowed two runs in 6 2/3 innings to continue a string of encouraging outings following an ugly stretch that nearly led to his bump from the rotation.
Hammel has a 1.25 ERA in his last three starts and 2.45 ERA in his last six, yet he's won just two of those.
"Wins are important right now, but what this team is good at is not letting losses affect our work," said Freiman. "The likelihood over these next few weeks is we're not going to go 20-0, so when we take our losses, we'll have short memories and come back the next day ready to win."
"We got to go game by game, pitch by pitch, at-bat by at-bat," said Hammel. "You start looking at the scoreboard and not worrying about what we have to do, you get caught up in that, and then you stop doing the things you're supposed to be doing. We got to make sure we focus on tomorrow's game, let this one go. We've got 20 games left to play and we've got to make them all count."
Jane Lee is a reporter for MLB.com. This story was not subject to the approval of Major League Baseball or its clubs.