Freeman's season-long woes vs. Marlins over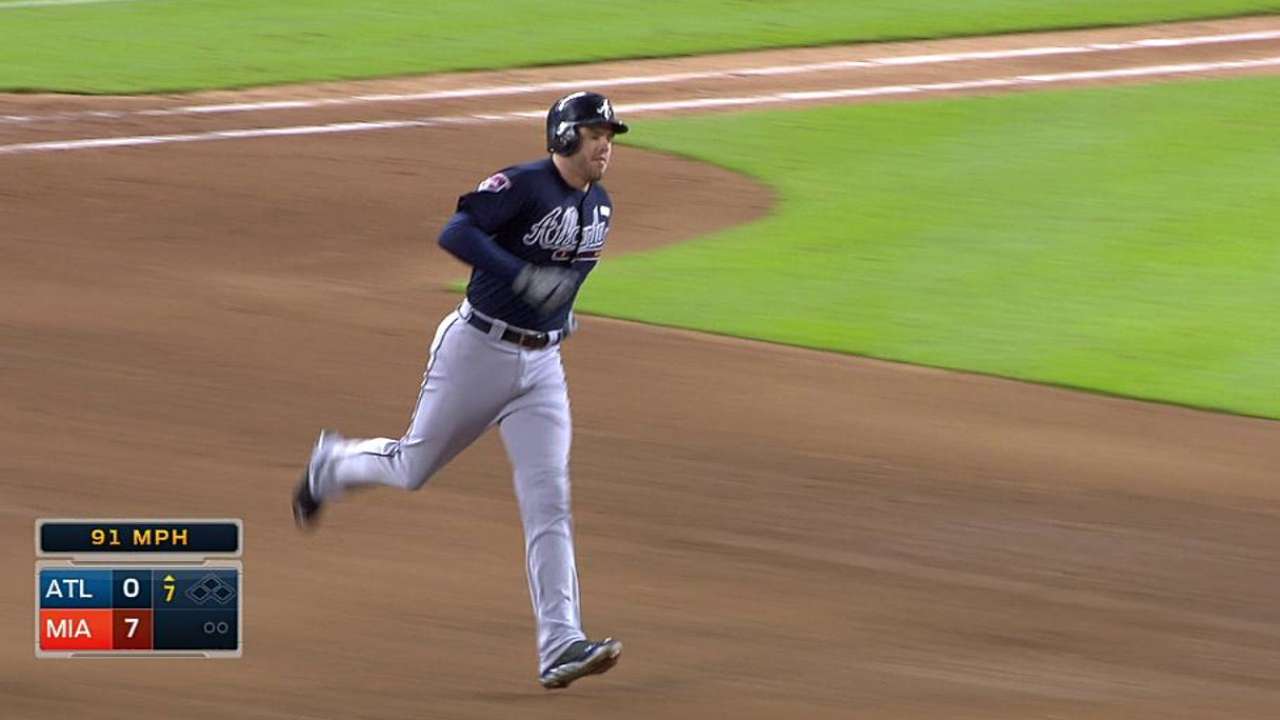 MIAMI -- Freddie Freeman will likely never understand why he struggled so mightily against the Marlins this season. But the Braves first baseman can take solace in the fact that he no longer has to live this experience that proved to be as much of an unexplainable oddity as it was a nightmare.
In his last at-bat against the Marlins this season, Freeman fittingly lined out in the ninth inning of Sunday afternoon's 4-0 loss at Marlins Park. The hard-luck lineout left him facing the reality that the stats will always show that he hit just .135 (10-for-74) against the Marlins this year.
"It was one of those years you can't explain," Freeman said. "Fortunately near the end of the year, I was able to get on base a couple of times. Against a team in your division, you don't really want to do that, but you've just got to put that behind you. We've still got 18 games left. I've got to do something against the Nationals here."
Freeman went hitless in his first 28 at-bats of the year against the Marlins and entered an Aug. 30 matchup with just three hits in 54 at-bats against the division rivals. As he noted, he did actually improve the batting average by notching six hits in his final 16 at-bats against Miami's pitchers.
As the Braves continue to fight for a postseason berth, they can be comforted in the fact that Freeman has batted .356 (62-for-174) against other National League East opponents. As he flew to Washington D.C. on Sunday night, he was comforted by the fact he has hit .481 (25-for-52) with four homers and a 1.360 OPS in 13 games against the first-place Nationals.
"This is just one of those seasons you chalk up to, 'That's baseball,'" Freeman said. "I guess I'll go get the Marlins next year."
Or maybe simply return to the way things were when he was batting .295 with an .839 OPS during the 56 games played against the Marlins before this season.
Mark Bowman is a reporter for MLB.com. This story was not subject to the approval of Major League Baseball or its clubs.