Mallee says Astros fortunate for Bonds' visit
Retired slugger lives in area, offers input to Singleton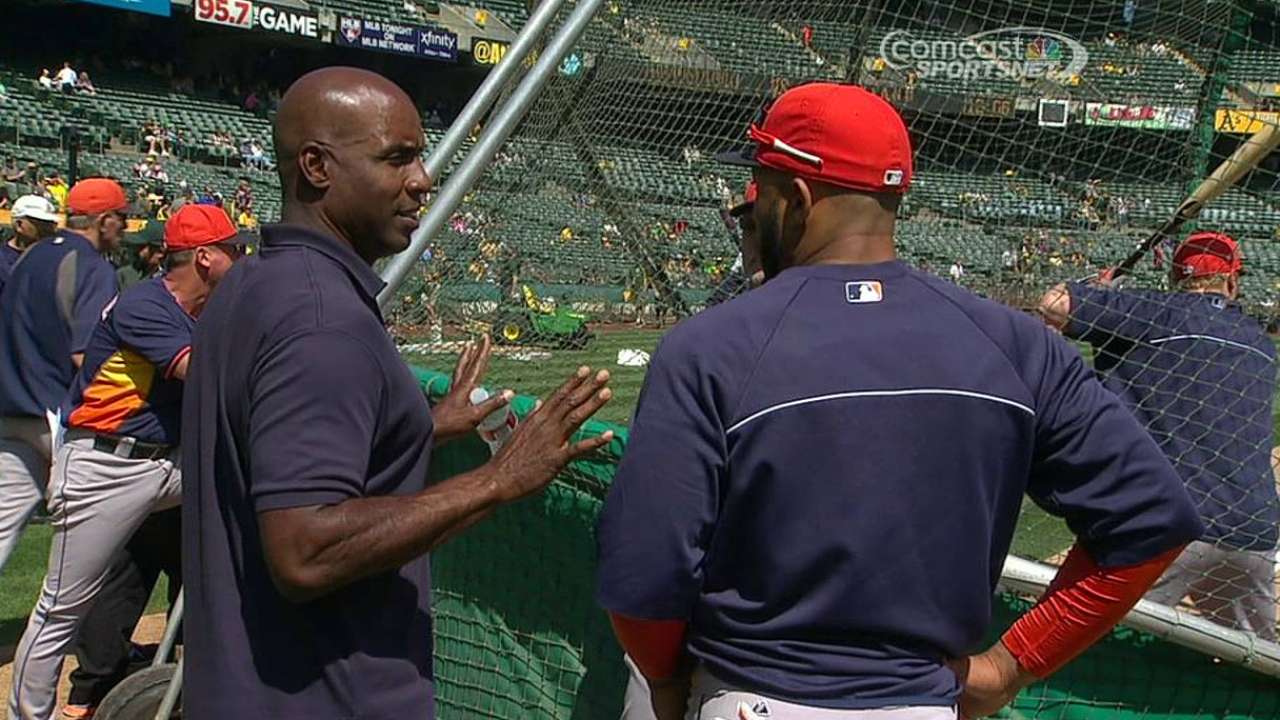 OAKLAND -- Astros hitting coach John Mallee, who has one of his players leading the Major Leagues in hits and batting average (Jose Altuve) and another among the leaders in home runs (Chris Carter), said he welcomed Barry Bonds' visit to batting practice on Saturday at O.co Coliseum.
Bonds, who's hit more home runs than any player in history, lives in the Bay Area and is friends with Astros outfielder Dexter Fowler, who asked Mallee earlier this year if Bonds could come and spend some time around the club.
"If he wants to come out and hang out and look around and tell us what he sees, that's fine," Mallee told Fowler.
Mallee was talking to Bonds on Saturday about first baseman Jon Singleton, who entered Sunday hitting .179 with 13 homers and 42 RBIs, and Bonds asked Mallee if he could speak with the rookie slugger. The two wound up talking for nearly 15 minutes behind the batting cage about approach and how to set pitchers up and the importance of practice and commitment.
"That's invaluable information," Mallee said. "Coming from a guy like that, it was great he was able to spend time with these young kids in that regard. He told [Singleton], 'You need to take the S off your shirt for Superman and put the P on there for practice. And you have to practice and practice right all the time. You've got to work with direction, you have to focus and you have to pay attention to your at-bats in the course of game and see how this guy is pitching you and then make adjustments. You're going to learn that over time.'
"It's the same thing we've talked about, and coming from him it's a big deal for the kids, and they're lucky to have an opportunity to speak with him."
Brian McTaggart is a reporter for MLB.com and writes an MLBlog, Tag's Lines. Follow @brianmctaggart on Twitter. This story was not subject to the approval of Major League Baseball or its clubs.