Baffled by Dickey once again, Sox fall to Blue Jays
Fellow knuckleballer Wright impressive in scoreless relief for Boston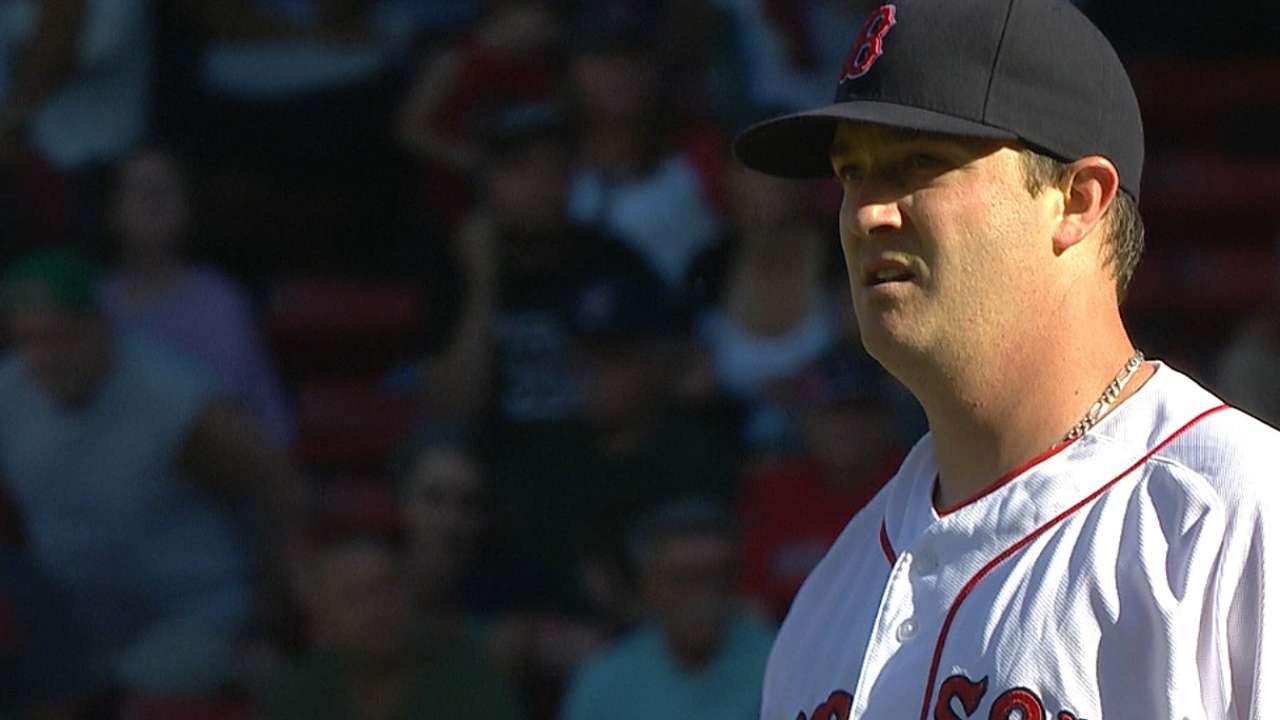 BOSTON -- R.A. Dickey's knuckleball was so nasty throughout Sunday's 3-1 victory over the Red Sox that rookie Mookie Betts sometimes couldn't believe his eyes.
"I thought a couple of the knuckleballs were going to hit me and they ended up being right down the middle and then he has that 85-mph fastball to go with it," said Betts. "That combination is tough to hit."
At least in Dickey's mind, he didn't even have the best knuckleball at Fenway Park on Sunday.
While Boston's hitters were continually flummoxed by Dickey, Steven Wright came out of the bullpen for the Red Sox and displayed a pretty fine knuckler of his own.
Wright came on in relief of Rubby De La Rosa and gave the Red Sox five brilliant innings, allowing two hits and no runs while walking one and striking out six.
"To be honest, he had a better knuckleball than I did tonight," said Dickey. "Our velocities are a little different. We had a light wind at my back, which made it tough to make it move the way I wanted, but it was moving enough to get off the barrels today and I made some big pitches when I needed them."
At the age of 30, Wright is a late-blooming prospect, having just converted to a knuckleball pitcher a couple of years ago.
Wright had been called up to Boston a few times earlier in the season, but this was just his second Major League appearance in 2014.
"It felt good to get out there. I was just trying to throw strikes, as many strikes as I could, then hope to put it in play with some weak contact so I could try to go as deep as I can," said Wright.
The fact he was able to throw up five zeros against Dickey made the day a little more special for Wright.
"Yeah, we had [a matchup] in Spring Training last year. It's nice to see another knuckleballer out there," said Wright. "Wish we would've scored a couple more runs and get a win out of it. But that ball was dancing."
Dickey helped the Blue Jays avoid the sweep by allowing six hits and one run over seven-plus innings. The righty walked none and struck out four to improve to 4-0 with a 2.33 ERA against Boston this season.
"He's been good against us all year," said Red Sox manager John Farrell. "The one thing he's done all year against us is just the high number of strikes."
Before the Red Sox turned to Wright, De La Rosa allowed seven hits and three runs over four-plus innings. He threw 81 pitches, and actually pitched just fine except for the fifth, when he gave up a three-run homer to Jose Bautista.
That rally started when De La Rosa walked No. 9 hitter Anthony Gose to open the inning. Jose Reyes followed with a single to center and Jackie Bradley Jr. made a rare misplay, as his error allowed the runners to reach second and third.
Bautista didn't let the opportunity pass by, scorching one over the Monster and on to Lansdowne Street.
"Yeah, I missed that pitch," said De La Rosa. "I tried to throw it away."
Instead, Bautista all but put the game away with one swing.
Dickey kept the Red Sox off-balance for most of the day. Daniel Nava got something started in the sixth with a double to center. Xander Bogaerts slimmed Toronto's lead to 3-1 with an RBI single to left.
For the rest of the day, the Red Sox didn't score. But at least they had Wright's performance to smile about.
"Well, couple of things quickly stand out," said Farrell. "He's developed a good feel for changing speeds on his knuckleball. Obviously he controls the running game well with the pickoff attempt to Reyes. In addition to changing speeds for the strikes, he threw a couple of 3-2 knuckleballs that he was able to record an out and on a day when we could use some length, he certainly provided it."
Much like former Red Sox knuckleballer Tim Wakefield once passed the torch to Dickey, Toronto's righty wouldn't mind if someone like Wright grabs it from him at some point.
"You don't like thinking that when you leave, there won't be anybody else out there doing what you did," Dickey said. "It's lonely when you're up here because you're the only guy, now there's another guy. Hopefully he'll perform well enough to be able to consistently make a Major League roster, which I don't see any reason why he shouldn't."
Ian Browne is a reporter for MLB.com. Read his blog, Brownie Points, and follow him on Twitter @IanMBrowne. This story was not subject to the approval of Major League Baseball or its clubs.