Blue Jays finish trip five back of second Wild Card
Dickey stifles Red Sox, while Bautista delivers key three-run homer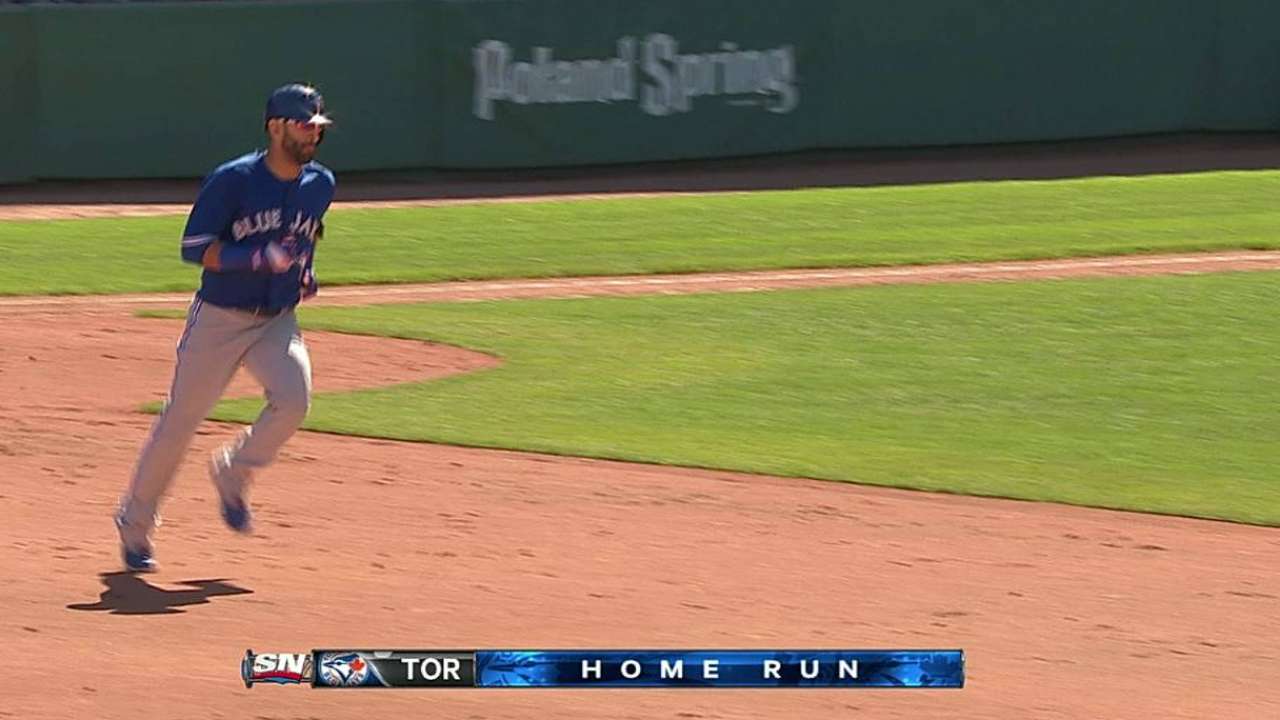 BOSTON -- The Blue Jays are heading home with a winning road trip, and normally that's a positive thing, but in this particular case the club has to be wondering what could have been.
Toronto opened its six-game road trip with a sweep over the Rays. That raised the expectations and suddenly the second American League Wild Card spot seemed like a possibility again. Two devastating losses to the Red Sox followed, and while the Blue Jays were able to salvage the finale with a 3-1 victory Sunday afternoon, it might not be enough.
With 20 games remaining and facing a five-game deficit in the standings, the club's chances aren't looking good.
"You have to take the positives out of the road trip, 4-2 is nice," knuckleballer R.A. Dickey said. "I've always said that we need to get to 90 wins somehow to have a shot and I know that's a tall order, but it's not impossible. Keep grinding it out and take advantage of teams that aren't high up in the standings, we have to win those types of games."
The only way Toronto can finish with 90 wins is if the club finishes 17-3. That will be extremely difficult especially considering there are four games remaining against the Mariners, who lead the second AL Wild Card, and another six vs. the AL East-leading Orioles. Add in a couple of series against the Rays and Yankees and it seems even more daunting.
That doesn't mean the Blue Jays have given up. After Sunday's victory at Fenway Park, everyone in the clubhouse was saying the right things. Toronto has to be almost perfect the rest of the way, but the organization is holding out hope that it can happen.
Still, this weekend could have gone so much differently. The Blue Jays had a pair of late-inning leads Friday night, but were unable to close things out. On Saturday, they were a timely hit away from another victory. A 4-2 record sounds good, but a much better one was within their grasp.
"It could have easily been a 6-0 road trip," Jose Bautista said. "You're going to lose some games throughout the season that you feel like you should have won. We should just look at those are two of those games and focus on the ones that we still have coming up because we can't change the outcome of those games."
Dickey gave the Blue Jays some renewed hope on Sunday by tossing seven-plus strong innings. He scattered six hits, and most impressively, he didn't walk a batter for the first time since Aug. 2 in Houston.
The strong outing was a continuation of a recent trend as he appears to be finishing the year strong. Dickey has won his past three decisions and has allowed two earned runs or fewer in all but one of his last six outings.
The only blemish on Dickey's outing came in the sixth when he allowed a leadoff double to left fielder Daniel Nava. Three batters later, Xander Bogaerts came through with an RBI single to left field. It was only the second time the Red Sox put a runner in scoring position and it didn't happen again until Dickey departed in the eighth after a leadoff double by Mookie Betts.
"He's very tough," Betts said of Dickey. "He's won a Cy Young. You know you're going to get some good pitching. I thought a couple of the knuckleballs were going to hit me and they ended up being right down the middle and then he has that 85-mph fastball to go with it. That combination is tough to hit."
Toronto got all of the runs it would need in the fifth. Anthony Gose led off with a walk and advanced to third on Jose Reyes' bloop single to center. Bautista then delivered the big blow with a deep three-run shot over the Green Monster for his 31st homer. Bautista has two homers in his past three games and seven since Aug. 26.
The vast majority of Toronto's runs over the past two weeks have come via the home run. The Blue Jays have homered in 11 consecutive games, which marks a season high, and they have a total of 18 over that same span. It marks the first time Toronto has homered in 11 straight since Aug. 6-18, 2011, when the club did it in 12 games.
The Blue Jays return home for a three-game Interleague series against the Cubs which starts on Monday night at Rogers Centre. There seemed to be understandable frustration and disappointment inside the clubhouse this weekend, but manager John Gibbons insists the road trip was a positive one.
"It feels good," Gibbons said. "We came into two tough places, we played well down in Tampa, which has been a nemesis for us. A couple of tough losses here, but the guys bounced back. They've been doing it all year, so that doesn't surprise me."
Gregor Chisholm is a reporter for MLB.com. Read his blog, North of the Border, and follow him on Twitter @gregorMLB. This story was not subject to the approval of Major League Baseball or its clubs.