MLB.com Columnist
Richard Justice
Jeter tribute fitting for a one-of-a kind legend
Yankees and their fans show captain appreciation for his amazing career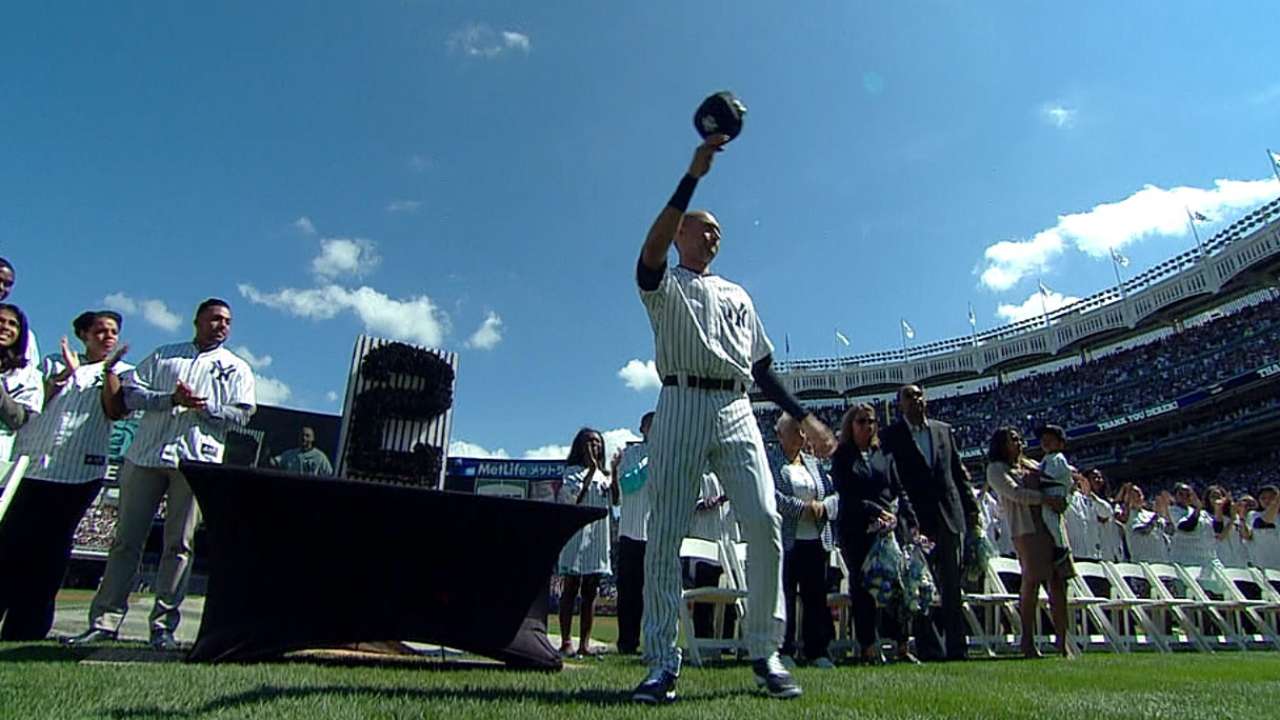 NEW YORK -- Derek Jeter stood there Sunday afternoon, bouncing from one foot to the other, a bundle of nervous energy, a half-smile -- that familiar half-smile -- as most of the crowd of 48,110 fans chanted his name at Yankee Stadium.
They said he would not enjoy this moment. They said he had a baseball game to play, and that would be his focus. They said his entire career had been defined by the team, not the individual.
"The game, that's what he'll be thinking about," Tino Martinez said.
Yet the Yankees set aside an hour on a sun-splashed afternoon -- a spectacularly beautiful setting that might just remind you of October -- before a game with the Royals.
They did it to honor something bigger than one game. There's no real way to capture what Jeter has meant to this city and this franchise and this sport, but they had to try.
"You can't get enough of showing appreciation for players like him," Joe Torre said.
They wanted to acknowledge that Jeter has always been different, and that those who love the Yankees -- indeed the people who love this sport -- owed him a day like this as he prepares for retirement once this season ends.
Jeter has led the Yankees to five World Series championships, and that's a huge part of how he'll be defined. It's also just a beginning. He did everything with grace and dignity. He was gracious in defeat, humble in victory.
As a player, Jeter defined greatness in just about every way it can be defined. He prepared meticulously, worked relentlessly. He produced with numbing consistency and was at his best when the lights were the brightest. He never seemed overwhelmed by any moment, no matter how big. He was never really satisfied, either.
"He was the most inquisitive, the most interested," Dave Winfield said. "He's going to leave a legacy that every other player is going to try and emulate."
Jeter was a leader, but not a leader who said all that much. He was a leader with the way he carried himself, with the way he played and with the way he respected the sport.
Other players noticed. In that quiet way, Jeter set a standard for all of them. He did speak at times, to admonish players about doing things a certain way. But he did it quietly and out of the spotlight.
"He didn't say too much," Mariano Rivera said. "He said it all on the field. That's what you want in your captain, your main guy, especially in tough situations."
Jeter played in his 2,729th regular-season game Sunday afternoon. He has played in another 158 in the postseason. Think of how many times he has warmed our hearts with his bat, glove, legs, arm -- you name it.
"He never took a play off," Gerald Williams said. "He always gave it his best, every time. He always felt like he could do more. He wasn't satisfied."
Baseball's beauty is that it's every single day. It thrills us. It disappoints us. But it's there to be savored for nine months per year.
Maybe that's why we love this guy so much. For 20 years, he has played at such a high level. Also for 20 years, he has been a consummate pro, a good teammate, a good citizen of the community.
"He never made an excuse," Jorge Posada said. "That was one of his biggest pet peeves."
We all have such a large catalogue of Jeter moments that he feels like an old friend. We've seen so much of him that we feel we know him. We like him, too. We appreciate him.
"There was just something about him," Paul O'Neill said. "He had charisma. He had a personality. There was always a smile."
Remember the flip play in Oakland? Yeah, they flashed that one on the video board Sunday afternoon.
And the time he caught a foul pop and went flying in the stands. He came out with the baseball in his glove and blood dripping down his face.
And the home runs and defensive magic in October.
You just hope he understands that all the hours he prepared, all the excellence he gave us, didn't go unnoticed.
For this day, the Yankees brought back some of the important people in Jeter's life. Torre and Rivera. Posada and Williams. Others, too.
Commissioner-elect Rob Manfred was among the invited guests who sat in white chairs aligned around the infield.
Michael Jordan showed up, too, to pay his respects.
"He's an idol to me," Jordan said.
Billy Crystal offered a thank-you message from the video board in center field. So did Kenny Chesney and Eli Manning and others.
New York Mayor Bill de Blasio sent over a proclamation declaring Sunday "Derek Jeter Day."
Of course, it was.
How perfect.
"His popularity was so much bigger than anybody else's, but he never put himself above anybody else," O'Neill said. "He was a great teammate."
Jeter was showered with gifts, including a framed collection of patches from his 14 All-Star Games and a 10-day trip to Tuscany.
The Yankees made a $222,222.22 contribution to his Turn 2 Foundation. They flew Jeter flags around the rim of the Stadium.
So many familiar faces, so many memories. Jeter seemed thrilled and humbled. He paused a time or two to take in the entire scene, and when he did this, he would spin quickly, tipping his hat to the packed house.
He noticed, too, that his current teammates stood and applauded. On the other side of the diamond, the Royals did the same.
All in all, it was perfect.
When it was Jeter's turn to speak, he did what he has almost always done in such situations.
He said exactly the right thing.
"I want to thank you for helping me feel like a kid for the last 20 years," he said. "I had the greatest job in the world. I got to be the shortstop for the New York Yankees. I always felt that my job was to provide joy and entertainment, but it can't compare to what you brought me."
Jeter said he'd been lucky to spend his entire career with the Yankees. For that, he thanked the Steinbrenner family and especially The Boss, the late George M. Steinbrenner III.
Jeter thanked his teammates, past and present. He said he'd been a very lucky man. Finally, he paid tribute to the fans all around the world who care about the Yankees.
They may just be the toughest fans in all of sports. They demand winning, and they demand excellence. They love Jeter because he delivered again and again, and because he was someone you genuinely liked for his decency off the field as much as his greatness on it.
Just like the generations of fans who saw Ruth and Gehrig or DiMaggio or Mantle, they'll recall moments of their lives by things Jeter did. And they'll cherish them forever. In the end, that's the highest tribute possible.
Richard Justice is a columnist for MLB.com. Read his blog, Justice4U. This story was not subject to the approval of Major League Baseball or its clubs.