Hamels takes rare loss to Nationals in finale
Southpaw's balk leads to go-ahead run; Phils miss shot at sweep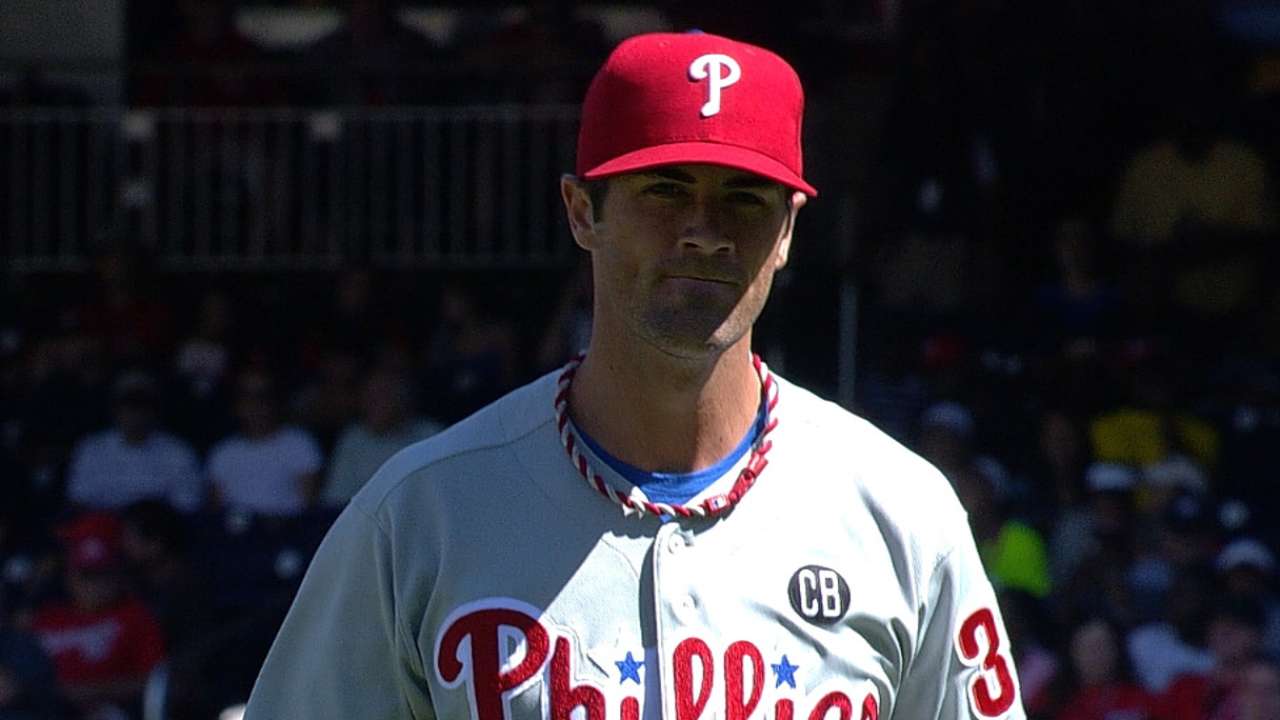 WASHINGTON -- Cole Hamels has been on the losing end of plenty of games -- 81 to be exact -- but he couldn't recall the last time a balk did him in.
Hamels' first balk since 2012 proved to be the difference as Philadelphia couldn't finish off its second straight sweep of Washington, dropping a 3-2 decision on Sunday at Nationals Park despite another solid pitching performance from its ace.
"No, but I know I've lost some pretty weird games," Hamels said when asked if he's ever suffered a loss by balk. "It's unfortunate."
In the sixth inning of a 2-2 contest, Hamels (8-7) allowed a one-out double to Washington's Ian Desmond. As Hamels attempted to keep the speedy Desmond close to the bag, first-base umpire Chad Fairchild called a balk, allowing Desmond to move up to third.
"[Fairchild] said that I hitched twice," Hamels said. "That I came up and then turned, but I think that he was just looking at my back foot as opposed to my front leg, because it was continuing the whole time. When I spin, my cleat sometimes gets caught, so it causes kind of like a jump. I'll keep doing what I can do. If they keep calling it, then, obviously, I guess I have a problem. I didn't think it was a balk. It's a first. I've been doing the same move since I've gotten to the big leagues."
Scott Hairston delivered a sacrifice fly to deep left field to bring in Desmond and give the Nationals a 3-2 advantage that would stand up.
"I got lucky with Hairston not hitting a homer, because I know that would have been 85 rows deep at our field," Hamels said. "But the pitch to Desmond was a bad pitch. It was up, and if I would have been able to at least get it down, it would have been a groundout right to the third baseman. That's the pitch, right there. I guess if it didn't happen, we might still be playing."
In 6 1/3 innings, Hamels allowed three runs on seven hits while striking out seven -- the 19th straight start he has allowed three earned runs or fewer. But some errant command, which led to two home runs by Washington first baseman Adam LaRoche, and the balk prevented him from having a shot at picking up his 16th career victory against the Nats.
"Cole wasn't as sharp with his command and just controlling the ball," manager Ryne Sandberg said. "And then the balk kind of came into play. It was a questionable call. He does that often."
The Phillies attempted to rally in the eighth, as pinch-hitter Ben Revere opened the inning with a single off reliever Tyler Clippard. Revere appeared to steal second and was ruled safe, but Nationals manager Matt Williams successfully had the called overturned via challenge to thwart the comeback attempt.
Philadelphia was hurt by another tough call in the first inning after breaking through against Washington starter Gio Gonzalez (8-9). Grady Sizemore singled before Marlon Byrd broke an 0-for-17 skid with a single to center. Nats center fielder Denard Span attempted to nab Sizemore at third, but his throw went wide, giving Sizemore a chance to head home. Third baseman Anthony Rendon tried to catch Sizemore at the plate, but his throw went into the dugout, giving the Phillies a 1-0 lead.
Sandberg came out to question whether Byrd should have been awarded home since he was already at or past second base. The umpires huddled, then went to review the play -- only to be told it was unreviewable. They decided that Byrd had not reached second before the ball went out of play, costing the Phillies another run as Byrd was awarded third.
"I have no clue," Byrd said about reaching second. "I slipped. I was on the ground. I hit the bag and slipped, tried to pop up and saw the ball. I actually saw Grady running, and that's why I took off. All year long, I really don't know the rules. The plays at the plate, what can be reviewed, what can't. I have no clue. I think that'd take a while, going back and looking at the rulebook, trying to figure everything out."
In the fourth, Carlos Ruiz led off with a double and Byrd followed with a single through the hole at third. Darin Ruf picked up his seventh RBI of the season with a sacrifice fly to right to put the Phillies up, 2-1, though LaRoche would tie the game in the bottom of the frame with his sixth career home run against Hamels.
"It was just one of those days where he left a couple of pitches right over the plate," LaRoche said.
Despite the loss, Philadelphia finished its season series with the Nationals with a 10-9 advantage. However, the Phils fell to 0-9 in Sunday road games since April 27 and have won just three times in their last 16 Sunday contests.
Elliott Smith is a contributor to MLB.com. This story was not subject to the approval of Major League Baseball or its clubs.