MLB.com Columnist
Bill Ladson
LaRoche's two homers help Nats edge Phillies
Hairston's success vs. Hamels continues with go-ahead sac fly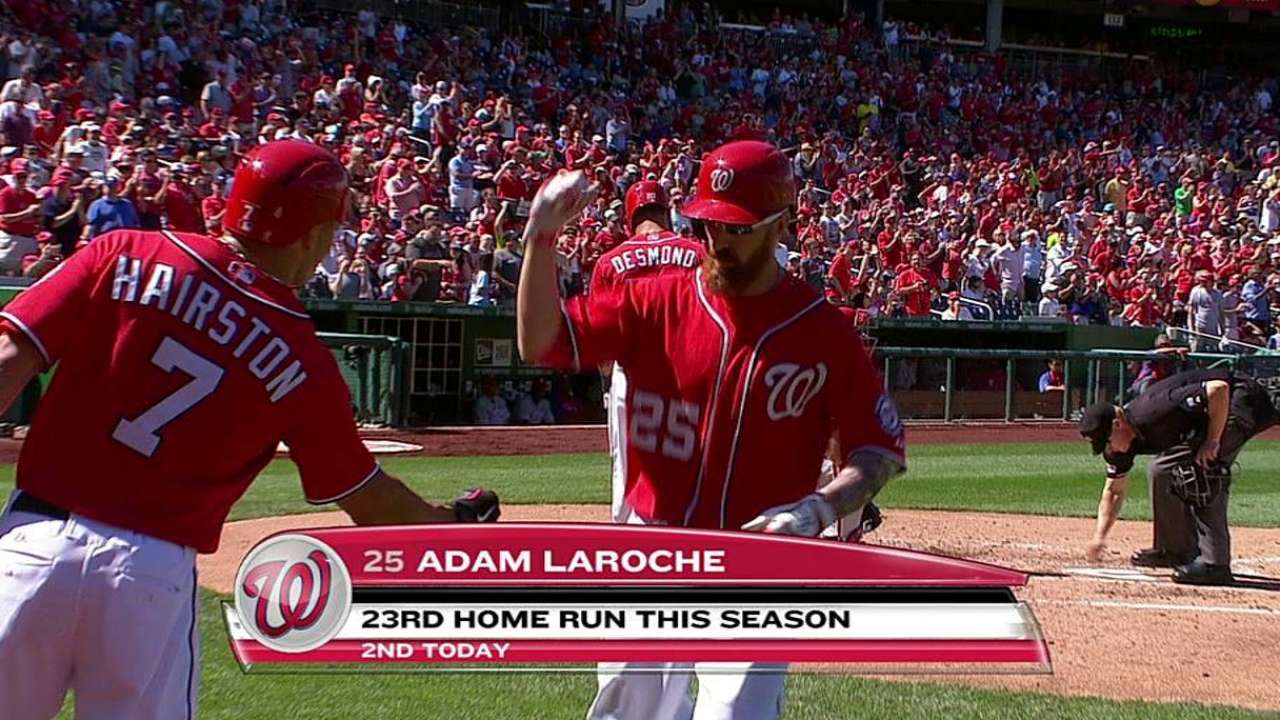 WASHINGTON -- When it comes to left-hander Cole Hamels, Scott Hairston was going to get a couple of at-bats, and it paid off Sunday afternoon as the Nationals edged the Phillies, 3-2, at Nationals Park.
With the victory, Washington reduced its magic number to 14, as the Braves were blanked by the Marlins, 4-0. The Nats now have a seven-game lead in the National League East.
Entering the game, Hairston was 18-for-46 (.391) against Hamels, so manager Matt Williams decided to start Hairston over Bryce Harper in left field. In fact, four out of Hairston's 11 starts this year have come against Hamels.
"I see the ball good against him. He has great stuff," Hairston said. "This is the best I've seen him. I've faced him a bunch of times in the past."
The veteran utility man came through in the sixth inning. With one out and the score tied at 2, Ian Desmond hit a one-out double before advancing to third on a balk by Hamels.
Hairston came up next and swung at a 1-1 pitch, sending the ball deep to left field. It looked like it was going out of the park, but it was caught in front of the wall by Grady Sizemore. Desmond scored easily to make it a one-run game. Teammate Adam LaRoche was in disbelief that the ball didn't go out of the park.
"I thought you got that one," LaRoche told Hairston.
"I guess bad wind currents today. Usually, guys with pop, those balls go out," Hairston joked with the media. "But at least someone was on base the second time. It turned out OK."
In his first at-bat in the second inning, Hairston hit a ball that was caught in front of the left-field wall by Sizemore.
"He hit them both real good," Williams said. "The ball wasn't really carrying to left, for sure. He has good numbers against Hamels. He has seen him well and hit him well over time. I wanted to give him that opportunity, for sure."
The bad wind currents didn't bother LaRoche. Trailing, 1-0, in the second, the Nats drew even when Adam LaRoche belted a long home run over the right-field wall.
After the Phillies went ahead, 2-1, in the fourth on a sacrifice fly by Darin Ruf, LaRoche hit another long ball over the right center-field fence in the bottom half of the frame, his 23rd homer of the season. It was LaRoche's 24th multihomer game of his career. It was also his sixth career homer against Hamels.
"It's probably the toughest game I've had in a long time, because they didn't mishit too many balls," Hamels said. "They were hitting them pretty hard and pretty far. They're seeing the ball real well. If you're not able to get ahead quickly against them and keep them off balance, then they're just going to dig in even more and gain a little bit more confidence.
"To only give up the amount of runs we gave up today, especially since I gave them all up, I'm going to have to look at that as getting pretty lucky."
LaRoche has been dealing with back tightness and an elbow injury in the last week. He's also been dealing with the flu.
Asked how he was doing after the game, LaRoche said, "All of them are feeling better. The back has been feeling pretty good the last couple of days. Late in the game, I start to feel it a little bit. I'm not feeling it at the plate, and not nearly as bad on defense. The elbow is healing up. The flu is going away. Looking good."
Gio Gonzalez earned the victory, pitching six-plus innings while allowing two runs (one earned) and striking out three batters. The left-hander found himself behind in the first inning through no fault of his own.
With a runner on first, Marlon Byrd singled to center fielder Denard Span, who tried to throw out Sizemore out at third. But the ball went past third baseman Anthony Rendon, who then tried to cut down Sizemore at the plate. However, Rendon threw the ball away, allowing Sizemore to score. Byrd advanced to third base on the play. The Phillies thought Byrd should have scored, but after an umpire conference, he remained on third.
Gonzalez brushed it off and won his eighth game of the season. It helped that he used mostly his fastball and changeup.
"I felt confident with our defense. Jayson Werth made a nice play that saved me out of an inning," Gonzalez said. "All and all, it was a good game."
With closer Rafael Soriano taking a couple of days off and working on his slider, Drew Storen came in the ninth and retired the side in order for his second save of the year.
The Nationals now play an important three-game series against the Braves starting Monday at Nationals Park.
"We don't have to do scoreboard-watching in the next couple of days," Storen said. "It's going to be head to head. They have given us trouble all year. So it's going to be a good test for us here."
Bill Ladson is a reporter for MLB.com and writes an MLBlog, All Nats All the time. He also could be found on Twitter @WashingNats. This story was not subject to the approval of Major League Baseball or its clubs.