Adrian homers twice as Dodgers sweep D-backs
Slugger drives in six runs to lead NL West leaders' late rally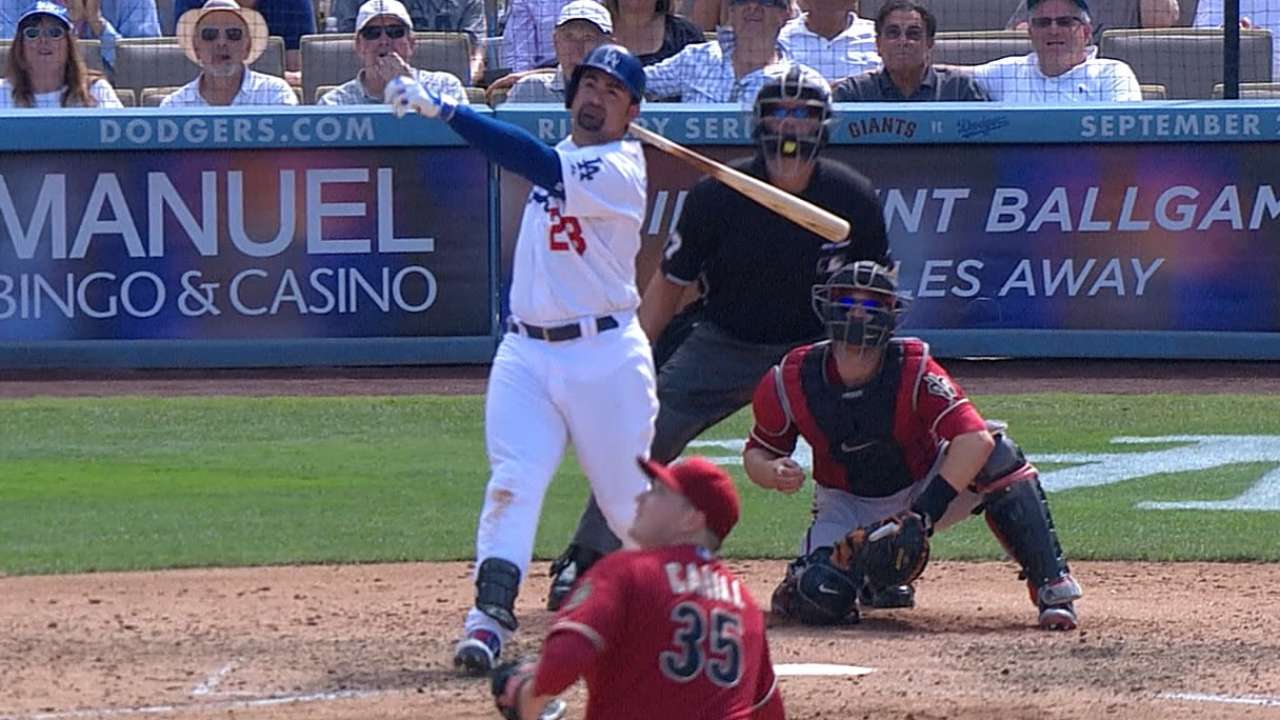 LOS ANGELES -- At one point in Sunday's season-series finale with the D-backs, when the Dodgers' bats were still being no-hit by Trevor Cahill, Matt Kemp happened to look up to the Dodger Stadium video board.
Kemp read that teammate Adrian Gonzalez had reached 100 RBIs six times. He also noticed that Gonzalez was just six away from reaching that same benchmark this season. Little did he know, Gonzalez would get all six this day -- and on two swings. As Kemp would say later, after a 7-2 win against the D-backs, Gonzalez was the Dodgers' offense Sunday.
After a Dee Gordon double broke up Cahill's no-hitter and Hanley Ramirez walked to lead off the sixth, Gonzalez strode up to the plate with the Dodgers down, 2-0, and had his eye on a fastball middle-in. He found it on a 3-1 pitch and launched it over the center-field fence, giving the Dodgers a 3-2 lead. An inning later, against left-hander Oliver Perez, Gonzalez drilled a second three-run home run to left field, putting the game away.
It was Gonzalez's 16th career multi-homer game, and he matched a career high with his second six-RBI game.
"It was a good game, obviously," Gonzalez said. "The two three-run home runs were big for us, especially the first one. Zack [Greinke] did a great a job giving us a six strong innings. Our bullpen shut the door afterwards. And it was a good game overall for us."
The Dodgers finished the season series against the D-backs with a 15-4 record, sweeping them four times. That success comes a year after a fierce season series in 2013 that included two bench-clearing brawls. Tempers flared in the seventh inning, but the unrest was directed more toward the umpiring crew.
Kemp followed Gonzalez's second home run of the day with a homer of his own, and Perez hit the next batter, Andre Ethier, with a slider. Plate umpire Scott Barry warned both benches, inciting the anger of manager Don Mattingly and pitcher Clayton Kershaw -- both of whom were ejected. However, both teams said after the game that they didn't think Perez hit Ethier intentionally.
The theatrics of the sixth and seventh innings were a far cry from the first five, when the Dodgers reached base just three times against Cahill, on an error and two walks. Cahill finished the day allowing just two hits in 5 2/3 innings, but Gonzalez's first homer saddled him with a loss.
Greinke, meanwhile, earned his 14th win of the season, as relievers Carlos Frias and Brandon League combined to hold the D-backs scoreless through the final three frames. Greinke allowed two runs in six innings, the first coming on a two-out swinging bunt by Didi Gregorius in the second and the run coming on an RBI single off the bat of Cody Ross in the third.
Greinke walked three batters to go along with the six hits he allowed, and he said he struggled with his command as the game wore on.
"Obviously, I think we've seen Zack sharper," Mattingly said. "But his stuff was good, a little uncharacteristically wild early. But he continued making pitches."
Greinke made pitches just long enough for the Dodgers' offense to respond. And on Sunday, that offense came in the form of Gonzalez.
With his performance, Gonzalez put together his seventh season with at least 20 home runs and 100 RBIs. Now 32 years old, Gonzalez knows the value of that sort of consistency and how difficult it can be to maintain it.
"You've got to take care of your body," Gonzalez said. "You need to know when to slow down and when you got to kick it up a notch. You've just got to listen to your body."
He must be doing something right.
"I think he's been our most consistent hitter throughout the year," Kemp said. "That home run gave him 100 RBIs, didn't it?
"It's pretty clutch hitting. He knows how to drive in runs, and we need those kinds of guys on our team."
Michael Lananna is an associate reporter for MLB.com. This story was not subject to the approval of Major League Baseball or its clubs.