Rare defensive miscues sting Reds in finale loss
Latos strikes out five in six innings; all four Mets runs unearned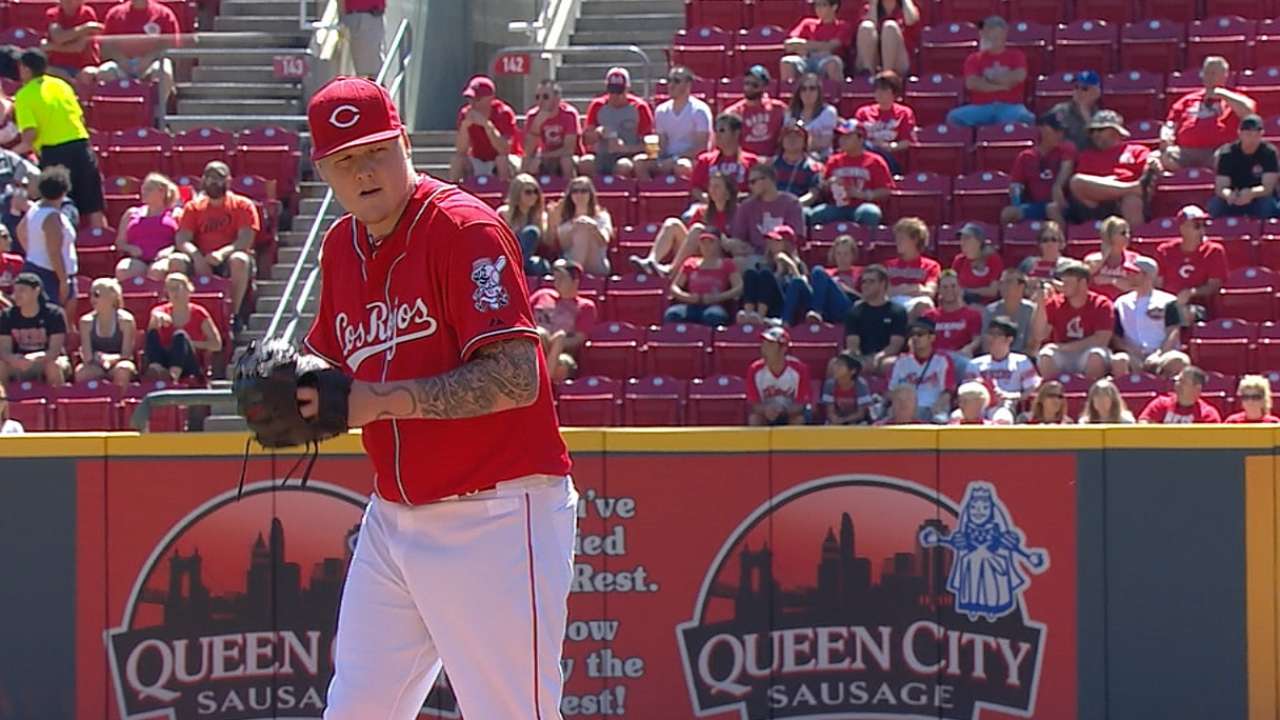 CINCINNATI -- It happens so rarely, you have to rub your eyes after you witness it, just to be sure that it did, indeed, happen.
But it did happen on Sunday afternoon at Great American Ball Park. Billy Hamilton made an error on a routine play in center field that led to three unearned runs for the Mets in the sixth inning, as the Reds lost to New York, 4-3, in the rubber match of the three-game series.
With one out and nobody on in the sixth, Wilmer Flores hit a fly ball toward the warning track in center off Reds starter Mat Latos. Hamilton drifted back, reached up, and the ball went off his glove. It was just the second error for Hamilton in 1,088 innings at the position this season.
"I thought it was hit softer than what it was, so at the last minute, I saw the wall, and I took a peek, and that one little peek did it," Hamilton said. "But no excuses; I missed it. It was my fault."
Flores wound up at second and scored on a single down the right-field line from the next batter, Curtis Granderson, tying the game at 1. Following a foul popout by Dilson Herrera, which would have been the third out of the frame had it not been for Hamilton's miscue, Anthony Recker belted a two-run homer off the second deck in left to make it 3-1.
"It's tough, because your pitcher falls behind, that's an inning he should have been out of, the home run should have never happened to him," Hamilton said. "I put it on myself for not making that play, and I've got to put it behind me."
Reds manager Bryan Price said on Saturday that Hamilton is deserving of a Gold Glove Award with how well he's played center field this season.
"You never expect those [errors]. You don't expect it from average or below-average defenders, to drop that ball. However, they all do at some point in time," Price said. "It stinks when it does [happen], especially when it affects the outcome of a ballgame. But as we know, for all of us who have watched him all year long, that's not something he does with any regularity at all."
For a team that entered Sunday with the highest fielding percentage (.988) and fewest errors (62) of any team in the Majors, another unearned run may have been imminent.
That run came in the eighth on a home run by Granderson against reliever J.J. Hoover. Reds first baseman Jack Hannahan dropped a foul popup earlier in Granderson's at-bat.
"Two plays that those guys are going to make 999 out of a thousand times," Price said.
Overall, Latos had his best outing in his last three after allowing nine earned runs in 12 innings (6.75 ERA) over his previous two starts. The right-hander gave up seven hits while walking one and striking out five over six innings.
"I pitched all right," Latos said. "Billy committed an error out in center field, but look at all the plays he's made for us all year. He's been real good defensively out there. I've got to do a better job of pitching out of that jam; you can't throw a fastball down the middle to a guy like Recker and expect nothing to happen to it. I put a lot of guys on base. There were a lot of consistent pitches in the zone instead of expanding a little bit, trying to get them to chase or pitching inside more."
Cincinnati's first run came on Skip Schumaker's RBI single off Mets starter Zack Wheeler in the fifth. Latos, who had hit a two-out single earlier, scored on the play.
The Reds made it interesting against Mets closer Jenrry Mejia in the ninth. Jay Bruce opened the frame with a solo home run to right, his 16th of the season. The next batter, Hannahan, hit a ground-rule double to center. Hannahan scored on Ryan Ludwick's one-out single to cut the deficit to one.
Following a Hamilton walk and a Schumaker popout, Todd Frazier hit a slow ground ball to third that David Wright charged, gloved and threw to first for what was initially ruled the third out by first-base umpire Paul Schrieber. Price challenged the call, and following a review, it was overturned. That loaded the bases and placed the tying run at third for Devin Mesoraco, but Mejia struck him out to pick up his 24th save.
The Reds allowed four unearned runs in a game for the first time since Aug. 3, 2010, at Pittsburgh, when they allowed seven unearned runs. That was also the last time Cincinnati lost a game without giving up an earned run.
As for the big error that came from the unlikeliest of sources, Hamilton is confident that a rarity like that won't be seen again anytime soon.
"It's just something that happened one time," Hamilton said. "It's a one-time thing."
Manny Randhawa is an associate reporter for MLB.com. This story was not subject to the approval of Major League Baseball or its clubs.