Paxton's solid effort not enough to up Wild Card lead
Rookie outdueled by Rangers' Holland; Mariners lead down to a game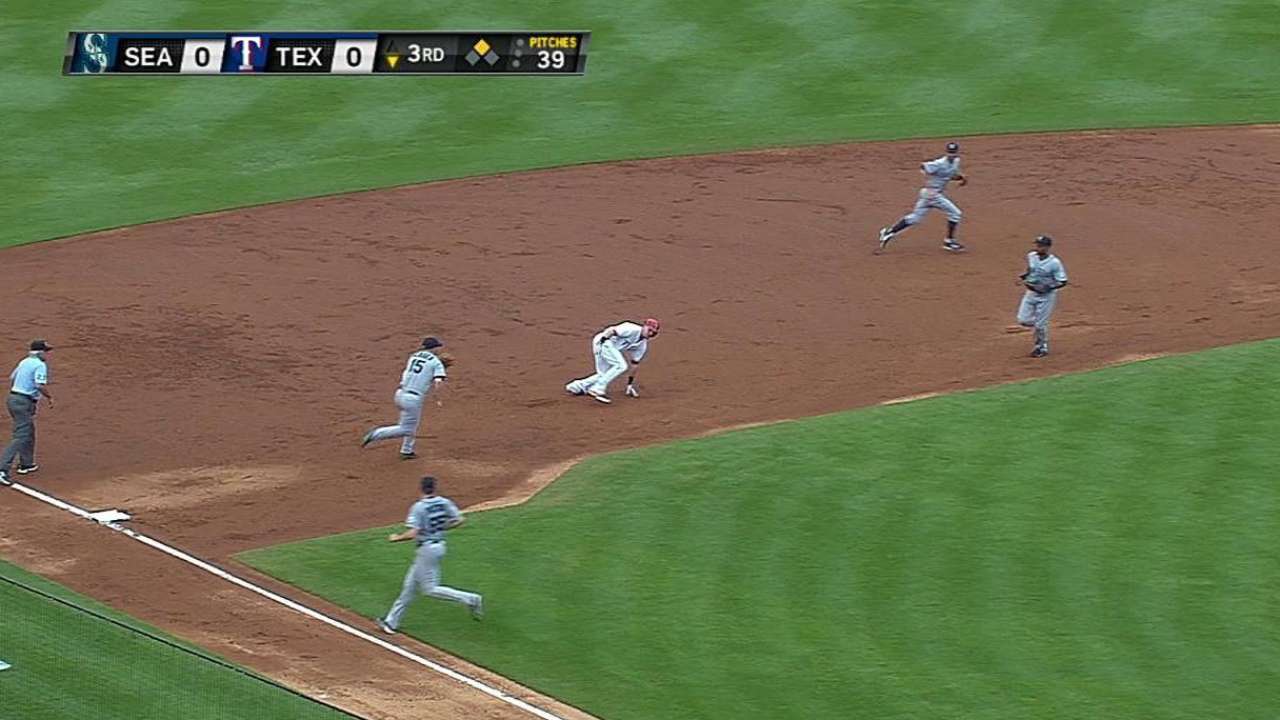 ARLINGTON -- The Mariners' hopes of a four-game sweep of the Rangers evaporated Sunday when reliable rookie James Paxton was outpitched by a dialed-in Derek Holland, but Seattle couldn't complain too much about this road trip despite its unfortunate ending.
Seattle fell, 1-0, despite Paxton's six solid innings, in which he allowed only one earned run on five hits. An Adrian Beltre sacrifice fly was all it took to send Paxton the loss because Holland tossed seven shutout innings and always got the big outs when he needed them.
So well-pitched and close was this contest that Mariners manager Lloyd McClendon quoted recently departed Texas manager Ron Washington, who made "that's the way baseball go" a catchphrase in Arlington during the Rangers' heyday a few years ago.
"As my buddy across the way used to say, 'That's baseball,'" McClendon said. "I told my guys, 'it was a great road trip.' Tough loss today, they battled … We'll move on."
Even so, the Mariners went 5-2 on this trip, won three of four in Texas and left Arlington still leading Detroit for the second American League Wild Card spot.
"I'll take that," McClendon said.
The Mariners' last, best chance to score came against Holland in the seventh when Robinson Cano led off with a single to third. But Holland struck out Kendrys Morales and got Kyle Seager to fly out. Corey Hart reached on an infield single, but Stefen Romero grounded out to end the inning to seal Holland's first victory of the season in his second start since returning from offseason knee surgery. He threw 93 pitches, including 59 strikes.
"I definitely feel I could go longer," Holland said. "I feel I still need to improve. I was efficient at first and kept my pitch count down for the most part, but some long innings got to me in the end."
Holland struck out five and scattered six hits in his seven innings.
"When we had those opportunities to get those runs, he really bore down and made some really good pitches in some tough situations," Mariners leadoff hitter Austin Jackson said. "He was pounding the strike zone with the fastball, using that slider to put guys away and the times we had to kind of get something going, he made some pretty tough pitches."
Relievers Shawn Tolleson and Neftali Feliz closed out the game for the Rangers.
Seattle threatened in the ninth when Feliz walked Morales and allowed a single to Seager that moved pinch-runner Danny Farquhar to third with one out. James Jones hit a pop fly to shallow left -- not deep enough for Farquhar to think about tagging up -- and pinch-hitter Justin Smoak flied out to left.
"We had several balls hit right on the nose, it just wasn't our day," McClendon said.
The loss snapped the Mariners' winning streak at five, while the Rangers broke an eight-game losing skid.
Paxton entered Sunday's game with an exceptional 1.77 ERA and 8-1 record in his first 12 career starts. He was effective but imperfect, getting some help from bungled base running by the Rangers, who ran into three outs on the basepaths in the second inning.
The Mariners also turned a pair of double plays behind Paxton to stymie the Rangers' scoring chances. Paxton walked two and struck out two.
Paxton fell behind in the sixth after allowing a leadoff single to Leonys Martin, who stole second, took third on a groundout and scored on Beltre's sacrifice fly to center.
"You want to attack these guys and not give them free bases," Paxton said. "I left that cutter up to Martin to lead off the inning there, he got that hit and then Beltre hit a good pitch, up and in. I was trying to go inside on him, might could have got in a little bit more, but he just muscled that ball into the outfield for the sac fly. … The biggest thing today was the cutter that I left up for Martin … that was the mistake that got me."
Despite having the worst record in the Majors, the Rangers managed to salvage the season series against the Mariners, winning 10 of 19.
Dave Sessions is a contributor to MLB.com. This story was not subject to the approval of Major League Baseball or its clubs.