Lucroy gets rare start at first against a righty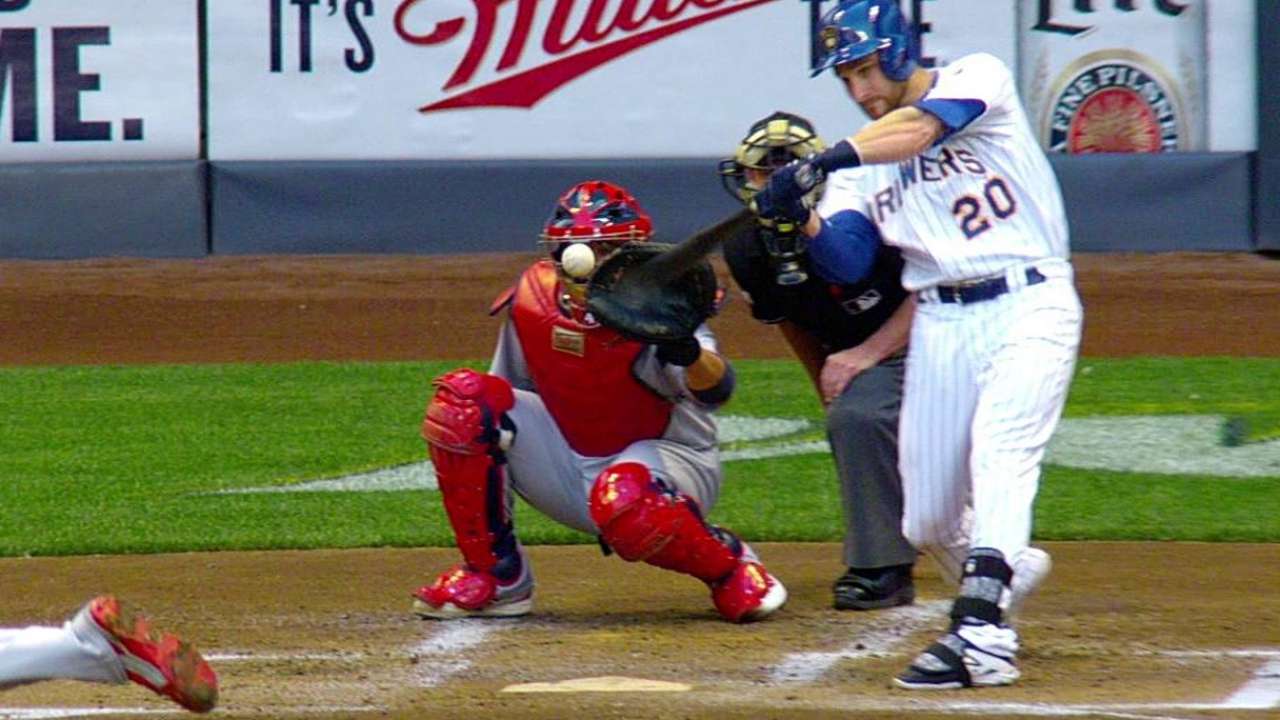 MILWAUKEE -- Brewers manager Ron Roenicke deemed his starting catcher in "need" of a day off, but Jonathan Lucroy did not want to miss a big game against the Cardinals. So they compromised.
For only the second time this season, Lucroy started at first base with a right-hander (Adam Wainwright) on the mound for the opposition. Usually, Lucroy starts at first and Martin Maldonado handles catching duties when the opponent pitches a lefty.
"He doesn't want to take a day off against [the Cardinals]," Roenicke said. "So it's a way of getting him off his feet, getting him mentally not locked into every single pitch like he has to do when he's calling a game. You still have to pay attention at first base, but it's more relaxing for him. He does not want out of this lineup against these guys."
Roenicke did not specify whether there were any physical issues at play for Lucroy, who has started 117 games and played in 119 games behind the plate this season. He has been, in terms of wins above replacement, the Brewers' most valuable player.
Entering Sunday, only the Royals' Salvador Perez (125 games) had appeared more often as a catcher this season.
"He's turned into a guy who shows that physically he can handle a big load, and mentally he can handle it, too," Roenicke said of Lucroy. "I try to help him out when I can. You don't have too many catchers in the league that can play a lot of ballgames, and I think Luc can do it."
When it was noted that Lucroy's OPS since the All-Star break was down about 80 points, Roenicke said, "I think that position, I don't know how it can't wear you down, depending on what your playing time is."
Adam McCalvy is a reporter for MLB.com. Read his blog, Brew Beat, and follow him on Twitter at @AdamMcCalvy. This story was not subject to the approval of Major League Baseball or its clubs.